Other states offer only limited guidance for Minnesota on voter ID
Minnesota could become the 34th state to enact a voter identification requirement, but only the second to put it in the state constitution.
Those other states at best offer only a hint of what might be coming. The laws vary widely, and the details of the proposed Minnesota requirement remain unclear.
In South Dakota, election officials have spent several years asking voters to show photo identification. South Dakota does not have what is considered a "strict" photo ID law, because voters who are unable to show an ID can sign an affidavit and cast a regular ballot. Republican Secretary of State Jason Gant said his state quickly adapted to the changes.
"It only makes sense that when we go to do one of our most important rights in this country, and that's to cast a ballot, that at that time we also prove who we are," Gant said. "So, it's worked out extremely well here in South Dakota."
Grow the Future of Public Media
MPR's budget year comes to a close on June 30. Help us close the gap by becoming a Sustainer today. When you make a recurring monthly gift, your gift will be matched by the MPR Member Fund for a whole year!
Pennsylvania's new voter ID law is supposed to be in place this year. But that state's Supreme Court has asked a lower court judge to take a second look at the law to determine how difficult it is for voters to obtain identification, and whether anyone could be disenfranchised. There are many problems getting a state-issued ID, said Nancy Spencer, state coordinator for the AFL-CIO My Vote My Right project.
"In practice, this is not being implemented well, because everyone is still having to jump through hoops," Spencer said.
The federal Help America Vote Act of 2002 requires all states to have some minimal form of voter identification, at least for first-time registrations. Thirty-three states have passed additional rules that apply to all voters. Edward Foley, a law professor at Ohio State University, said those ID laws vary in strictness.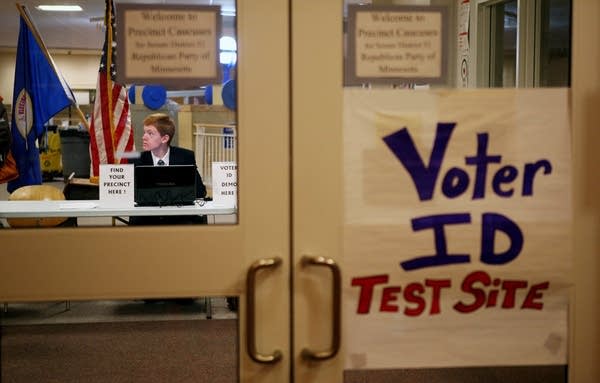 "This is an area where the old cliche 'the devil is in the details' really matters. They're not all the same," Foley said. "Even states that have so-called photo ID requirements have different sets of rules associated with them."
For example, Indiana's strict ID law, upheld by the U.S. Supreme Court in 2008, requires voters to show a photo identification issued by the state or the federal government. Rhode Island's less-strict law allows voters this year to present a non-photo ID, but will require a photo ID in 2014. In many states, voters without proper identification are allowed to cast provisional ballots that can be counted later if the voters prove their identity. The same system is planned for Minnesota. In Ohio, Foley said there were nearly 2,000 provisional ballots cast in 2008 but those votes were never counted.
"For many voters, you know, what's the point? I mean they read in the newspaper the next day that the elections are decided, and so on and so forth," Foley said. "They live busy lives and don't bother to rectify their ID. So, what you don't know for sure is whether or not any of those voters could have converted their provisional ballot into a counted ballot as it were."
Voter ID advocates point to turnout results in several states as proof that the requirement is working and not preventing people from voting. Turnout in Indiana in 2008 was up 4 percentage points from 2004. In Georgia, there was a significant increase in the number of black voters in 2008 under a new strict photo ID law. But Keesha Gaskins, a senior counsel at the Brennan Center for Justice at New York University's School of Law, said black voter turnout was up everywhere that year. Gaskins, who has written extensively against voter ID, said Georgia's numbers were actually lower than southern states without ID laws.
"So what we're certainly seeing is some suppressive effect. It's unclear how much can be attributed to the ID law and how much we attribute to others," Gaskins said. "But there's no question that certainly we don't see the kind of robust voter participation in states that pass these laws compared to states that have not."
Several states that have passed voter ID laws won't have them in place for November, mostly due to legal challenges. In addition to the Pennsylvania uncertainty, a judge in Wisconsin said that state's law would impair the right to vote and was therefore unconstitutional. Mississippi, which passed a voter ID constitutional amendment, still needs implementing legislation and federal clearance before it can put a system in place.
Gallery
1 of 1