EIGHTEEN MONTHS TO HISTORY: How the Minnesota marriage amendment was defeated -- money, passion, allies
Even as they stood amid the pizza boxes and other debris of an unsuccessful vigil at the State Capitol 18 months ago, Monica Meyer and her friends knew what they had to do.
The Republicans who controlled the Legislature had just approved placing a constitutional amendment to ban same-sex marriage on the Minnesota ballot in November 2012. Meyer and other protesters had been camped in the Capitol corridors, chanting "Love will prevail" and doing their best to keep the pressure up.
Although the protesters succeeded in making themselves an audible part of the debate, they had been unable to change the outcome. On a 70-62 vote, the House passed a bill the Senate had already approved.
VIDEO: EIGHTEEN MONTHS TO HISTORY: How the Minnesota marriage amendment was defeated
Grow the Future of Public Media
MPR's budget year comes to a close on June 30. Help us close the gap by becoming a Sustainer today. When you make a recurring monthly gift, your gift will be matched by the MPR Member Fund for a whole year!
Story continues below.
Meyer, the executive director of OutFront Minnesota, and her colleague Ann Kaner-Roth, from Project 515, a group that works for same-sex marriage rights, were ready with a new strategy. It was late at night, but the pair wanted to take quick action so "people could see that not all hope was lost," Meyer recalled last weekend.
"We launched Minnesotans United for All Families that night."
The date was May 21, 2011.
From that beginning grew an organizing campaign that made history on Tuesday, when Minnesota defeated a constitutional amendment banning same-sex marriage. The effort has generated a string of superlatives: the most volunteers, the most cash, the biggest state campaign on record. But the distinction that may have the greatest lasting impact is this one: A political scorecard that until Tuesday read 30-0 now reads 30-1. Although three states on Tuesday gave voter approval to gay marriage, only Minnesota has turned back an effort to insert into the state constitution language defining marriage as between one man and one woman.
MORE COVERAGE
• Precinct-level maps: Marriage and Voter ID votes
• Deep roots: History of marriage debate in Minn.
• Collection: All MPR News coverage of the marriage amendment

FOUR KEY FACTORS
In interviews before and after Tuesday's results were known, key participants focused on these factors:
• Allies: From its beginning, Minnesotans United for All Families sought to build a diverse, nonpartisan coalition. It avoided confrontation and steered clear of blunt words like "bigotry" and "discrimination."
• Faith: Although the side pushing the marriage amendment enjoyed substantial support from Catholic and evangelical churches, opponents of the amendment actively recruited help from other faith communities. Several organizers put it this way: "We refused to cede the religious ground."
• Money: Minnesotans United raised more than $12 million for the drive to defeat the amendment. The campaign dwarfed its opposition, both in the dollars raised and in the number of donors named.
• Time: Opponents of the marriage amendment had a full year and a half to organize and mobilize their supporters. In fact, they had longer than that, because the effort to ban same-sex marriage had made no secret of its existence ahead of time.
U.S. Rep. Michele Bachmann, R-Minn., for example, had proposed a ban on same-sex marriage when she was still serving in the Legislature, in 2003. And Archbishop John Nienstedt of the Archdiocese of St. Paul and Minneapolis became a prominent leader of the pro-amendment campaign in September 2010, when he distributed a video message to 400,000 Minnesota Catholics.
"Children suffer, but so does the whole of society, when marriage fails in its irreplaceable task of bringing together mothers and fathers with their children," Nienstedt warned. "Defining marriage as simply a union of consenting parties will change the core meaning of marriage in the public square for every Minnesotan. At best, so-called same sex marriage is an untested social experiment, and at worst it poses a dangerous risk with potentially far-reaching consequences."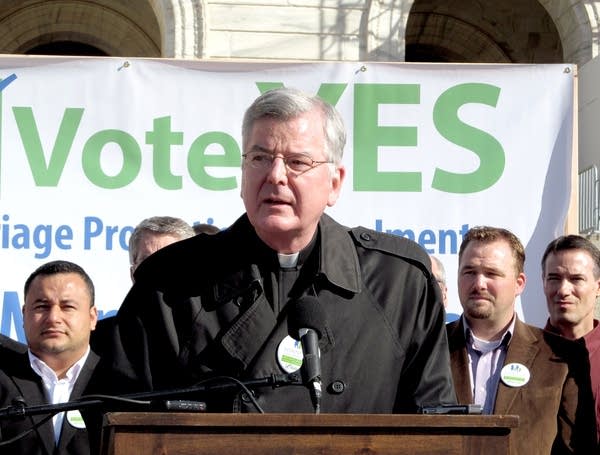 Nienstedt's message, distributed on DVD to Catholic homes, signaled church support for a constitutional amendment like the one the Legislature would pass eight months later.
Given the advance warning, Meyer recalled, those who supported equal rights for gays and lesbians knew that they "just had to be ready to move. ... We started talking about that in the fall of 2010."
"So many other states had four months to prepare," she said. "We had time to build the campaign that we wanted. ... I dreamt of something that looked exactly like Minnesotans United for All Families looks." The three vital characteristics, she said, were that the campaign be a coalition of diverse groups; that it be a "people-powered" organization of sufficient size to make a sustained effort, and that it reach people in every part of Minnesota. In the end, rural areas voted in favor of the amendment, despite that strategy.
There was another sense in which time played a role. Polls have shown a steady growth in public support for gay and lesbian rights. The success Tuesday of same-sex marriage efforts in three other states, as well as the defeat of the marriage amendment in Minnesota, suggest that the time may simply have been right.
RESEARCH
Among the resources available to Meyer and Kaner-Roth was a report by California LGBT advocate and consultant David Fleischer, who had made a study of the unsuccessful attempt to thwart Proposition 8 in California in 2008. His report was a document "that all of us read religiously," Meyer said.
Fleischer directs the Leadership Lab at the LA Gay and Lesbian Center. He and members of his staff joined the Minnesota campaign, which appeared to take his findings to heart. Among the observations in his report:
"The truth is these campaigns are extraordinarily difficult. They are hard and, worse, they are fundamentally unfair. It's easier for the other side to exploit pre-existing prejudice than it is for us to persuade voters to look past their prejudice. It's understandable for our side to get discouraged; to oscillate between wishful thinking and hopelessness; and to engage in pointless infighting because the real enemy intimidates us."
Last week in Minnesota, Fleischer said his experience with the Proposition 8 campaign convinced him that it was necessary "to have a large field campaign where human beings talk one on one and enter into a dialogue." Such a dialogue is important, he said, because those who oppose gay rights are "really interested in re-stigmatizing gay people. ... It's not really a vote on marriage. It's really a vote on anti-gay prejudice."
The best way to fight that prejudice, he said, is dialogue - giving people a chance to compare their fears with the "actual lived experience" of gay people.
The other key lesson from California, he said, was the need to raise enough money. "There are things money can't buy, and things only money can buy," he said. "And you want both."
To succeed, the campaign would need a leader who could raise a vast amount of cash.
THE RIGHT CAMPAIGN MANAGER
On the Monday of the week before the election, Richard Carlbom sat in a dilapidated office off University Avenue in St. Paul and worked his phone.
"Hi, Linda, Richard Carlbom here," he said, studying a sheet of donor information. "I'm the campaign manager for Minnesotans United for All Families, the 'Vote No' campaign ... Wanted to call and say first off, thank you. We're eight days from Election Day. And the fact that we are running toward Election Day with the largest grassroots operation in the state of Minnesota history is in large part because you stepped up early and helped us out way back in August. ... Unfortunately we're not there yet, financially. And so I'm calling to ask you to dig deep and sacrifice one last time and to make a contribution of $1,000 to our effort."
Carlbom, 31, has worked on big and small causes. He served as mayor of St. Joseph, Minn., and as campaign manager for U.S. Rep. Tim Walz. He also served as spokesman for St. Paul Mayor Chris Coleman.
His commitment to fundraising was one of the qualities that helped the founders of Minnesotans United decide to hire him. "We really were confident that he had the right mix" of skills, OutFront's Meyer recalled last weekend. Carlbom had political experience and was quick on his feet. He struck Meyer as someone who could inspire confidence in a diverse group of people. He shared the organizers' vision of how to run a successful campaign.
He also had local roots and a personal stake. Though he was hired after a national search, Carlbom has never lived outside Minnesota. And he has been engaged to his partner, Justin, since May 6, 2011, two weeks before the Legislature put the marriage amendment on the ballot.
He became campaign manager in September 2011, after a process that involved multiple candidates and three rounds of interviews. It was between the first and second round, Carlbom said, that he became convinced he wanted the job.
"I thought about the kind of people who were conducting the interview," he remembered. "And I thought about the kind of people who wanted to be part of this larger conversation that was about to take place. ... I literally saw (Republican) Rep. Tim Kelly, who's part of Speaker (Kurt) Zellers' leadership circle, next to Denise Cardinal, who I knew for the next year would do everything she could to get the Republicans thrown out of the statehouse. That was her mission in life, to win back the Legislature for the Democrats. Yet they both were sitting there, in the same room, willing to set that baggage at the door, and actually come together and work arm in arm to beat this thing."
The campaign's board was made up of nearly 40 leaders connected to the most crucial arteries of Minnesota life. It included Republicans, Democrats, Independents and Greens — movers and shakers from business, labor, nonprofit and faith groups. It also included key national partners, like the Human Rights Campaign and Freedom to Marry.
THE CHALLENGE
Carlbom would be taking on a challenge that no one had won before, with the small asterisk of Arizona, where voters had defeated a measure to ban gay marriage and all civil unions. Once it was rewritten more narrowly to ban only gay marriage, it won.
What would be different about the Minnesota effort?
First, money; and second, the involvement of prominent and powerful allies.
Under Carlbom's leadership, Minnesotans United dominated the race financially. Eventually the campaign raised and spent more than $12 million, much more than the pro-amendment side came up with.
John Helmberger, chairman of Minnesota for Marriage, suggested in June that the disparity was not a cause for concern.
"Sure, we'd like to be further along than we are," Helmberger said. "Wouldn't everybody? But we've expected all along that the other side would outspend us, just as the opposition to protecting marriage has done in every other state that's dealt with this issue. We don't have to change a lot of minds, because the majority of people are with us already."
Reports filed with the campaign finance board also revealed a different approach. From its first spending report at the end of 2011, Minnesotans United reported the name of each and every donor, even those beneath the reporting threshold. It would be in marked contrast to amendment backers, who had testified before the campaign finance board that naming donors would subject them to reprisals. The board eventually ruled that not all donors had to be named.
The largest sources of cash for amendment supporters would be the Minnesota Catholic Conference, the Minnesota Family Council and the National Organization for Marriage.
In contrast, the bulk of funding for Minnesotans United would come from individuals, some of them with big names:
The Pohlad family. Gov. Mark Dayton's sons. Business leaders from General Mills, Cargill and other prominent firms. Marilyn Carlson Nelson, chairman of Carlson and mother to a gay daughter.
Carlson Nelson wrote an op-ed piece for the Star Tribune in January.
"While not perfect, we have consistently, through the generations, righted the culture to more clearly define who we are as Minnesotans -- a people of integrity, inclusiveness and decency, with an overriding sense of the common good," she wrote.
"Wouldn't it be presumptuous of us to impose today's biases on same-sex marriage on future generations? Do we want to shackle our grandchildren, perhaps for decades, with the vitriolic debate and sometimes violence that have preceded the great human-rights victories of our nation?"
Other business leaders spoke up as well. Minnesotans United board member John Taft, of RBC Wealth Management, solicited fellow business leaders to help defeat the amendment.
While it didn't take a position on the amendment, the Target Corp. sold T-shirts to support the Family Equality Council, part of the Minnesotans United coalition. St. Jude Medical, Thompson Reuters in Minnesota and General Mills came out publicly against the amendment.
In response, marriage amendment supporters staged a boycott of General Mills. It didn't make a dent in the company's bottom line.
STRANGE BEDFELLOWS
Another key element was getting Republicans involved.
At the campaign's final all-staff meeting, eight days before the election, three dozen people were packed into a conference room in the St. Paul headquarters. Others watched from around the state via Google Hangout. People in the room were younger and older, gay and straight, male and female. Two men in the room wore neckties, and at least one man, not wearing a tie, was Republican.
And not just any Republican, but a career Republican. Jake Loesch, deputy communications director, was director of Minnesota College Republicans and served on the staff of Republican State Sen. Michelle Benson before he became the seventh person and the first Republican to join the Minnesotans United staff.
"We sit in this room together every day, and we're only voting the same way on one thing," he said after the meeting. "In a year or six months we could be on opposite sides again."
Loesch, 24, said working on the Minnesotans United campaign helped him live up to his Republican values of individual liberty and small government. "Republicans oppose this too," he said. As a party, he added, "Where we lose people is on social issues."
Loesch said he thinks the "vast majority" of the GOP legislative staff opposed the marriage amendment, along with better-known Republicans like state Rep. John Kriesel, who appeared in a Minnesotans United television ad. (Andy Parrish, deputy manager of the pro-amendment Minnesota for Marriage, tweeted that Kriesel only cared about being a celebrity and was "not a Republican.")
One of Loesch's duties was running Minnesotans United's social media campaign. By Thursday morning, two days after the election, its Facebook page had racked up 42,545 likes. Minnesota for Marriage's page, by comparison, registered 8,127.
Carlbom saw the presence of Loesch and other Republicans as one of the keys to the success.
"I got excited about the fact that people were willing to set that stuff at the door and actually work on an issue together," he said.
"I mean, when it was clear that the political director and communications director for Tom Emmer and Norm Coleman were willing to work with us and help us strategize how to beat this -- I mean, these are guys, in 2010, when I worked for Tim Walz, I despised them. They disgusted me. I didn't know them, I'd never met them, but I could not stand them as a political operative.
"And now, looking forward to 2013, 2014 ... they're going to go and do everything they can to beat Mark Dayton and Al Franken," Carlbom continued. "And I will be a steadfast supporter and do whatever I can to get them re-elected. And at the end of the day, I can say, let's go get coffee. Let's go sit down and talk about things.
Carl Kuhl and Patrick Connelly, consultants who worked for Republican governor candidate Emmer in 2010, thought they could persuade about 15 percent of Republicans to vote against the amendment.
"I think what this campaign has done an exceptional job of is reminding folks that the constitution is used to safeguard freedoms and not limit them," Kuhl said. "That's a message that resonates with Republicans, Democrats, liberals and conservatives."
"Thank goodness," said Carlbom, "in this hurtful and divisive conversation, connections like that have been made. Because hopefully, maybe, just maybe, when efforts are underway in the future, we don't have to take the shortcut to destroying each other."
THE SECRET WEAPON: CONVERSATIONS
In September, Minnesotans United rolled out what it called its "secret weapon:" a massive, one-on-one conversation drive. Supporters would talk with the people in their lives about voting no on the amendment. The campaign organized training sessions for volunteers in churches and campaign offices.
"Thirty states have passed amendments that are similar to this one," trainer Jen Arnold told volunteers at All God's Children Metropolitan Community Church in Minneapolis. "And so we've done a lot of research about what works and what doesn't."
Fellow trainer Alison Froehle added, "In the past, our side of the fight has focused on rights and equality and that this is discrimination. But that frame of mind does not move voters. So what we're doing on this campaign is, we're having conversations from the heart. We're taking it from an abstract frame of mind and into the personal, reminding people that this is going to hurt real people."
The beauty of the conversation strategy, Carlbom explained later, was that it was "not just Minnesotan talking to Minnesotan. It's Lutheran talking to Lutheran, Catholic talking to Catholic."
Grant Stevensen, a Lutheran pastor who served as Minnesotans United's faith director, agreed that the conversation campaign would be crucial. He has seen the tactic work before, when he was president of ISAIAH, an interfaith organization that brings church congregations together on social issues.
"We have to tell our stories," Stevensen explained last week. "We have to listen to their stories. We have to find a way to open our hearts a little bit."
Ben Goldfarb, executive director of Wellstone Action, an organization that offers training in political and organizing skills, took leave to run Minnesota United's get-out-the-vote effort. In an interview last week, Goldfarb said that the "relational" aspect of the campaign was extraordinary, and that it was doing things "I have always dreamed of doing."
"They've moved tens of thousands of people to do more than write a check," he said. "The thing I have been most impressed by are the conversations," which allowed the campaign to develop "a really deep connection with folks."
At the same time, he said, the Minnesotans United team fostered a "spirit of innovation and creativity" that "made it irresistible to be part of the campaign."
"It's unlike anything I've ever been a part of," Goldfarb said.
Another unusual voice was Minnesota Vikings punter Chris Kluwe. His outspoken opposition to the amendment likely brought the opposition message to a new audience of sports fans and men.
THE AD CAMPAIGN
The strategy behind the one-on-one conversations also played a part in the campaign's advertising. Both had expert help from Phyllis Watts, a California psychologist who advised the Minnesota United campaign.
"People need to hear from folks they identify with," she said last week. She suggested that volunteers make plain, in conversations with voters, that to vote yes would be to deny others their rights. Ideally, the voter would conclude: "That's not the kind of person I want to be."
(One of the Minnesota United ads. Story continues below.)
Watts says voters don't see same-sex marriage as a political issue, but more as a question of values:
"And they're struggling with competing values. And one set of values is tradition. ... you know, 'this is just the way it's always been.' ... And then another set of values, which is important and equally compelling for them, and that is to do right by others, to genuinely treat others fairly ... which is a pretty deep value in most people. And quite frankly, in Minnesotans, I think very, very deep."
Watts, together with 76 Words and Grove Insight, helped Minnesotans United put together an ad campaign to try to win over these conflicted voters.
"A lot of times what people need is to hear from folks that they can identify with who have long-term marriages, solid marriages, good marriages, have kids, and who say, I'm voting no on this and here's why," she said.
The strategy of using straight people in the ads was not without controversy.
Fleisher, a veteran of 40 ballot campaigns affecting the LGBT community across the country, said campaigns defending same-sex marriage sometimes struggle with how to present gay people in their ads.
"And part of the reason for that is when you do polls to test potential messages, messengers and ads, gay people don't test that well. Turns out we're unpopular," Fleischer said. "When you let people choose chocolate ice cream, or chocolate ice cream with added gay, people choose chocolate ice cream! ... I just summarized millions of dollars of research done for these campaigns."
Fleisher warned Minnesotans United to prepare a response to the inevitable ads the other side would bombard voters with in the final weeks of the campaign. Ads run by marriage amendment supporters in other states warned of young children being taught about gay marriage in school, stoking a visceral fear in many parents. Twenty days before the election, Minnesota for Marriage released the ads Minnesotans United had been waiting for, and Minnesotans United pounced.
They'd pre-bought a million dollars' worth of ad time. They hoped the conversations with real people would inoculate voters from the power of the ads. They prepared a rapid-response team. One of Gov. Dayton's communications staffers was on loan to fact-check ad claims and push the information out to the media. Clergy United spoke out against claims in the ad. Several media, including MPR News, fact-checked the claims and found them misleading.
When it came to claims about children, the Vote No coalition helped to neutralize Minnesota for Marriage's arguments by having the Minnesota Chapter of the American Academy of Pediatrics in its corner.
THE ROLE OF FAITH
On the Thursday before the election, while an MPR-sponsored debate was putting theological disagreement over same-sex marriage at center stage, a group of 155 clergy was walking down the aisle of Hennepin Avenue United Methodist Church in an event that was billed as "All Saints: A Day for All Families." Later, the clergy would bless an RV that was about to take the Vote No campaign on a last-minute tour of Minnesota cities.
"From the get-go, we really embraced faith, rather than try to ignore it," Watts recalled. At an event to reach out to the religious community last November, Carlbom said, the staff expected a turnout of perhaps 150 clergy. Instead, 550 showed up.
Watts recalled last week that Carlbom's decision to hire a faith director "knocked my socks off."
To Carlbom, the decision wasn't difficult. "Minnesotans are looking at this issue through a faith lens," he said.
Stevensen, often wearing a clerical collar, became a visible presence at staff meetings and campaign events. He clearly relished his role in promoting conversations among people from different backgrounds - even going so far as to invite one of the leaders of the pro-amendment campaign to meet him for coffee. Stevensen said his rival replied, "Why would we do that?" The meeting never happened.
LASTING LEGACY
Stevensen held out hope last week that a big success for the Minnesotans United campaign might have an effect on politics in other areas and other issues. "I don't want to be Pollyanna-ish," he said. "There are people in this world trying to hurt people I care about." He made two fists and bumped them. "But just butting red against blue isn't getting us anywhere.
"My fantasy is that this isn't just about the marriage amendment. I think it's a new way to do politics."
That's a common theme in interviews with people who were part of Minnesotans United. Many of them have a strong sense that they were involved in something that transcends normal politics and might offer a model for other causes.
At a rally on the State Capitol steps the night after the election, speakers and supporters celebrated their victory. They spoke of the need, after saying no for so long, to start saying yes - and it was clear, if not always explicit, that they hoped to channel that energy into a change in the state law that forbids same-sex marriage. State Sen. John Marty, one of the campaign's allies, had said as much earlier in the day.
It is what the pro-amendment forces always said they feared: that judges or legislators would open the door to a new definition of marriage. In hindsight, it appears they have helped create the conditions to make that outcome more likely.
Among the speakers outside the Capitol Wednesday evening were Meyer and Kaner-Roth, the women who had launched Minnesotans United inside the building a year and a half earlier. Meyer later acknowledged that it was particularly sweet to be able to celebrate victory where the campaign had begun amid the pizza boxes and chants of "Love will prevail."
At the podium, another Senate ally, Scott Dibble, reminded the crowd of that slogan, and shouted a postscript: "Love prevailed."
---
Follow Sasha Aslanian on Twitter: http://www.twitter.com/sashaaslanian
Producer Ellen Guettler contributed to this report.
Gallery
1 of 1