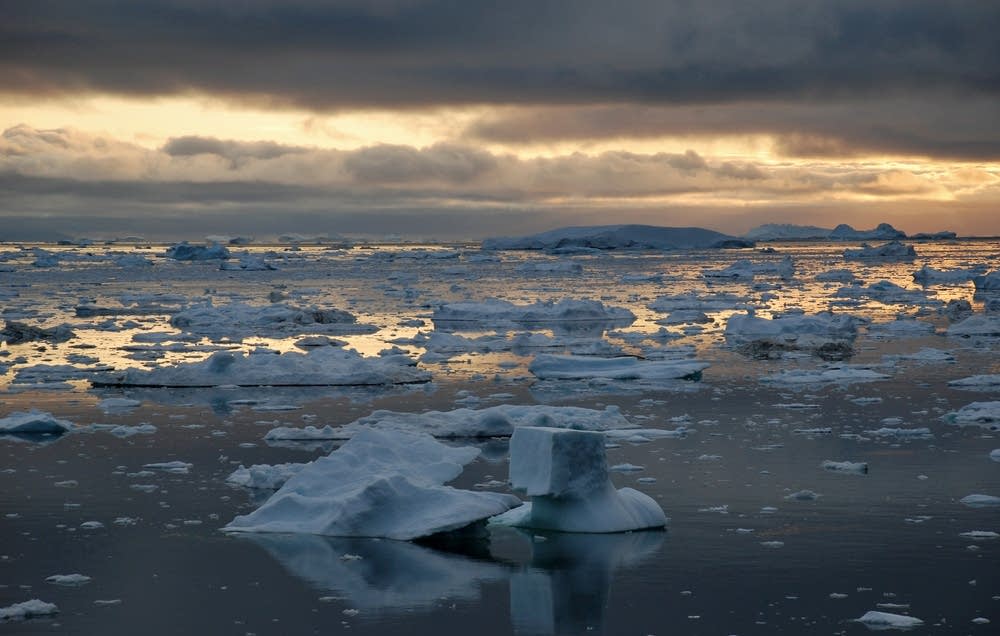 Today on the MPR News Update: A Minnesota House leader chimes in on the governor's revamped budget; the prospects seem good for an increase in the minimum wage; one southeastern Minnesota community draws a line in the frac sand, meteorologist Paul Huttner discusses global warming that took place 55 million years ago, and more.
BUDGETS, GUNS AND MARRIAGE: Gov. Mark Dayton releases his revised budget proposal today after pulling his previous plan over criticism about business-to-business and other taxes. The governor says a hike in taxes for top earners will be in his new budget, as well as tobacco taxes, and we'll be bringing you more on that later today and tomorrow. Meantime, MPR's Cathy Wurzer spoke with DFL House Speaker Paul Thissen this morning about the state budget, gun proposals, and same sex marriage.
ABORTION RESTRICTIONS CUT FROM HEALTH EXCHANGE BILL: Abortion restrictions have been cut from a final version of the health insurance exchange bill that will impact how more than a million Minnesotans obtain health coverage, starting in October. The House-Senate conference committee working on the bill Wednesday also settled on a way to fund the website that will allow consumers to compare private plans on the open market.
MINNESOTA MINIMUM WAGE HIKE CHEERED BY WORKERS; EMPLOYERS CRITICAL: Minnesota minimum wage hike cheered by workers; employers critical: With DFLers in control of state government, a raise for Minnesota's lowest-paid workers seems more likely than it has been in years. Now, a bill that could give Minnesota the highest state-mandated minimum wage in the country has cleared its final committee in the Minnesota House. Some economists say the effect of a minimum wage hike on the overall economy is negligible, but it is likely to make a large difference in the lives of minimum wage workers and also many of the people who pay them.
FOODIES IN THE SKYWAY: There's a cavalcade of new food developments in the Twin Cities. James Norton from the website Heavy Table tell us about a new burger bar that also serves elk Wellington, an ambitious attempt at serving sushi in the Minneapolis Skyway, and a 21st century approach to food delivery.
EDUCATORS VOICE SUPPORT FOR DAYTON'S BUDGET: Several education groups have voiced support for Gov. Mark Dayton's budget, which would increase funding for early childhood learning, all-day kindergarten and special education, among other priority areas. Schools have never recovered from losing the general education levy in 2001 and shifting more responsibility to the state, said Mary Cecconi of the group Parents United for Public Schools.
MINNESOTA REPUBLICANS AT THE WHITE HOUSE: Minnesota's three House Republicans were on hand during a rare meeting with President Barack Obama on Wednesday. Obama hasn't met with the House Republicans as a group for nearly three years, but Second District Rep. John Kline said the tone inside the room was respectful even though there was no breakthrough on the big issues of taxes and spending.
LEGISLATION WOULD REQUIRE CRIME LABS TO BE ACCREDITED: State lawmakers are considering a bill that would require accreditation of publicly-financed crime labs. The measure was prompted by concerns about faulty work at the unaccredited St. Paul police crime lab, which suspended drug testing last year after defense attorneys in Dakota County exposed the lab's failure to follow basic scientific procedures.
LATE FOR THE TRAIN, THE BUS, THE FUTURE: Transit planners are fantasizing about making Minnesota's next generation transportation system reality. Instead of two separate worlds -- one of roads, bridges and vehicles, and another of buses, light rail and other mass transit --planners want to create an integrated system that makes it easier for people and goods to move around using different kinds of transportation. It's all part of a plan designed to help Minnesota catch up with transportation spending in other states.
LEAN IN: Working mothers increasingly want full-time jobs, and tough economic times might be a big reason, according to a national survey. The poll comes amid a national debate on women in the workplace ignited by a new book from top Facebook executive Sheryl Sandberg. In "Lean In: Women, Work, and the Will to Lead," Sandberg argues that women have not made true progress in the workplace over the past decade and that they need to raise their hands more and "lean in" if they want to land more senior positions in corporate America.
TITLES DON'T MUCH MATTER FOR HIGH SCHOOL MATH: Advanced or intermediate algebra? Honors or basic geometry? When it comes to high school math, the labels may not really matter -- or necessarily predict what's in the textbook. Those revelations are part of the Education Department's new study of high school math courses. During their review of almost 18,000 high school students' records and textbooks, the investigators found as many as a third of the textbooks weren't about the subject printed on the cover.
CLIMATE CASTING DEJA VU: Our planet went through a dramatic rise in greenhouse gases and a resulting warming period - like this one -- once before: about 55 million years ago, when carbon levels rose sharply. On Thursday's Climate Cast, Kerri Miller and MPR News' Chief Meteorologist Paul Huttner talked about research into that ancient warming period and what it might mean for our future. Here is an edited transcript of their conversation.
DYING COUNTIES: A record number of U.S. counties -- more than 1 in 3 -- are now dying off, hit by an aging population and weakened local economies that are spurring young adults to seek jobs elsewhere>. New 2012 census estimates highlight the population shifts as the U.S. encounters its most sluggish growth levels since the Great Depression.
CARRIES HIS OWN BAGS: Pope Francis put his humility on display during his first day as pontiff Thursday, stopping by his hotel to pick up his luggage and pay the bill himself in a decidedly different style for the papacy usually ensconced inside the frescoed halls of the Vatican.
DRIVER'S LICENSES FOR ILLEGAL IMMIGRANTS: A Minnesota House committee Wednesday evening approved a bill allowing illegal immigrants to get drivers licenses. Latino supporters of the bill packed the House Transportation Policy Committee hearing room and applauded the vote. The measure needed to pass out of a policy committee this week in order to stay alive this session. State law currently requires that driver's license applicants be citizens or have legal status.
SENATE REPUBLICANS TRY TO BLOCK SAME-SEX MARRIAGE BILL: The day after legislation to legalize same-sex marriage in Minnesota cleared two legislative committees, Senate Republicans tried to derail the measure with some parliamentary maneuvering. They failed to stop the bill's progress but tried to use it to put some pressure on some rural Democrats. The maneuvering began on the Senate floor, when Republican Sen. Warren Limmer objected to a routine motion to adopt a report from the Senate Judiciary Committee, which approved the same-sex marriage bill a day earlier on a party-line vote.