5 things to do in Montevideo
The drive into Montevideo from the Twin Cities is a calm, smooth journey through open spaces and Minnesota farmland. The roads are lined with corn, soybeans and farm machinery dealers. There are many small towns along the way, most with fewer than 1,500 residents. Montevideo could serve as a fine base-camp to explore the remaining patches of prairie in far western Minnesota.
"To live on the prairie is to daydream. It is the only conceivable response to such immensity. It is when we are smallest that our daydreams come quickest," writes Montevideo native Paul Gruchow, in his book "Journal of a Prairie Year." Gruchow continues, "The essential feature of the prairie is the horizon, which you can neither walk to, or touch."
As you approach Montevideo, which straddles the Minnesota and Chippewa rivers, trees replace corn stalks and the hills become more dramatic. It becomes clear why fur traders established a trade post there in the 1800s. A novice traveler to Montevideo could easily miss the turnoff to First Street that leads to its picturesque downtown. If you do, you will end up on top of the hill, where there is a Walmart, Pizza Ranch and other chain stores that aren't unique to "Monte" as the locals call it.
Grow the Future of Public Media
MPR News is Member supported public media. Show your support today, donate, and ensure access to local news and in-depth conversations for everyone.
1. Explore historical roots
Photo Minnesota Historical Society via Flickr
The Lac qui Parle Mission, established by fur trader Joseph Renville in 1835, is recognized as a historic site in the city by the Minnesota Historical Society. Involvement with the Dakota Conflict of 1862 put Montevideo and the surrounding areas on the map historically, and the Camp Release State Monument still stands in representation of that history. The first Dakota dictionary was written at this site.
The Swensson Farm Museum is a historical representation of the innovation that took place when Scandinavian immigrants settled in the area. Just six miles outside of Montevideo, the 17-acre farmstead includes a 22-room brick farm home, a chapel, grist mill and a family burial plot. The museum is open to the public on Sundays and private tours are available upon appointment.
2. Wander the river
The calming waters of the Minnesota River make for a languid canoe or kayak outing, but the Chippewa River is considered by some locals to be more adventurous. CURE in downtown Montevideo will outfit you for trips on the Minnesota or Chippewa.
3. Appreciate the Letterpress and prairie arts
A to Z Letterpress was established in 2001 by Andy Kahmann, who has been in the printing business for more than thirty years. The A in the name stands for Andy and the Z for his son Zachary, who convinced Kahmann to buy his first letterpress and purchase the current store, which used to be Bungalow sandwich shop. Kahmann specializes in printing unique cards, stationery and posters in hand set type.
Visitors can see his workspace, filled with interesting prints all over the walls. If you're lucky, you'll see him in action at the 97-year-old press that he purchased years ago for only $1, though he had to figure out on his own how he would transport the heavy iron machinery. In the true spirit of small town Minnesota, Kahmann leaves his doors unlocked when he's gone at times during the day so that people can still come in and buy cards (leaving payment in the designated jar) or drop off materials for one of his next projects.
The Meander Upper Minnesota River Art Crawl is a free, self-guided annual event that takes place the first weekend of October and features 45 artists in different areas, a few of which are in Montevideo. The stops in Montevideo include the aforementioned A to Z Letterpress printing on First Street. downtown. At the Montevideo Senior Community Center, Flying Geese Quilters will have a collection of machine and hand-stitched quilts. Also, Father and son artisans Doug and Brook Pederson will have a showing at Doug's Trimmings, displaying their wildlife-themed paintings, scrimshaw, carving and woodworking using reclaimed wood and logs that would otherwise be discarded.
4. Find peace in the park
"A hidden gem in Montevideo is Wildwood Park," said Martin Christenson, a member of MPR's Public Insight Network. "This 21-acre park sits at the edge of town on the bank of the beautiful Chippewa River. Mother nature provides the rest of its majesty."
In addition to Wildwood, Lagoon Park and Lac Qui Parle State Park are good spaces to relax and enjoy a quiet day.
In honor of its sister city, Montevideo, Uruguay, the city features a statue of that nation's leader of independence, Jose Artigas, built in 1949, and its annual Fiesta Days celebration the third week of June. The city received the All-America City Award from the National Civic league in 2004, an award given to only 10 communities each year to honor their ability to work together as a community and maintain an efficient and empowered local culture.
Pioneer (or Chippewa) Village near downtown is a literal recreation of the prairie lifestyle that was present in the area a century ago. PIN member Mary Sellner recommends a stop here.
"Each of the buildings is furnished or equipped with tools and furniture, so that the public can see (and smell) how a blacksmith shop would have been, or a milliner's shop, or an old barber shop. There is even a trading post and a one-room schoolhouse, and sometimes there are concerts in the bandshell."
5. Enjoy local eats
For a cup of joe, a pastry and friendly service, Java River Café is a cozy spot with shaded courtyard seating and a fireside room. The café is also a hub for local artists and musicians and holds weekly cultural and music events. You must read this profile on Patrick Moore, the man who opened the cafe, by News Cut's Bob Collins in 2011.
Part of Montevideo's ability to thrive in rural Minnesota is due in part to a growing Latino population. Latinos have brought some new flavors to downtown. Montevideo is home to two Latin markets, El Paraiso Latino and La Plazita. Whether it's hard-to-find condiments, canned goods, snacks, cowboy boots or fresh, authentic tacos, it can all be found on the downtown strip.
"El Paraiso Latino is easily the best restaurant in the Montevideo area," said Brendan Stermer, one of our Public Insight Network members. "I have concluded that El Paraiso serves the best Mexican food I have ever had."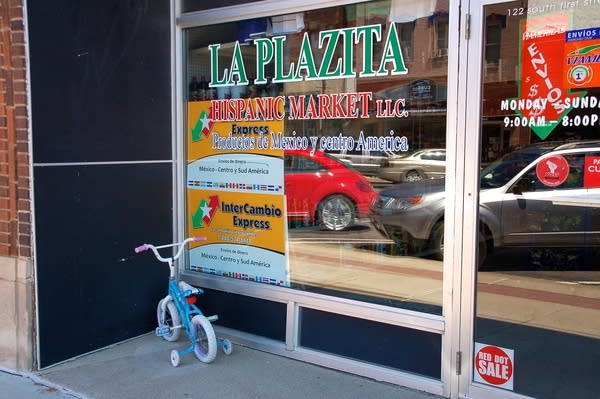 If you have a hankering for pizza, Jake's is your place according to the locals. Many of our PIN members from the area recommended the slices at this hometown favorite. A mural of Montevideo in 1928 adorns one of the walls inside. It is worth noting that Jake's is a chain that can be found in other small Minnesota towns.
Another resounding favorite in Montevideo is Valentino's, a family-owned establishment with a variety of classic American options.
"Valentino's restaurant in downtown Montevideo is one of the best," PIN member Martin Christenson said. "The atmosphere is charming and the pie is worth a trip to the area."
What suggestions do you have for folks visiting Montevideo?
View our other travel guides that include Fargo-Moorhead, Northfield, Grand Marais and others.