Climate Cast: 2012 another "top 10 warmest" globally; Minnesota's trees fight to adapt to climate changes
Every Thursday MPR meteorologist Paul Huttner joins Kerri Miller on The Daily Circuit for "Climate Cast" on MPR News Stations to talk about the latest research on our changing climate and the consequences that we're seeing here in Minnesota and worldwide.
[image]
These days it seems like we are witnessing climate changes unfold right before our very eyes.
It's not our imagination.
The nature of our seasons is changing. Spring blooms come earlier. Summer is more humid with a documented increase in extreme localized flash flood events -- and more frequent droughts. Fall lingers longer. Lakes freeze up later. Winters are trending shorter and noticeably, measurably milder. New plants are able to thrive in Minnesota's milder climate.
We're all living witnesses to rapid climate changes in our lifetime. This is no longer your grandparents' Minnesota or planet Earth.
Before you keep reading ...
MPR News is made by Members. Gifts from individuals fuel the programs that you and your neighbors rely on. Donate today to power news, analysis, and community conversations for all.
In 2013 at MPR we're devoting more coverage to the science behind and the growing effects of our changing climate in Minnesota and around the globe.
You can hear me discuss the week's top climate stories, and get perspective from climate experts in our new "Climate Cast" every Thursday morning at 9:50 a.m. with Kerri Miller on The Daily Circuit.
Climate Cast for August 8, 2013
Listen to this week's Climate Cast with Paul Huttner and Kerri Miller.
Every year NOAA scientists pore over millions of data points to put together a comprehensive picture of Earth's climate. The temperature data from 1998 shocked the scientific world. At the time 1998 was the warmest year on record globally.
When I asked University of Arizona climate researcher Dr. Malcolm Hughes about this in early 1999 he said his data showed 1998 was the warmest year globally in at least 1,000 years.
Since then a remarkable and incredibly improbable global temperature trend has emerged. All of the "top 10 warmest years" globally have occurred since 1998. And two more years -- 2005 and 2010 -- would go on to eclipse 1998 as the warmest years on record.
In a balanced climate system, we would expect to see some cooler than average years come up in the data set to balance the string of warmer years. That would tell us a lot. Maybe the warm string of record warm years globally is a blip on the proverbial climate radar, a freak anomaly.
So when was the last cooler than average year globally? 1997? 1989? Try 1976. That's right. Global temperatures have been above the 20th century average every year since 1977. Unless you are older than 37 you have never lived through a cooler than average year globally.
The last cooler than average month globally? February 1985. June 2013 made 340 consecutive warmer than average months globally. The odds of these trends occurring in a normal climate system, or any other system, are outrageously remote. You have a better chance of being hit by lightning, as Bill McKibben explained in this Rolling Stone piece from last summer:
That followed the warmest May on record for the Northern Hemisphere – the 327th consecutive month in which the temperature of the entire globe exceeded the 20th-century average, the odds of which occurring by simple chance were 3.7 x 10-99, a number considerably larger than the number of stars in the universe.
So when NOAA crunched the final numbers for 2012 you would expect that finally we'd see one cooler than average month right? That maybe 2012 would not crack the top 10 warmest years globally?
Nope.
2012 came in as yet another "top 10 warmest year" globally.
Here's an except from NOAA's 2012 State of the Climate report released this week.
"Many of the events that made 2012 such an interesting year are part of the long-term trends we see in a changing and varying climate—carbon levels are climbing, sea levels are rising, Arctic sea ice is melting, and our planet as a whole is becoming a warmer place," said acting NOAA Administrator Kathryn D. Sullivan, Ph.D. "This annual report is well-researched, well-respected, and well-used; it is a superb example of the timely, actionable climate information that people need from NOAA to help prepare for extremes in our ever-changing environment."

Conditions in the Arctic were a major story of 2012, with the region experiencing unprecedented change and breaking several records. Sea ice shrank to its smallest "summer minimum" extent since satellite records began 34 years ago. In addition, more than 97 percent of the Greenland ice sheet showed some form of melt during the summer, four times greater than the 1981–2010 average melt extent.
Warm temperature trends continue near Earth's surface: Four major independent datasets show 2012 was among the 10 warmest years on record, ranking either 8th or 9th, depending upon the dataset used. The United States and Argentina had their warmest year on record.
What about 2013?
Sitting in chilly Minnesota this year, you might think 2013 is running cooler than average globally. You'd be mistaken. Through June, 2013 is running as the 7th warmest year globally. Most of the planet is running warm. The coolest region on Earth this year? Minnesota and the Upper Midwest into southern Canada.
[image]
Image: NOAA
 More on how 2013 is unfolding so far from NOAA.
With ENSO-neutral conditions present during the first half of 2013, the January–June global temperature across land and ocean surfaces tied with 2003 as the seventh warmest such period, at 0.59°C (1.06°F) above the 20th century average.
It's tempting...and maybe a natural instinct to look at what we see locally outside our window and make assumptions about the planet as a whole. It's just that we can't actually see the whole planet from outside our backyard windows.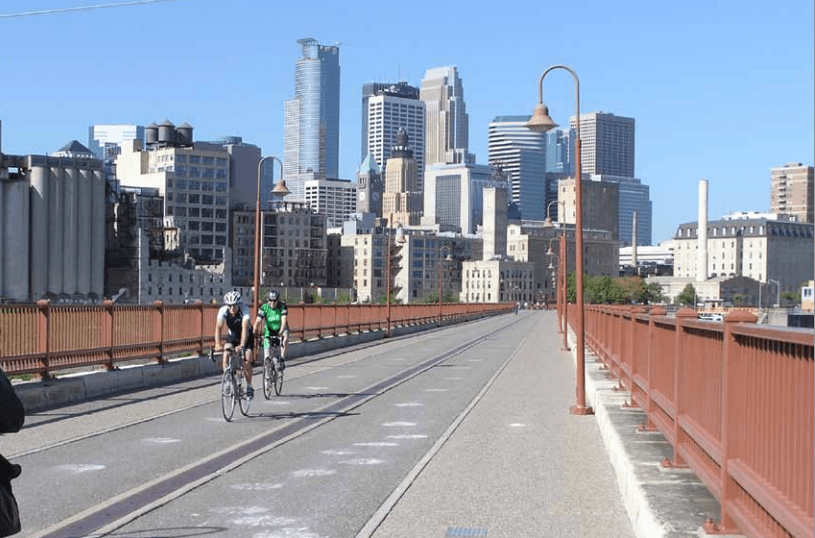 Cities ahead of the curve on climate change adaptation?
Most observers agree that  federal and international governments struggle to achieve meaningful and timely climate change mitigation. In the meantime cities have to deal with the consequences of local climate changes...and the increase in extreme weather events that comes with.
Acting NOAA Administrator Kathryn Sullivan said the records should come as a warning for governments, which must take scientific data into account.
"Many of the planning models that are used in infrastructure planning, for example, rely on a set of assumptions that essentially count on the future being statistically a lot like the past," said Sullivan. "Trends like the ones we're seeing in the data...certainly should lead one to question whether that will be so and test the soundness of those assumptions."
Cities like Minneapolis and Vancouver are doing just that. Minneapolis recently adopted a Climate Action Plan that aims to reduce citywide carbon emissions 30 percent by 2025. Vancouver has adopted a plan for the city to remain "a liveable and resilient city in the face of climate change."
On this week's Climate Cast, Paul Huttner and Kerri Miller discuss how cities can learn from data like those found in NOAA's report.
Minnesota's trees fighting for survival as climate shifts.
Minnesota may be know as the "Land of 10,000 Lakes" but we are are also famous for the billions of trees in our beautiful forests. According to a new report released by the Minnesota DNR thursday, our trees are fighting to stay alive as our climate changes in MInnesota. Here's more from Jana Albers with the Minnesota DNR.
[image]
Uptick in conifer mortality is drought-related
 By Jana Albers, DNR NW Region forest health specialist

 We've all noticed it, here and there, a few more mature conifers than usual have died in the last couple of years.   Is this related to our recent droughts?  Yes, definitely.  Eight of the past 11 years have been very dry during the summer and fall, plunging many forested areas of the state into severe drought.

 Conifers growing along the edge of lakes, wetlands and ditches have been victims of fluctuating water tables over the past few years.  When water is overly abundant, root systems are flooded for weeks and the root system loses its lowermost roots.  Prolonged flooding prunes off the lower roots.  Then, when water is scarce, these root systems don't extend down far enough to reach the low water table.  With too much or too little water, tree health and vigor suffers as photosynthesis shuts down and reserved sugars and starches are used up.  In a few droughty growing seasons, these trees, especially balsam firs and white and black spruces, die of starvation.

 The situation is similar for red, white and jack pines except that root death due to fluctuating water tables is not involved.  Photosynthesis was shut down for days and weeks during droughty growing seasons in the past decade. To make up for this, trees used up their reserved sugars and starches in order to remain alive. Critically, they couldn't resupply their reserves in the following years because these years were also droughty.  Eventually, reserves were drawn down too far and they also died of starvation.

 Now the good news. For most of Minnesota, the 2013 spring and early summer have been wonderful for tree growth and the restoration of sugar and starch reserves.  We could definitely use a few more years just like this to completely resupply reserves and tree vigor.

 For more information on forest health, contact Jana Albers, DNR forest health specialist, 218-327-4234, jana.albers@state.mn.us or visit www.dnr.state.mn.us/treecare/forest_health/.
Driving to combat climate change: What's your "best climate friendly ride?"
Here's an interesting piece from Climate Central. Is your Prius the most climate friendly car for Minnesota? How about a Civic or Lexus? Climate Central has this interesting state-by-state breakdown of the most climate friendly cars.
An electric car is only as good for the climate as the electricity used to power it. And in states that rely heavily on fossil fuels like coal and natural gas for their electricity there are many conventional and plug-in hybrid electric vehicles that are better for the climate than all-electric cars.

But that is just part of the story. Another critical factor is the carbon emissions generated when a car is manufactured. Emissions from producing the battery and other electrical components create a 10,000 to 40,000-pound carbon debt for electric cars that can only be overcome after tens, or even hundreds of thousands of miles of driving and recharging from clean energy sources.

This comprehensive state-by-state analysis of the climate impacts of the electric car, plug-in hybrid electrics, and high-mileage, gas-powered hybrid cars takes both of these factors into account – the source of energy for the power grid and carbon emissions from vehicle manufacturing.
[image]
Climate Change Mitigation: What you can do
Let's fact it, Climate Change can seem like an overwhelming problem with few easy solutions.
Many of you have asked what you can do in your lives to combat and mitigate the impacts of climate change.
Here are some great resources from NASA and EPA.
NASA: Resources on Climate Change mitigation
EPA: What you can do about Climate Change
EPA: Regional impacts of Climate Change
Climate Cast resources:
Want to know more about climate change? Here are few quick links to credible climate change sources.
-Read the Minnesota Public Radio primer on Climate Change
-NOAA NCDC's "State of the Climate" report
-AMS Statement on Climate Change
-NASA key evidence of climate change
-Great summary of Modern Day Climate Change from SUNY-Suffolk
-Minnesota Climate Working Group climate change resources
-Mark Seeley's Weather Talk
-Common climate change myths
-Climate change in the news from Climate Central
-More coverage from The Yale Forum on Climate Change and Media
Paul Huttner