Coldest in 10+ years ahead? Much milder late next week
MinnArctica
Welcome to the Frozen Tundra.
Minnesota is getting our cold weather reputation back this winter. After a brief warm up Friday and Friday night, the strongest arctic front in nearly a decade descends on Minnesota this weekend. Sunday through Tuesday will probably be the coldest three days of winter in Minnesota, and may be the coldest temperatures in four to ten+ years, depending on precisely where we bottom out.
Get ready for stupid cold weather tricks like blowing ice bubbles and tossing steaming water into the frozen air on your local TV stations in the next few days.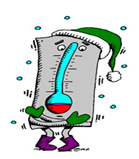 All joking aside, this is going to be barbaric levels of cold. The National Weather Service office in La Crosse, Wis.,  is rightly calling it dangerous cold -- even in southern Minnesota.
Dreaded 'Polar Vortex' surges south
Before you keep reading ...
MPR News is made by Members. Gifts from individuals fuel the programs that you and your neighbors rely on. Donate today to power news, analysis, and community conversations for all.
The responsible party for our Chamber of Commerce Arctic weather pattern in Minnesota? The infamous Polar Vortex. This big, swirling low pressure bomb in the upper atmosphere is the core of the coldest air in the northern Hemisphere. The PV has been sitting over Hudson's Bay in Canada most of December, and is finally swirling south into Minnesota this weekend.
Here's a look at the Global Forecast System 500 millibar forecast for noon Sunday showing the core of the coldest air sweeping through Minnesota.
 Just how c...c...cold?
We've dealt with plenty of cold air over the past month, but this will reach a whole new level. Just how cold will it get?
I expect the core of the coldest air to pass over northern Minnesota early Sunday morning, and then sprawl out over southern Minnesota and Wisconsin Sunday night into Monday and Tuesday.
Right now I'd say -temperatures of -40 to -50 looks likely for much of northern Minnesota Sunday and Monday morning. The Twin Cities and southern Minnesota will likely see temperatures bottoming out between -20 and -25 Monday morning, and possibly close to -20 again Tuesday morning.
Daytime "highs" in the metro area will struggle to reach -10 to -15 Monday as the core of the coldest air passes overhead. Sub-zero temperatures will penetrate all the way south to near St. Louis by Monday.
Here's a look at the GFS version of events next week.
String of sub-zero days
Right now I'm expecting about 84 sub-zero hours in the Twin Cities. Temperatures will probably fall below zero Saturday evening, and not climb above the zero mark until Wednesday morning.
In case you're wondering, that's not even close to the longest stretch of sub-zero hours or days in the Twin Cities. In fact, the last 'Top 10' stretch of sub-zero hours in the Twin Cities was in 1994. The Minnesota Climate Working Group has the gory details on the Twin Cities' sub-zero past.
Coldest in 10 years?
It's been increasingly difficult to reach -20 in the Twin Cities in the past decade. In fact, Minneapolis-St. Paul International Airport has only reached -20F or colder three times since 2000.
-24F Jan. 30, 2004

-22F Jan. 16, 2009

-21F Jan. 15,2009
If we reach -22 at MSP it will tie the coldest reading in four years. If we manage to get to -23 it will be the coldest in 10 years. If we manage to reach -25 at the airport, it will be the coldest temperature in 17+ years, since we hit -27 on Feb. 1, 1996 and on December 26,1996. The Twin Cities office of the National Weather Service has more.
THERE HAS BEEN A LOT OF TALK ON THIS COLD SNAP COMPARED TO PREVIOUS YEARS ACROSS THE UPPER MIDWEST.

IN SHORT TERM COMPARISONS...THE WINTER OF 2008-09 DURING IN JANUARY HAD A SIMILAR PATTERN AND SNOWPACK.

BASED ON THE INFORMATION FROM THE TWIN CITIES AIRPORT.

TEMPS DURING THE WEEK OF JANUARY 13-16TH 2009 HAD HIGHS BELOW ZERO...WITH MORNING LOWS -18 TO -22F.

THE LAST TIME THE TWIN CITIES AIRPORT DROPPED TO -30F OR LOWER WAS FEBRUARY 2ND 1996 (-32F WAS THE MORNING LOW). THIS WAS ALSO THE SAME DATE THAT TOWER MINNESOTA HAD A STATE RECORD LOW OF -60F.

ANOTHER NOTE...THE LAST TIME THE TWIN CITIES AIRPORT DROPPED TO -25F OR LOWER WAS FEBRUARY 1ST 1996 (-27F WAS THE MORNING LOW).

EVEN THOUGH THE ACTUAL TEMPERATURE MAY NOT REACH -25F OR -30F...THE COMBINATION OF WIND SPDS OF 10 TO 15 MPH AND TEMPS AROUND -20F TO -25F...WILL CREATE WIND CHILL VALUES OF -45 TO

-60F ACROSS CENTRAL AND SOUTHERN MN SUNDAY NIGHT THROUGH MONDAY MORNING.
Operation 'warm up' late next week?
In weather circles the old joke about massive arctic outbreaks like this is: "At least we're draining the cold air from Canada." 
While there is still plenty of cold yet to come this winter, there is some weather truth to that notion. These huge arctic outbreaks do displace massive amounts of cold from the north. It's one way we can warm up in winter -- the pain before the gain so to speak. This probably will be the coldest air of winter in Minnesota. It will take some time to 'reload' another air mass this cold.
It looks like a milder Pacific flow pattern will kick in late next week as the arctic air slowly retreats. The Euro is probably a tad optimistic, but pushes temps into the 30s  a week from Saturday. That's a 50-degree temperature recovery in just a few days.
In the longer range, it looks like we may enjoy a string of above average temps starting about Jan. 10. The GFS is hinting at a wholesale pattern change that could mean many days in the 30s, and few if any days below zero.
After next week's bitter cold, many Minnesotans will say "bring it on!"