Minnesota e-cig bill sponsor welcomes proposed FDA regulations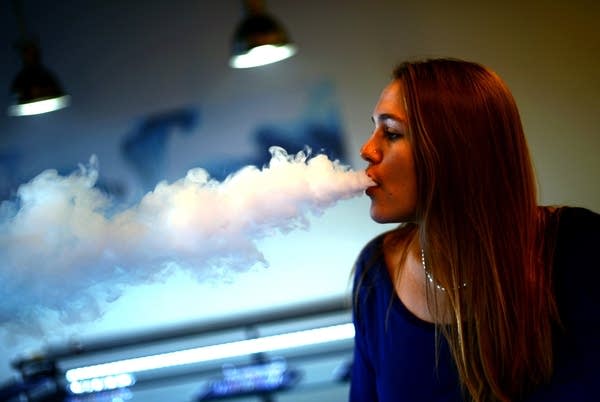 The Food and Drug Administration will announce the first-ever regulations on e-cigarettes later Thursday.
A bill working its way through the Minnesota Legislature would regulate e-cigarettes on the state level. On Wednesday, it was sent to the Senate Finance Committee for further consideration after being sidetracked to the Senate Rules Committee. The bill's sponsor, State Sen. Kathy Sheran, DFL-Mankato, spoke with MPR News' Morning Edition about the legislation.
Interview highlights
Grow the Future of Public Media
MPR News is supported by Members. Gifts from individuals power everything you find here. Make a gift of any amount today to become a Member!
On the new FDA regulations:
"I think they're important, because regulating the industry will help users, the people who wanna choose to use this, to understand what is in the product. And also, I think it's really important to recognize that the FDA is now going to prohibit the sales to minors of all tobacco products, which will now include e-cigarettes and cigars. So I think those are very important steps that FDA is taking. But I would remind everybody this is about regulating the sale of who can get the product, and what has to be on the product. It doesn't address other very important public health issues about the dangers of e-cigarettes. And we simply do not have enough information to be able to formulate a conclusion on that yet."
How her legislation will compliment the FDA regulations:
"Our bill as well treats e-cigarettes the same as regular cigarettes because, by the way, the FDA's new regulations don't treat them exactly the same. I mean there still is not the prohibition on some of the extraordinary marketing efforts that are in place by the tobacco companies that own these e-cigarettes."
"Our bill focuses really on use, not wanting to have children have access to this. We're trying to prohibit that as much as we possibly can. But the significant portion of the bill is that it asks that, for those who choose to use this product, even though it's unregulated and unknown in terms of its safety or whether or not it does in fact reduce smoking. In spite of all of that, we would allow adults of course to continue to do that, but to not ask the general public to take the risk with them. And to not take away from what we've achieved by establishing limits on exhaling products that have drugs in them in enclosed public places."
Reaction to a less-restrictive House bill:
"It's an inadequate starting point. The FDA recognized through the surgeon general the dangers associated with tobacco in 1964. And we really were unable to make significant changes in spite of the health problems that became more and more apparent, and actually were hidden from us. And we were certainly had the wool pulled over our eyes by this big tobacco companies that make huge investments in marketing these products. So that's over 40 years ago that that occurred, and we were not able in that time until fairly recently to, although it's still legal to sell the product of tobacco, to protect the general public from exposure to it in enclosed places."
"Our bill in the Senate does what we needed to do with tobacco a long, long time ago, and does it before the industry becomes built up around its use in indoor spaces. This is smart legislation, it supports what the public wants, which is to keep the indoor spaces free of exhaled chemicals, and allows those who want to try to use this product, to use it for the purposes that they believe it might be helpful."