5 beers you should try right now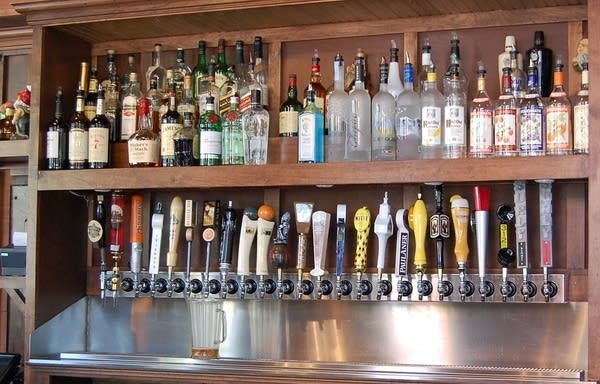 Craft beer enthusiasts swear there is more room in the beer market for additional craft beer. But room for additional craft breweries could be another matter.
There is only so much shelf space at the liquor store and only so many taps in the taproom. Landing coveted tap space at a quality gastropub is something no brewer should take for granted.
One of the most respected beer selections in the state can be found at St. Paul's Happy Gnome. The beer's not cheap and there's not a happy hour, but the place is consistently a popular destination for beer lovers.
Acting General Manager Ryan Huseby has played a big role in determining what gets poured at the Gnome. The Gnome's tap selection is a window into the fierce competition among local, regional and national craft brews.
MPR News is Member Supported
What does that mean? The news, analysis and community conversation found here is funded by donations from individuals. Make a gift of any amount today to support this resource for everyone.
"When it comes to local, Minnesota beers in particular, we want to give as many of them as possible the chance to be in our rotation," Husby said. "There's so much great beer out there right now, locally, nationally and internationally, that we really can't settle for something that's not that great. Being local doesn't overcome mediocrity." He adds, "It does make it tough for the start-ups -- they've got a high bar to clear."
Huseby's top 5 beers of the moment:
1.) Fulton Expat Rye Saison (Minnesota) - This is a great one for spring and summer, it has the lighter style of a saison or farmhouse ale, with the nice soft spices and banana and pear fruit that you think of in a Belgian-style ale. Then the rye gives it a nice little peppery kick.
2.) Left Hand JuJu Ginger (Colorado) - You have to like ginger to like this one, and it's not for everyone. It's a lighter-style ale, with a modest amount of hops, which really lets the ginger come through. You get it on the aroma, and then a nice little bite on the palate. It's not overwhelming, but it gives you that sort of invigorating zest that fresh ginger does.
3.) Clown Shoes Space Cake (Massachusetts) - When they first came to the market, I had trouble taking the brewery seriously because of their name. But all of their beers are solid, and some of them are just downright incredible. This is a big, bold West-coast style double IPA. It has a nice malt backbone, but it's outdone by lots of resinous pine, grapefruit and lemon from the hops. Sometimes if I want an IPA, I want one that's just overtop, and this one definitely fits that. But at the same time it's not flabby and chaotic like some double IPA's can be.
4.) Bent Paddle Black Ale (Minnesota) - This one is a great dark beer that you can enjoy a few of without being overwhelmed. It has the roasted malt and bitter cocoa flavors of a porter or stout, but it's medium bodied instead of heavy. The hops don't come across like they do in an IPA, rather they just serve to make it more easy to drink and balanced. The carbonation is nice too, because it prevents this beer from being too dense on the palate.
5.) New Holland Dragon's Milk (Michigan) - This is one of my all-time favorite beers, though it's definitely not an every-day kind of brew. It's an imperial stout that is aged for over 4 months in bourbon barrels. I am a huge bourbon fan, and you really have to be to enjoy this beer. The barrels actually give the beer a dark tawny color, instead of the pitch black of a typical imperial stout. And the aging gives it true bourbon flavors - caramel, vanilla, spice - that match perfectly with the plum and raisin fruit qualities. And it has some boozy flavor as well - you have to be careful with this one!
If you want to pick Huseby's brain in person you should do it today, his days at The Happy Gnome are numbered. He's opening a restaurant called Tongue in Cheek on St Paul's East Side.
Help MPR News cover the craft brew industry by sharing your insights and experience with the Public Insight Network.