'We are Hmong Minnesota': A 40-year journey, remembered
Yang Dao's office is lined with photographs that tell his life story.
The 72-year-old, famous in the Hmong community, is believed to be the first Hmong person in the world to earn a Ph.D. There's a picture of him as a young man, wearing a white jacket, serving in the National Council in the Kingdom of Laos.
When the communists took over in May 1975, Yang escaped with his family in the middle of the night — 37 people in four small cars.
Across the Mekong River in Thailand, the Hmong were homeless and stateless. They'd been allies of the United States during the Vietnam War and had to flee as the U.S. pulled out.
Grow the Future of Public Media
MPR News is supported by Members. Gifts from individuals power everything you find here. Make a gift of any amount today to become a Member!
"No countries would like to take us," Yang recalled recently as he sat in his Brooklyn Park home.
Hmong people began arriving in Minnesota as refugees in 1975, but Yang says there was skepticism that subsistence farmers from the jungles in Laos could succeed in America's high-tech society. It seemed more improbable that they would embrace Minnesota, a place with a climate so different than Laos.
But they did come, and they did succeed.
The Twin Cities now has the largest urban concentration of Hmong in the United States. An exhibit opening this weekend at the Minnesota History Center, "We are Hmong Minnesota," tells their stories and their difficult journeys.
The obstacles in front of the first Hmong arrivals were huge.
"Only 10 percent of them was able to write the Lao language and to write a little bit French, but no English," Yang said. "So when they came here, it was terrible. Terrible."
Yang took his family to France so his son could get treatment for polio. In 1983, the University of Minnesota hired him as a Southeast Asia specialist. Yang set about learning his sixth language: English.
"I spend three hours a night, in the evening after dinner. I learned by myself, with my dictionary, English-French," he recalled. "And I learned, and then the following day, I met with my American colleagues at the university. I ask, 'Please, how do you pronounce this word?'"
Yang traveled around the United States giving speeches to Hmong immigrant communities, urging everyone to go to school.
"If you live in this county, you have to know how to learn English, write English, speak English in order to survive," he said. "And then you have to encourage your students, your children to go to school, to finish high school, to go to college and to the university."
Bao Vang was one of those first-generation high-achievers. She arrived in Minnesota in 1980 with her family when she was 10 years old.
Vang remembers being told they were going to a place where "cotton would fall from the sky." There was no word for snow in Hmong.
It was the first of many tricky translations.
"I became the interpreter for my parents at schools, at clinics, hospitals," she said. "I was speaking in broken English, and really couldn't comprehend a lot of the stuff that I was expected to interpret or translate for my parents, but did the best I could."
Today, Vang is president and CEO of the Hmong American Partnership, a social service agency that's the largest Hmong nonprofit in the country.
English classes at the Hmong American Partnership these days are filled with Karen, Nepali and Somali students, the newest refugees. Vang says the work of the Hmong American Partnership has grown and changed as the Hmong became more established.
"When we started it was really to serve the Hmong community, particularly at that time with the high suicidal rates among our elders and also gang-related activities," Vang said. "Over past 10 years, we have really evolved ... to a community-based organization, extending our services to emerging new refugee communities."
The Hmong American Partnership's offices are on a bustling part of University Avenue called "Little Mekong," an area Vang says the Hmong helped to revitalize. It looks very different from her childhood in the 1980s.
"All the buildings along University Avenue were mostly boarded up and very unsafe to walk," Vang recalled. She and others would walk each Sunday from Selby Avenue and Dale Street down to University Avenue to a church near the state Capitol. "Then we started buying buildings here, and renovating them, and then other Asians started coming here," Vang said.
Vang points to "Little Mekong," farmer's markets dominated by Hmong farmers, Hmong civic engagement and leaders elected to public office as examples of how Hmong people have contributed to Minnesota.
But with 26 percent of Minnesota's 66,000 Hmong residents living in poverty, Vang still sees work to do.
And it's the generation born in the United States she's most concerned about.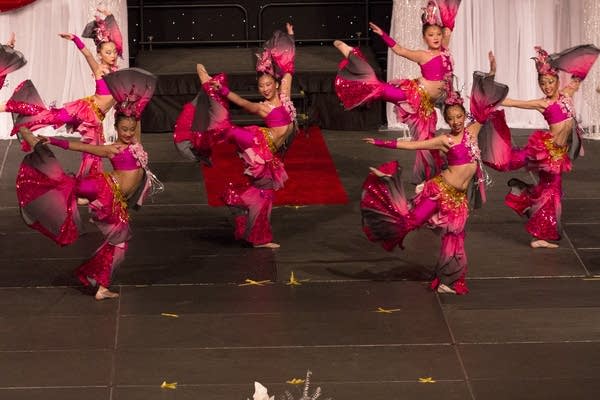 "Having only 14 percent of the Hmong population that have a bachelor's degree or higher, and our [high school] graduation rate being 61 percent, translate into not the generation who are foreign-born but grew up here that are not making it," Vang said. "It's actually our children, or our children's children that are not making it. And these are U.S.-born children. We're actually going backwards."
At the Hmong New Year celebration in downtown St. Paul in November, hundreds of Hmong wore colorful traditional clothing and young people took part in courtship games, like tossing a ball to a prospective husband or wife.
St. Paul-born Padee Yang, 20, was competing in the Miss Hmong Minnesota competition, but she said she was motivated by more than beauty.
"I taught a dance group, which they were like about 6 to 9 years old, and they didn't even know how to count in Hmong! And so I had to teach them," Yang said. "I was really surprised. It really opened up my eyes that someone really needs to take initiative of our young generation to keep preserving our language, our culture and our history."
• Where: Minnesota History Center, 345 W. Kellogg Blvd., St. Paul
• When: March 7 - Nov. 29
• More: Today, during the 11 a.m. hour of MPR News with Tom Weber, listen to highlights from the MPR News archive on the Hmong experience in Minnesota.