Minnesota pulls out all the stops to protect walleye
Jim Carlson cut the engine of his Lund fishing boat, gliding into a harbor on the southern shore of Leech Lake. He swung a leg onto the dock and lifted out a 30-gallon tub of the day's haul.
"We got 28 birds," said Carlson, a sharpshooter hired by the Department of Natural Resources. "That's a pretty good day."
The DNR often hires Carlson and Dave Kuehn to remove problem animals. But these days their focus is on cormorants, predatory birds that eat vast quantities of the small fish walleye feed on.
Killing the birds is one of the agency's techniques for maintaining a fishable population of walleye, Minnesota's official, and highly desired state fish.
As one of Minnesota's big 10 walleye lakes — the cold, deep lakes anglers head for this time of year — Leech Lake is a key focus of the DNR effort, especially during cormorant-control season.
Every year around ice out, the Leech Lake Band of Ojibwe and the DNR hire Carlson and Kuehn to set up on Pelican Island for a few weeks and kill about 1,000 cormorants.
Gain a Better Understanding of Today
MPR News is not just a listener supported source of information, it's a resource where listeners are supported. We take you beyond the headlines to the world we share in Minnesota. Become a sustainer today to fuel MPR News all year long.
In 2004, walleye numbers on Leech were at an all-time low, even as cormorants multiplied to their largest population in more than 100 years.
State and tribal lake managers decided it was time to tip the scales. Since then, hired sharpshooters have killed nearly 25,000 cormorants. Now there are more walleye in Leech Lake than ever before, according to Doug Schultz, a DNR area supervisor.
Cormorant control on that scale is rare, but the DNR has a history of taking drastic action to keep walleye populations strong in the big 10 walleye lakes.
The one troubled walleye fishery DNR officials can't seem to fix is the one they most want to change.
On Lake Mille Lacs, a former walleye juggernaut, the walleye are at a 40-year low. That led the DNR to tighten fishing limits this season, allowing anglers one walleye each and just 40,000 pounds of total harvest. That's a far cry from 1992, when anglers hauled 1.2 million pounds of walleye from Lake Mille Lacs.
Of all the lakes in Minnesota, the DNR spends the most money and effort on Lake Mille Lacs. The 2014 management budget was $437,000 — more than three times the amount spent on Lake of the Woods.
Although the money pays for the best research available, lake managers are still confused about why the walleye there are not thriving.
"We just don't have a handle on it," DNR Large Lake Program Manager Al Stevens said. "It's a conundrum."
The fishery is shifting away from walleye while other species like northern pike and bass become more dominant. Meanwhile, the tactics the DNR uses to improve walleye population in the state's other walleye lakes aren't working.
The state has seen such population collapse before. In 1998, over-fishing nearly killed the Red Lake walleye fishery. Tribal managers knew the lake wouldn't recover on its own and worked with DNR managers to bring the walleye back.
To solve the problem, they closed walleye fishing for nearly a decade and stocked 126 million fry over four years. Al Pemberton, director of the Red Lake Department of Natural Resources, said the fish came back with a vengeance.
"They just pigged out," he said. "They grew double what they were supposed to grow."
Now tribal anglers hook and sell 800,000 pounds of walleye every year.
Stocking worked in Red Lake, but Mille Lacs manager Rick Bruesewitz said trucking in a lot of small fish won't solve his walleye problem.
Mille Lacs already hatches a lot of young fish. They're just not living to adulthood. It's been six years since a generation of walleye fingerlings reached maturity in large numbers. Fish hatched in 2013 are growing nicely, but their survival is tenuous.
"It's great to see 2013's appear so abundant," he said. "But we're watching this very cautiously, with a raised eyebrow."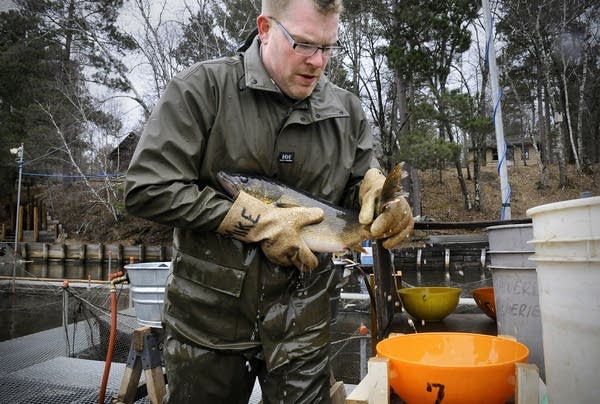 With stocking off the table, Bruesewitz is relegated to limiting the take. This year, each angler is only allowed one walleye between 19 and 21 inches or over 28 inches.
Limiting take is a pretty reliable fishery management tool. It helped Lake of the Woods recover high walleye numbers after the state bought out a number of commercial fishing operations back in the 1980s.
Stevens, the DNR's large lake program manager, said Cass Lake is the only big walleye lake without special slot limits.
At Lake Winnibigoshish, where the DNR imposed tight slot limits in 2000 to help faltering walleye numbers, the fish are doing so well that the limits are being stepped back, Stevens said.
"If you set Mille Lacs to the side," he said. "The large lakes are doing quite well."
But on Mille Lacs, lowering take hasn't sparked walleye recovery.
That's because the walleye problem is significantly more complicated than over-fishing, Bruesewitz said.
Recent research is painting an ever more complicated picture of the issues facing Mille Lacs walleye. According to a blue ribbon panel's review, Mille Lacs is shallower than most other large Minnesota lakes, so the effects of climate change are more profound.
The water is steadily warming, giving predators like bass an advantage. Clean water regulations, along with invasive species like zebra mussels and spiny water fleas, limit nutrients in the lake, throwing off the active food web walleye fingerlings need to thrive.
The interplay of such environmental changes is complicated and still a bit of a mystery, but together they diminish feed for cold water predators, University of Minnesota researcher Paul Venturelli said. Put simply, the walleye are hungry.
Cormorant control brought Leech Lake walleye to their highest number by removing feeding competition. There is a cormorant population on Mille Lacs that likely affects the fishery to some extent, Venturelli said, but killing those birds might not do much.
Only 1,000 cormorants nest on Mille Lacs. At its peak, Leech Lake supported more than 10,000.
A recent diet study conducted on Mille Lacs suggests the largest predator of young walleye is larger walleye.
Research continues, but Venturelli said there's a good chance Mille Lacs won't recover its former walleye numbers.
All of Minnesota's lakes are warming with the climate. Invasive species and greater feeding competition Venturelli said, are problems faced by other walleye lakes. Mille Lacs is just dealing with all those issues at once.
"We might have to get used to fishing for bass," he said. "At least on Mille Lacs."
Minnesota's Big 10 walleye lakes
Minnesota's largest walleye fishing lakes, known as the Big 10, get a lot of attention. Each is assigned a specialized large-lake manager by the DNR, and each is researched extensively. On the whole, said the DNR's Al Stevens, who runs the department's large lake program, Minnesota's large lakes are doing very well.