Fire and rain: Dense smoke plume follows downpours
What next, locusts?
Monday morning's downpours (and flash floods in the east metro) got our attention early. Just when you thought it was safe, the core of the dense smoke plume from over 600 wildfires in Alaska and western Canada arrived.

The dense white smoke plume is clearly visible at ground level across much of Minnesota.
It's the same general smoke plume that has been blanketing Minnesota at varying intensity since this image was captured by NASA satellites in late June.
Grow the Future of Public Media
MPR News is supported by Members. Gifts from individuals power everything you find here. Make a gift of any amount today to become a Member!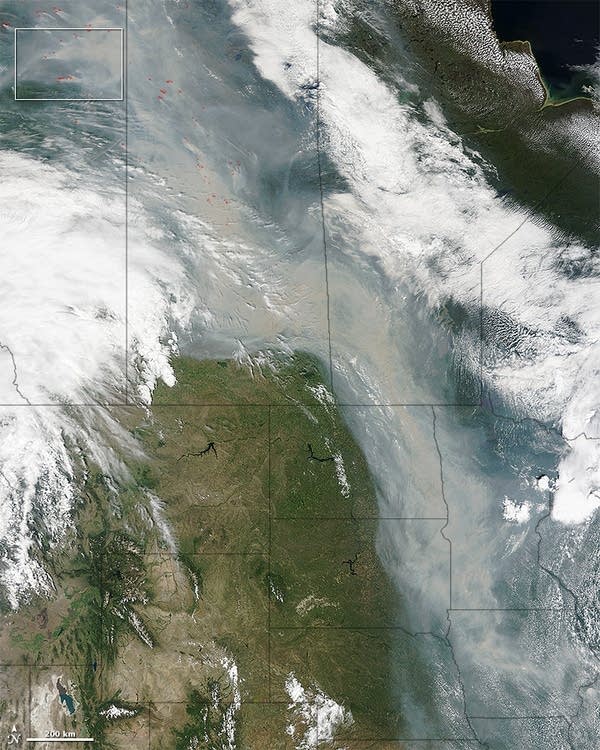 Papier-mâché sky
A pasty white-tinted sky lingers over The Land of Sky Blue Waters. The smoke we're smelling used to be trees in western Canada a few days ago.
Air Quality Index (AQI) readings spiked to the highest levels in my memory. AQI readings of 187? That's nearly off the charts.
The core of the smoke plume crossed Minnesota Monday afternoon.
The Minnesota Pollution Control Agency has issued an air quality alert. I asked Stephen Mikkelson with MPCA for some perspective on Monday's AQI readings.
Hi Paul,

I couldn't give you an accurate answer as what record Air Quality Index readings have been in Minnesota. But it is accurate to say that the readings we've been seeing throughout the day are unusually high and more wide-spread than we usually see with air alerts. Generally air alerts more localized and don't really peak to these levels (like in the 170s-180s). I know that doesn't directly answer your question, but it's the best information I have right now.

Thanks for your interest,

Stephen Mikkelson

Information Officer

Minn. Pollution Control Agency
This is a good time to stay indoors and limit your exposure, especially if your in one of the more sensitive groups. Here's more from the MPCA.

UPDATE: Poor air quality in Minnesota due to smoke from Canadian fires

St. Paul, Minn. — The Minnesota Pollution Control Agency (MPCA) has expanded the previously issued air pollution health alert for the northern two-thirds of Minnesota to include the southern, central, and northeastern regions of Minnesota. This alert area includes the Twin Cities metropolitan area.

Heavy smoke transported from Canadian wildfires is slowly moving across Minnesota today. As of 3:00 p.m., fine particle levels had reached unhealthy levels in a diagonal band across the state including: Marshall, St. Cloud, Brainerd, Duluth, and Grand Portage. This band of smoke is expected to continue to move across the state Monday evening and into the early morning hours Tuesday. Cleaner air is entering the state behind the smoke plume, resulting in improved air quality.

While all areas of the state are expected to see improved air quality by Tuesday morning, smoke may return to Minnesota Tuesday afternoon. For current air quality conditions visit www.pca.state.mn.us/aqi.

The MPCA issues an air pollution health alert when air quality conditions reach unhealthy for sensitive group levels, or an AQI greater than 101.

At-risk populations: Fine particle pollution has reached a level considered unhealthy for everyone. Everyone may begin to experience health effects and members of sensitive populations may experience more serious health effects. Populations sensitive to fine particles include those with preexisting cardiovascular or respiratory disease, the elderly, children, and individuals who participate in activities requiring extended or heavy exertion, both indoors and outdoors. Members of these groups are encouraged to postpone or reduce vigorous activity and minimize exposure to local sources of air pollution (i.e.,heavy duty vehicle traffic, wood fires, and candles). Even individuals who are otherwise healthy may experience health effects when pollution levels increase.

Health impacts: Exposure to high levels of fine particles has been linked with both respiratory and cardiovascular health effects. Fine particles may exacerbate pre-existing health conditions and may cause individuals to experience chest pain, shortness of breath, wheezing, coughing or fatigue. If you experience these symptoms, contact your physician.

Pollution-reduction tips: Fine particles are produced from combustion activities, which include fossil fuel-based energy generation, motor vehicle exhaust, gasoline-powered yard and lawn equipment, and wood burning. Conserving energy, buying clean renewable power, and utilizing alternate means of transportation, such as mass transit, will all reduce your daily contribution to air pollution. During air quality alerts, residents are particularly encouraged to postpone or reduce vehicle trips and engine idling, the use of gasoline-powered equipment, and burning wood.
Record year for Alaska wildfires 
What happens when you combine record low season snowfall in Alaska with a very warm May? An unprecedented fire season. And yes, there is probably a climate change connection. We call them feedback loops. The climate warms, wildfire activity increases, more carbon is released into the atmosphere, soot from fires darkens snow in the Arctic creating faster melt.
Climate Central has some excellent perspective on why northern forests are burning at the fastest rate in at least 5,000 years.
Alaska and its neighbor to the east, Canada, have kicked off wildfire season in a major way. Blazes have raged across the northern stretches of North America, sending smoke streaming down into the lower 48 and leaving the landscape charred.

The multitudes of fires is a glimpse of things to come as the climate warms, but blackened trees are only the most visible concern. The ground beneath them is what has some truly worried, with vast carbon reserves that could contribute to even more warming of the planet if they're sent up in smoke.

This summer, a number of factors have lined up to make Alaska a tinderbox. A dry winter left little snow on the ground and record heat in May, with the state's average temperature running 7.1°F above average, melted what little snow there was. Similarly warm conditions stretched across a large portion of western Canada in late May and set the stage for extreme wildfire conditions. Over the period of June 18-24, the Bureau of Land Management lightning network recorded more than 71,000 lightning strikes in Alaska, igniting a large swath of fires.

As the sun comes up on July, 356 wildfires are burning in western Canada and another 297 are active in Alaska. For the year-to-date, wildfires have burned 3.2 million acres in western Canada and 1.8 million acres in Alaska. Both numbers are well above the long-term average and in the case of Alaska, are in record territory for the amount of acreage burned for this time of year. Similar stories have played out in Siberia in 2013 and Canada's Northwest Territories in 2014.

"The 2015 season here in Alaska is day by day progressing to be a truly outstanding fire year relative to our rather brief historical record of annual area burned (1950 is as far back as I feel provides rather accurate numbers)," Scott Rupp, a fire ecologist at the University of Alaska, Fairbanks, said in an email.

A recent Climate Central analysis shows that over that period, large wildfires in Alaska have essentially doubled, including a large increase since 1990. Wildfire season is 40 percent longer than it was in the 1950s, now stretching 35 days longer. Much of that can be tied to rapid warming in the northern reaches of the globe, which has warmed more than twice as fast as the rest of the planet. In the past 60 years, Alaska has warmed about 3°F with similar warming rates in northern Canada. 

Studies have shown that the current rate of burn in the northern forests of the world is unprecedented in at least thelast 5,000 years. That makes this start to wildfire season in the boreal forest a punctuation mark on the longer term trend of ever increasing northern wildfires, one that's expected to continue.