Still too warm for snow, winter arrives next week
weird: adjective

1. suggesting something supernatural; uncanny.

synonyms: uncanny, eerie, unnatural, supernatural, unearthly, otherworldly, ghostly, mysterious, strange, abnormal, unusual;
Welcome to "weather weirding."
Our weirdly warm December is getting weirder by the day. Today marks the seventh straight day above 40 degrees in the Twin Cities and most of Minnesota.
So far this December is not just warm. It's creepy warm.
And it's creepy warm all across the country. The National Oceanic and Atmospheric Administration reports it was the warmest fall on record for the United States. Like the children of Lake Wobegon, every U.S. state was "above average" this fall.
Minnesota has been ground zero for some of the most unusual temperatures in the U.S during the fall season. Minnesota and the Upper Midwest showed the biggest departures from normal this fall, temperatures between 5 and 8 degrees warmer than average.
And now December? The numbers.
+11.6 degrees vs. average so far this December at Minneapolis-St. Paul International Airport

5.2 inches season snowfall so far at MSP Airport

13.6 inches average season snowfall to date

-8.4 inches vs. average to date

9.5 inches season snowfall last year through Dec. 10
Temps 20 degrees above average today
The map below made me do a triple take. What month would you guess? Late October? Early April? 50+ degrees on Dec. 10 in southern Minnesota is a good 20 degrees warmer than average. Grilling weather from here to Des Moines, Iowa. Shorts in St. Louis. What polar vortex?
Our overnight low around 41 degrees in the Twin Cities is 12 degrees warmer than our average high of 29 degrees for Dec. 10.  We'll set a new warm minimum temperature for the date if we stay above 34 degrees until midnight.
What next, dandelions?
Slightly cooler weekend
Yes, it's just too warm for snow today. Today's December rain showers zip through uneventfully. Low No. 1 zips by today. Low No. 2 and No. 3 gather to the south and west this weekend. Northern Minnesota may see a coating of snow by Saturday.
Weekend rain south, snow north?
We cool slightly this weekend into the 30s, but temps still run a good 5 to 10 degrees warmer than average through next Monday. Sunday's inbound storm is looking warmer by the model run.
The latest trends favors mostly rain that could end as wet snow for the metro, with accumulating snow in Minnesota likely along and north of a Brainerd to Ely line. Oddly warm for a December Panhandle Hooker.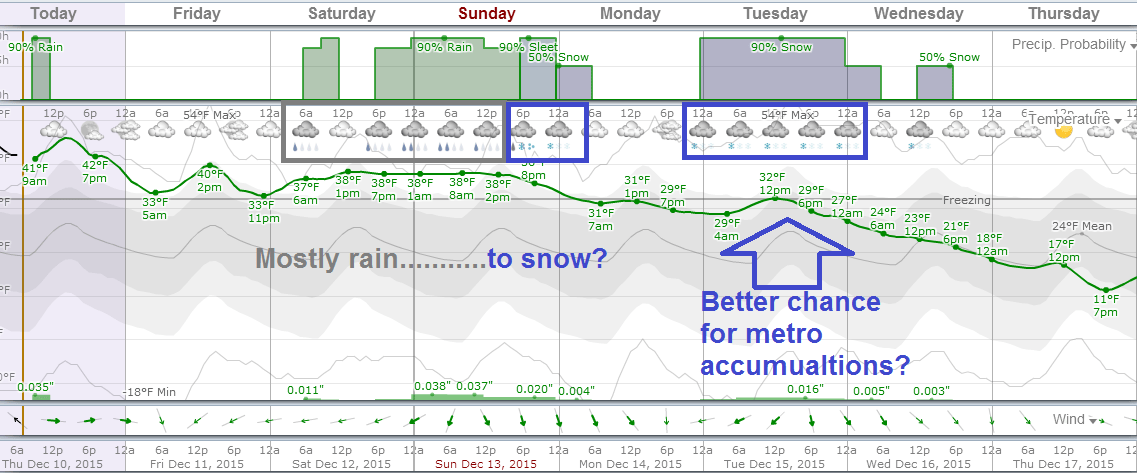 So far, I like the way the European Centre for Medium-Range Weather Forecasts (above) is handling Sunday's inbound system with the notion of mostly rain for the metro Sunday. NOAA's Global Forecast System is coming around to the same notion, mostly rain for the metro with the rain-snow line running across the state from about Willmar-Brainerd-Ely.
We'll keep watching for probable changes as the storm moves inland over the denser western U.S. data grid. For now, it looks warm enough for rain in the metro and Wisconsin Sunday.
Better chance for snow next Tuesday?
Sunday's strong system should will should finally drag down enough cold Canadian air to keep Tuesday's system mostly snow. The early storm tracks favor a system producing good chances for accumulating snow over Minnesota Tuesday.
Here's the European model output for next Tuesday at 6 p.m. Finally a decent snow producing low over southeast Minnesota?
At this point I like our chances for metro and southern Minnesota accumulations much better for next Tuesday.
Stay tuned.
Jack Frost Christmas?
It's still early, but the end of the medium range models are starting to sputter about significantly colder air by Christmas week. Here's the GFS, some close to sub-zero air finally on the horizon?
I sure hope so. I'm itching to skate on outdoor ice.
NPR Ted Cruz interview fact check
I've been asked about NPR's Morning Edition interview with Senator Ted Cruz Wednesday about climate change. The short answer is Mr. Cruz is in a fact free zone when it comes to climate science. Here's a great fact check of that NPR interview from Peter Gleick at The Pacific Institute.
Everything Senator Ted Cruz said about climate change in this NPR interview was wrong.

On December 9th, National Public Radio broadcast an interview between NPR's Steve Inskeep and Senator Ted Cruz on the subject of climate change. Below is an annotated transcript of that interview with my [bracketed] responses to the consistently false scientific claims made by Senator Cruz. Effectively, every single scientific point he made was wrong – a classic "Gish Gallop" of long-debunked talking points of those who dispute the unambiguous scientific evidence of climate change. In these bracketed annotations I have provided a few hyperlinks to each of the myths he repeats. I have tried not to address the many other political and ideological points he made about climate change and scientists during this interview, though a few seem to have snuck in.

INSKEEP:  What do you think about what is seen as a broad scientific consensus that there is man-caused climate change?

TED CRUZ: Well, I believe that public policy should follow the science and follow the data. I am the son of two mathematicians and computer programmers and scientists. In the debate over global warming, far too often politicians in Washington – and for that matter, a number of scientists receiving large government grants – disregard the science and data and instead push political ideology. [This is a classic ad hominem attack accusing the entire climate science community of pushing ideology for money, while also painting "government grants" for science as political. There is no basis for this.] You and I are both old enough to remember 30, 40 years ago, when, at the time, we were being told by liberal politicians and some scientists that the problem was global cooling… [This is a classic and false claim. There was never any significant scientific agreement that global cooling was a threat: indeed, even in the '70s, the scientific consensus was that the risk was warming.]

INSKEEP: There was a moment when some people said that.

CRUZ: That we were facing the threat of an incoming ice age. [False. As noted above, there were a very small number of scientific papers discussing cooling, and even they did not talk about a coming "ice age." The few media stories about this have been repeatedly seized on by skeptics and deniers as evidence that scientists were wrong decades ago, and thus must still be wrong today. Here is a good summary of the "myth" of global cooling that Senator Cruz is still promulgating, despite it having been debunked long ago.] And their solution to this problem is that we needed massive government control of the economy, the energy sector and every aspect of our lives. [False: Cruz uses a false scientific claim to put forth a false political claim. Very few scientists offer opinions about specific policies to address climate change, but when they do – as is their right as citizens – their policy preferences are diverse.] But then, as you noted, the data didn't back that up. So then, many of those same liberal politicians and a number of those same scientists switched their theory to global warming. [False. But even if it was true, switching positions and testing new theories based on new scientific data is exactly the way the scientific method works.]
Your support matters.
You make MPR News possible. Individual donations are behind the clarity in coverage from our reporters across the state, stories that connect us, and conversations that provide perspectives. Help ensure MPR remains a resource that brings Minnesotans together.