Mild El Nino winter may impact metro pond hockey events
This may be the first casualty of our unseasonably mild El Nino winter so far.
The Sandstone Ice Festival has been canceled this year due to lack of, well...ice.
Sandstone Ice Festival
Now the two premiere Twin Cities pond hockey events are fighting the record early winter season warmth to stay afloat on the ice this winter.
U.S. Pond Hockey Championships
The U.S. Pond Hockey Championships on Lake Nokomis and the North American Pond Hockey Championship on Lake Minnetonka are scheduled to take place in just one month.
Lake Nokomis, Lake Minnetonka and other metro lakes are still sporting wide open water as of Wednesday. Forecasts favor a mild bias overall into January. That has tournament organizers hoping for colder temperatures, and working on 'plan B' as the events rapidly approach.
With the opening puck drop on the first of the Twin Cities two premiere pond hockey events now less than a month away, tournament organizers of both events are obviously watching the weather pattern with concern.
Jim Dahline is Director of Marketing for the U.S. Pond Hockey Championships scheduled for January 14-17 on Lake Nokomis. I asked Jim about his operational considerations given still wide open water on Nokomis with the event now less than a month away.
PH: I assume Nokomis is still wide open now?

JD: Last drive by showed it had no ice.

PH: How much ice thickness do you need?

JD:We'd love to have a foot or more of ice. We really need 6-8 inches to have the event, but it would take a different form. We wouldn't be able to allow spectators on to the ice, or use our larger equipment (ie. Ice resurfacer, plows), at the lower thickness levels.

PH: When do you have to make the call if the event is a go/no go?

JD: We have several contingency plans that will be based mainly on two factors. The thickness and quality of the ice in the few weeks leading up to the tournament as well as the forecast through the event. It's still a bit early for us to make any decisions outside of preparing for a full 2016 event.

PH: And is there a plan B in case of not enough ice?

JD: We have several different plans and options. Being a lifelong Minnesota resident, one thing I know for sure is that weather in Minnesota can change on a short notice.

PH: Has USPHC ever been canceled due to lack of safe ice?

JD: We've had to make adjustments in the past for a day or two of competition, but the event has never been completely canceled. No one wants to see that happen.
That includes this hockey-obsessed meteorologist.
Full disclosure here. I have played in the North American Pond Hockey Championship on Lake Minnetonka's Excelsior Bay the past three years. I know the tournament organizers well.
Last week my friend and NAPHC organizer Steve Youngsted called to ask about the chances for getting 18 inches of ice on Excelsior Bay by tournament time on January 21. I told Steve I didn't expect Lake Minnetonka to freeze until at least Saturday, and maybe into Christmas week. My answer for the prospects for 18 inches of ice on Tonka by the 3rd week in January with the latest models favoring an overall mild bias into January? A 50/50 shot at best.
Steve indicates organizers will hold another meeting on December 28th to decide the fate of this year's NAPHC in Excelsior. The event's festivities like tent parties and live music will go on no matter what. It just may take a much different, potentially land based form depending on conditions.
Spirit of cooperation
You might think two major pond hockey events would be competing with each other for Minnesota's thin winter oxygen.The Nokomis and Excelsior events actually work together in many ways, including working to schedule the tournaments a weekend apart each year. USPHC in Minneapolis is the larger and longer running tournament. The Excelsior based NAPHC event is more of a west metro community focused event. It's a benefit for the DWB Memorial Foundation, named after much loved area resident and former baseball standout and hockey tournament participant Dave Bigham. Dave was one of those guys you wanted on your team in hockey, and in life.
The two events will likely go on in some form even if the forecasts for a milder than average January, and unusually thin ice pan out.
Mild El Nino winter forecast on track so far
So far the forecast for a mild El Nino influenced winter are panning out precisely as predicted. Going back to September 1st, this was the 2nd warmest meteorological fall on record across Minnesota and much of the Upper Midwest.
Add in the first 10 days of December and this is the warmest fall and early winter on record according to University of Minnesota climatologist and MPR News contributor Dr. Mark Seeley in his latest Weather Talk post.
The 3-month period of September through November was the 2nd warmest in Minnesota history on a statewide basis, trailing only 1963 by 0.2°F.  Further if you add in the first 10 days of December, the stretch of days from September 1, 2015 to December 10th is the warmest in state history, a remarkable run  of warmth. So far temperatures for the month of December are averaging 8 to 16 degrees F warmer than normal for most communities across the state.
Warm days, mild nights keeping lakes unfrozen
Wednesday's high of 41 degrees in the Twin Cities marks 10 of 16 days so far this month with highs in the 40s. So far December is running a jaw dropping 14 degrees warmer than average in the Twin Cities. The coldest daytime high was 34 degrees on December 1st. Not once has the Twin Cities recorded a daytime high below freezing so far this December.
But the biggest factor keeping lakes open into mid-December is the incredible run of warmth in overnight minimum temperatures. Overnight "lows" have been running an astounding +20 to +25 degrees vs. average in the past week across Minnesota.
Approaching record latest ice-in dates
Our balmy El Nino induced Seattle breezes are keeping lakes open well past the seasonal average freezing dates. Many metro area lakes are now within a few days of the all time latest 'ice-in' dates on record.
The latest ice-in date on record for Lake Nokomis is December 20.
Climate change + El Nino = open water
Superimposed on this El Nino influenced winter are the overall climate trends of much warmer winters in Minnesota. The longer term trends are clear. Minnesota is warming faster in winter than summer. And winter in Minnesota is warming faster than any other state in the nation.
The rate of winter warming in the past few decades overall is unmistakable in the data and alarming to many. The trend lines since 1960 shows Minnesota winters may be as much as 11.2 degrees warmer by the end of this century. That's a very different Minnesota winter for your grandchildren.
Lake ice data shows later fall and winter ice-in trends and earlier spring ice-out tends consistent with the overall pattern of warming.
Outdoor rinks shut down too
Consistent temperatures above freezing have taken a toll on outdoor skating too. Metro area outdoor rinks are more grass than ice this December.
Forecast: Mild bias continues into January?
At some point he other weather shoe (boot?) may drop in Minnesota this winter. It's still quite possible we will see an Arctic outbreak or two in January or February.
But El Nino influenced seasonal trends and climate forecast this winter still favor milder than average temperatures through January overall. Looking at the short term maps, the last half of December looks cooler but still favors a milder than average bias overall from Minnesota to the east coast.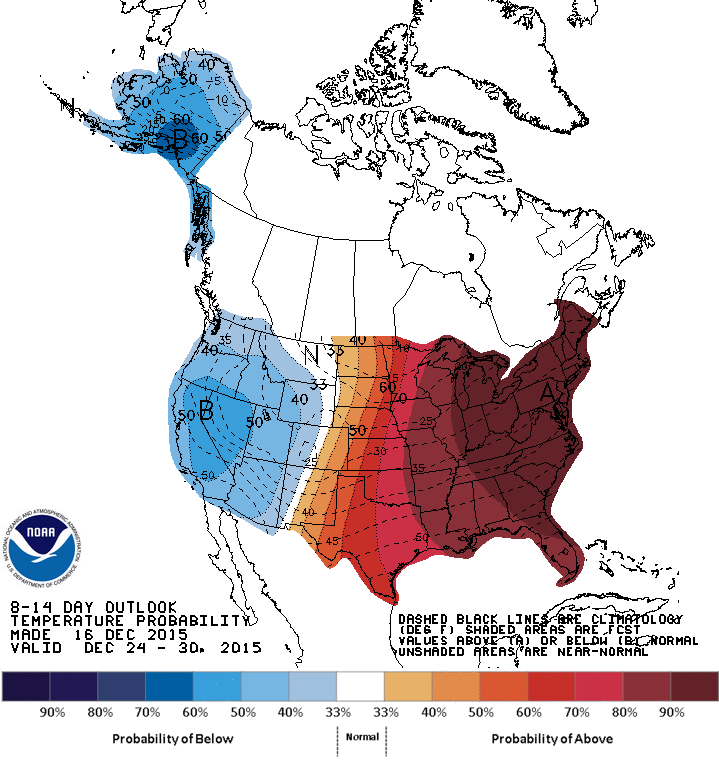 The latest 16-day temperature products for the Twin Cities hint at another warm shot, with the potential for more December rain after Christmas. The trend suggests colder but not highly desirable ice freezing sub-zero air before New Year's.
NOAA's experimental week 3 temperature product favors milder than average air into the first week of January.
And NOAA's Climate Forecast System (CFSv2) continues to crank out a mild bias for January favoring temperatures 7 degrees warmer than average.
The bottom line: There's no way to sugar coat the reality for metro pond hockey tournaments and other Minnesota lake ice based winter events this winter. Open water lakes on December 16th and the forecast for milder than average temperatures overall are producing near record late ice-in dates this season. It's going to be touch and go to see if Minnesota's lake ice events go on as scheduled in this El Nino fueled mild winter.
Stay tuned.
Your support matters.
You make MPR News possible. Individual donations are behind the clarity in coverage from our reporters across the state, stories that connect us, and conversations that provide perspectives. Help ensure MPR remains a resource that brings Minnesotans together.