Climate change impacts? Follow the water
For more than a decade climate scientists have been sounding alarms about one particular aspect of climate change.
Water.
Climate change is arguably the biggest driver in changes of earth's most essential commodity. As climate shifts, changes in the hydrologic cycle are causing a redistribution of water around the planet. A warmer planet causes a quickening of the hydrologic cycle.
An increase in atmospheric water vapor produces heavier rainfall events, and more catastrophic floods. Droughts develop faster and become more severe as evaporation rates rise. Increased water demand compounds the effects of even small climate shifts. Once vast and reliable water bodies shrink.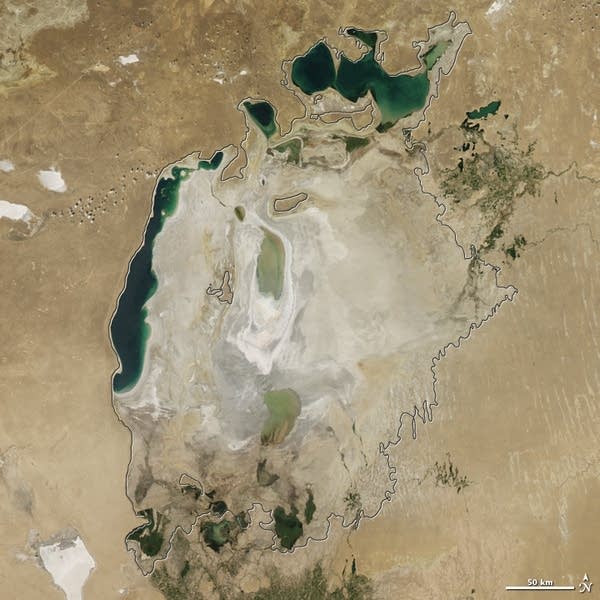 Changes in water resources are not always slow and steady. The phrase "water shock" is increasingly discussed as a driver of water resources as sudden climate and extreme weather driven changes in the water cycle occur.
The Washington Post's Chris Mooney elaborates on why the World Bank sees water resources as the biggest impact of climate change going forward.
As India, the world's second-most populous country, reels from an intense drought, the World Bank has released a new report finding that perhaps the most severe impact of a changing climate could be the effect on water supplies.

The most startling finding? The report suggests that by 2050, an inadequate supply of water could knock down economic growth in some parts of the world a figure as high as 6 percent of GDP, "sending them into sustained negative growth." Regions facing this risk — which can at least partly be averted by better water management, the document notes — include not only much of Africa but also India, China and the Middle East.

"When we look at any of the major impacts of climate change, they one way or another come through water," said Richard Damania, a lead economist at the bank and the lead author of the report, on a call with reporters Tuesday. "So it will be no exaggeration to claim that climate change is really in fact about hydrological change."

Climate change hits water supplies in multiple ways. Warm temperatures can cause more evaporation of water from landscapes, while changes in precipitation can lead to both more intense individual downpours but also swings into drought conditions. The threat from all this is not just to what people drink but what they eat: The human activity that consumes the most water is agriculture.

And then, there's sea-level rise: It can push into coastal aquifers, as is happening today in the state of Florida, and thus threaten to make them more saline and less usable for human needs. So it isn't only surface waters that may be depleted by climate swings, but also groundwater.

The World Bank report says that 1.6 billion people on Earth already live in nations that are subject to water scarcity. Depending on the precise definition of the concept, other research has put that number even higher, finding that 4 billion live in regions that face conditions of "severe" water scarcity during at least some part of the year. Using its own definition, the World Bank fears the number of people living with potential water threats will double over the next two decades.
Our economic climate reality going forward is we all live in a mutual risk pool of taxes, insurance and infrastructure costs that we all ultimately pay for as climate shifts, sea level rises and extreme weather-driven catastrophic losses mount. Climate change driven water shock is increasingly cited as a national security concern.   It is increasingly clear that the effects of climate change could likely be the top news story of the next 10 to 50 years as climate shifts and extreme weather events continue to accelerate.
And climate change is likely to be the top driver of high impact water resource changes in the next 50 years. As you watch the bigger picture of the climate change puzzle unfold keep your eye on one piece.
Follow the water.