Hinckley: 1 in 800-year rainfall event? Impacts visible from space
Monday's intense storm and rainfall event storm is still causing reverberations.
The storms intense runoff into Lake Superior has pushed so much sediment into the lake it is visible from satellites in orbit. Here's the view from NASA's MODIS Terra shot Tuesday afternoon. You can clearly see the massive reddish sediment injection along the shores of Lake Superior.
Floodwaters continue to cause issues today along rivers in east-central Minnesota. The Snake River near Mora was well out of it's banks and in full flood mode.
The Snake River at Mora has risen 14 feet since Monday according to National Weather Service automated river gauges.
MPR News is Member Supported
What does that mean? The news, analysis and community conversation found here is funded by donations from individuals. Make a gift of any amount today to support this resource for everyone.
The Kettle River below Sandstone, Minn., appears to have crested at 17.73 feet today. That's just shy of the all time record of 18.2 feet.
Rivers in eastern Minnesota north of the Twin Cities drain into the St. Croix River watershed. The St. Croix is expected to reach flood stage in Stillwater, and crest late Friday after rising close to 10 feet this week.
Hinckley: 1 in 800-year rainfall event ?
Rainfall totals of 7 to 9 inches were recorded in and around Hinckley, Minn., in Pine County with Monday's storm.
According to the National Oceanic and Atmospheric Administration's ATALS-14 rainfall recurrence data, 9 inches of rain in a 24-hour period is about a 1-in-800 year event for Hinckley.
Climate change signal
It's not your imagination. Data shows what you've been observing. Extreme rainfall events are increasing in Minnesota. Prominent climate scientists like Dr. Kevin Trenberth from NCAR have estimated the increase in atmospheric water vapor from climate change is adding 5 to 10% rainfall to heavy precipitation events. The physics is pretty straightforward. A warmer wetter atmosphere creates heavier rainfall.
Tornado update
Here's the latest update (including track maps) from the Twin Cities NWS storm survey crews on Monday's tornadoes.
On Monday evening July 11, 2016 thunderstorms produced three tornadoes across central Minnesota. The National Weather Service in the Twin Cities sent out 3 storm survey crews to assess the damage. As of Tuesday morning, there has been only one minor injury reported.

Based on the preliminary storm reports, areas hardest hit were the town of Watkins MN, northwest Litchfield MN, as well as locations near St Cloud MN. This part of the state is highlighted by the red box on the map to the right. Further information is given below and additional facts about the strength of the tornadoes will be released as the become available.
Unsettled forecast
The next few days feature sunny patches punctuated by occasional showers and thunderstorms. Minnesota rides the edges of multiple weather systems into the weekend.
Occasional showers and thunderstorms will be in the forecast. Right now the best chances for sunny dry weather looks to be Friday and Saturday morning.
Heat builds next week
NOAA and the European Centre for Medium-Range Weather Forecasts models still strongly suggest a developing heat dome over the central United States next week. There are slight differences on timing how soon the heat will get here, but temperatures and humidity are likely to surge by the middle of next week and could peak the weekend of July 23-24.
The European model cranks out temperatures as hot as 97 by next Friday. NOAA's Global Forecast System cranks out as many as seven days at or above as we approach late July.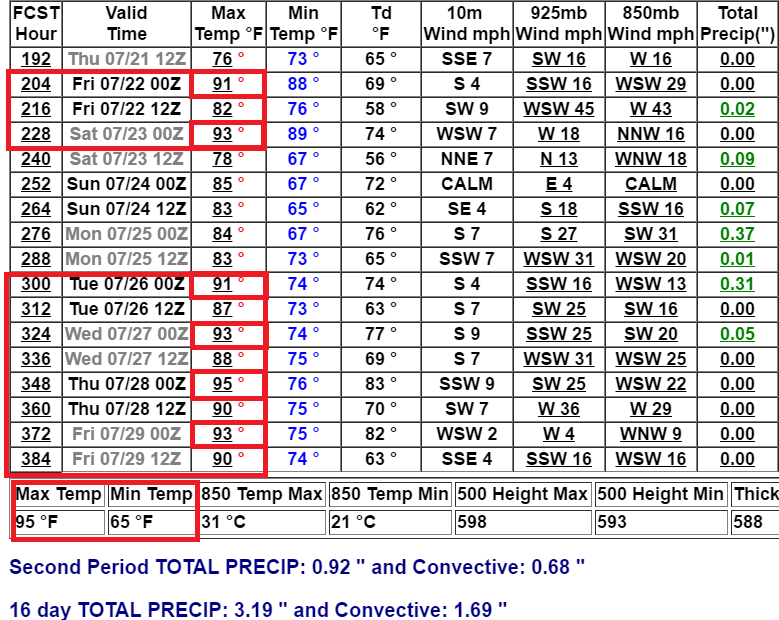 Stormy and increasingly hot. Welcome to July 2016 in Minnesota.
Clouds showing changes as climate warms
Change the 'base state' of the atmosphere and you change the clouds? It makes sense. And it's already happened in our lifetime. NPR's Nell Greenfieldboyce has an interesting story on how clouds are reacting to climate changes.
The way clouds cover the Earth may be changing because of global warming, according to a study published Monday that used satellite data to track cloud patterns across about two decades, starting in the 1980s.

Clouds in the mid-latitudes shifted toward the poles during that period, as the subtropical dry zones expanded and the highest cloud-tops got higher.

These changes are predicted by most climate models of global warming, even though those models disagree on a lot of other things related to clouds, says Joel Norris, a climate scientist at the University of California, San Diego.

"I guess what was surprising is that a lot of times we think of climate change as something that's going to occur in the future," says Norris. "This is happening right now. It's happened during my lifetime — it was a bit startling."

About 70 percent of our planet is covered by clouds, at any given moment. These constantly moving shape-shifters aren't exactly easy for scientists to study.

Clouds aren't as simple as their fluffy nature might suggest. To understand them, scientists have to track the behavior of tiny water droplets, as well as huge masses of clouds that might be hundreds of miles wide.

And climate modelers also have to take into account the fact that clouds can have two different effects on temperatures.