Sculpture Garden piece gives Park Rapids artist a boost
In a studio north of Park Rapids, a couple of hundred miles from the Minneapolis Sculpture Garden, Aaron Spangler is taking his art to a new level.
The sculptor has been at work creating a large abstract piece that, once it has been lifted into place by a crane, will become a prominent feature on the new sculpture walk beside the Walker Art Center.
We are now a little less than a year away from the grand reopening of the new and expanded Sculpture Garden. The landscaping is well underway. Spangler's work appears in collections around the country, but the piece on the sculpture walk will be his first bronze.
Spangler says he lives "way uptown" in Park Rapids. His studio sits outside his home on the edge of a lake in the woods, a 25 minutes' drive north from town.
"I think actually my biggest waste of time is spent here looking for chisels," he said as he rummaged through a tangle of tools on a trolley in his studio. "Finding the right chisel. I can never find them. I can never see them."
There must have been a couple of dozen chisels in the pile, each with a different shape or breadth.
"There we go," he said, finally finding the right one.
He crossed the room to the huge basswood form he's created over the past few months. It's close to 8 feet tall, and from some viewpoints looks a little like a morel mushroom — but just a little.
"I am really trying to get it to a point where it looks like multiple things," he said. "You can reference many things, but it doesn't look like any one thing too much."
"Let's try these here," he said, pulling out his mallet and starting to carve.
Spangler's sculpture started as a 1,400-pound block of wood, carefully glued together from pristine planks of basswood. When it's finished it will be cast in bronze and given a patina. While this massive object is taking shape in his studio, Spangler has to be constantly imagining how the finished piece will look.
The way he describes it, his carving is almost instinctual. He spends a great deal of time in a chair, staring and thinking.
"It's really about being in the studio, most of the time," he said. "Sitting and looking. And sitting and looking and looking and looking, and carving and carving. I would say almost half of it's looking."
Spangler, 45, grew up in Minnesota, but he has traveled far to get to this point. He headed east, like many young artists, and lived in Brooklyn for some years, scrounging around for materials.
"When I first started carving, I was carving in hard maple bowling-alley floors," he said. "It was what I had and I did it, and by God I made it, but when I look back, what a ridiculous thing to do."
He and his wife, chef and broadcaster Amy Thielen, thought their future lay out east. But they came back to Minnesota for summers, to be close to family and enjoy a little quiet.
"Then the whole economic world collapsed and we were glad to be here, not paying that high rent," said Spangler.
Standing in this studio, it's hard to imagine his wanting to be anywhere else. His brow often knots as he thinks about what he's doing, imagining how it will be when it's finished, or even just considering how he's doing what he's doing.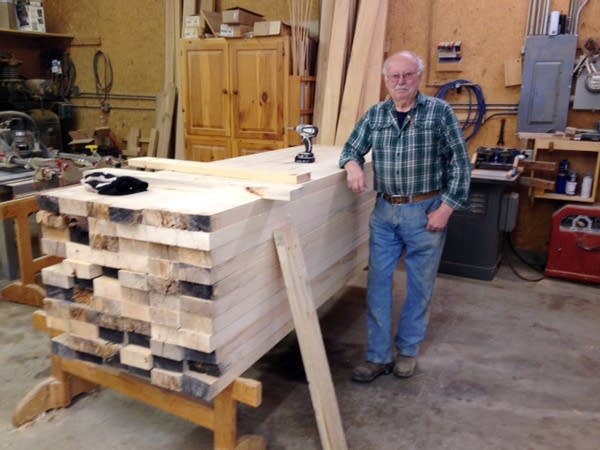 "Sometimes I wonder, like, what is my pace? Why is it that tempo?" he asked as he pounded away with his hammer. He began hammering faster. "Sometimes it can be like that," he reflected, and then returned to his normal rhythm.
He paused and felt his pulse. "It's almost my heartbeat," he said, and then resumed carving.
For months he has shaped the form, sanding down the finished bulges and edges until the surface is smooth. The smell of sawdust hangs in the air.
He's carved patterns and forms into the surface. At first glance they could be taken for ancient tribal markings, or hieroglyphs. But they actually started as tracings of tools, toys and other objects found in junk stores. There's a boxful in the corner of the studio.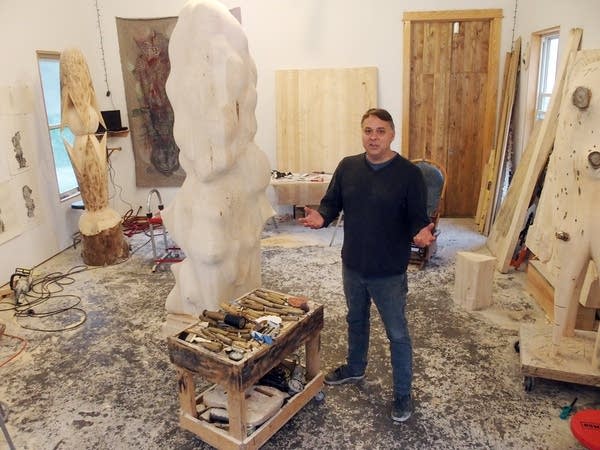 For this work he hand-chisels, using his carefully sharpened gouges to carve patterns into the smooth basswood.
He's not concerned about slipping and making a wrong mark.
"Doesn't matter. You just change what you are doing, then," he said.
Spangler's low-key approach belies the seriousness of what he is doing: creating something that could be around for centuries. "I try not to think about that," he said with a laugh.
In a few weeks the piece will be cast at a foundry in Brooklyn. The process finishes with the application of a patina.
All being well, the sculpture will be installed at the Walker by late fall. It's going to be hard to see, however, while the other work is in progress. The Sculpture Garden formally reopens in June 2017.
The Minneapolis Park Board is spending $10 million on landscaping and drainage work as it expands the Sculpture Garden by five acres. The Walker will add $15 million worth of art to the garden, including Spangler's piece.
Walker Visual Arts Curator Siri Engberg stood recently on the roof of the building, looking down on the construction site that is becoming the garden. There was an actual X on the ground, marking the spot where the Spangler will go.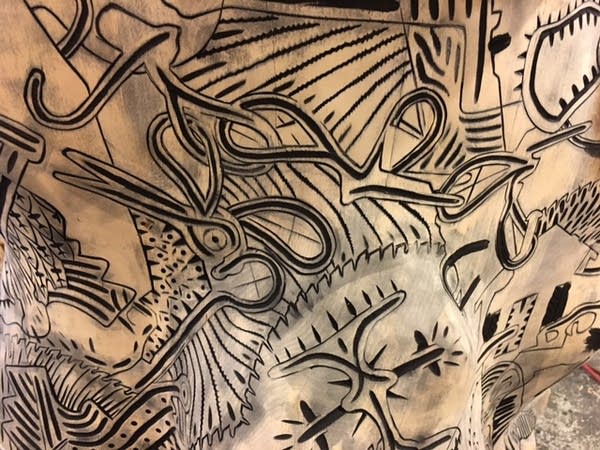 "Aaron was very interested in having the piece, which is quite human-scaled, be at an intersection of two pathways," Engberg explained, so it can be viewed from different directions.
Engberg said the Walker is proud that its past commissions for the Sculpture Garden have allowed a number of sculptors to make their first bronze.
"And we felt Aaron was at that point with his work where outdoor sculpture was something he had not yet done," she said, "and it would be the perfect moment to invite him to take his work somewhere new."
During a visit by the artist, Walker staff set up a shape roughly the size of Spangler's piece and set it in place so he could get an idea of how it would look. There's a lot to think about when placing a heavy bronze designed to appear different from every angle. Spangler said the experience made him realize he wanted to build a platform for the finished work.
"But I also have to think about which side is going to be viewed from where," he said. "Ideally, I could just be there and turn it around, but I think I am going to have to have a plan before that happens."
And then, like the rest of us, he'll have to wait until the garden's opening to see how it looks in place.
Your support matters.
You make MPR News possible. Individual donations are behind the clarity in coverage from our reporters across the state, stories that connect us, and conversations that provide perspectives. Help ensure MPR remains a resource that brings Minnesotans together.