Summery now, heavy rainfall returns Wednesday
Don't look now, but we're rounding the halfway point of September and heading for the home stretch.
The first 18 days of this month? More June than September. Temperatures are running warmer than average once again this month. In fact the last year has felt like a step-boost in Minnesota's climate. Most of Minnesota is running 4 to 5 degrees warmer than average over the past year. We've also soaked up 2 to 3 hurricanes worth of rain since June 1st.
Welcome to the jungles of Omaha.
+3.5 degrees vs. average this month at MSP Airport

13th straight warmer than average month at MSP Airport

20" to 30" rainfall totals across southern Minnesota since June 1st
Tangled up in green
Our next active warm front bubbles up along the I-90 corridor Tuesday night. The heaviest rains likely favor southern Minnesota once again. Wednesday features the heaviest downpours as a tangled web of isobars and fronts drape across Minnesota. A bunch of intersecting lines on the weather map usually spells trouble. Green means wet. Lather. Rinse. Repeat.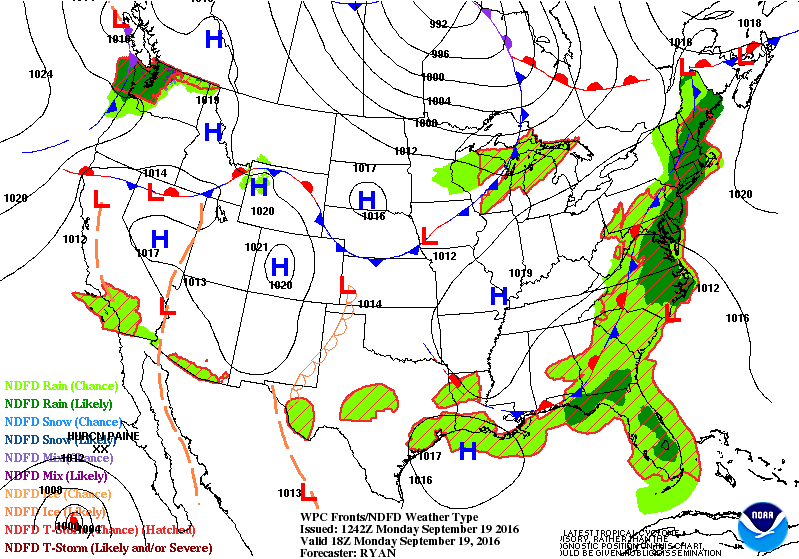 More multi-inch rains
Many rain gauges reach brimful again by Wednesday night. Expect more multi-inch downpours, especially across southern Minnesota. We come up for air Thursday and Friday before another stalled front dumps more rain this weekend. And yes, I could see some (more) 5"+ rainfall totals across southern Minnesota and Wisconsin by Sunday.
The Twin Cities NWS is running out of rain and lightning symbols this summer. You don't see 'heavy rain' in the forecast language that often, but it's been common lately.
So far it looks like the Twin Cities inner metro core will probably remain frost free until early October, but it could be a close call with some 30s around October 1st.
Autumnal equinox Thursday at 9:21 am
Meteorological fall arrived on September 1st. Astronomical fall arrives Thursday. Yes, meteorologists march to the beat of a different seasonal drummer.
Here's some good info on Thursday's equinox from timeanddate.com.
"Equinox" means "equal night" in Latin. But even if the name suggests it and it's widely accepted, it isn't entirely true that day and night are exactly the same – 12 hours day and 12 hours night – on the equinox all over the world – only nearly.

What is an Equinox?

Earth spins around its own axis approximately every 24 hours (a sidereal day is 23 hours, 56 minutes, 4 seconds). It orbits the sun in around 365 days. And, like a spinning top, it wobbles around on its axis, making a complete rotation every 26,000 years (precession of the equinoxes).

Earth is actually tilted at an angle of around 23.4 degrees toward the celestial pole, which is a a certain point in the sky. As the Earth makes its yearly orbit, one hemisphere faces the sun more than the other, the side that has summer.

On any other day of the year, the Earth's axis also tilts a little away from or towards the Sun. However, the equinoxes marks the exact moment twice a year when the Earth's axis is not tilted toward or away from the Sun at all. However, the axis tilt of around 23.4 degrees toward the celestial pole, remains the same.
Your support matters.
You make MPR News possible. Individual donations are behind the clarity in coverage from our reporters across the state, stories that connect us, and conversations that provide perspectives. Help ensure MPR remains a resource that brings Minnesotans together.