48 more record warm hours, plowable snow chance grows Friday
Changing winters
According to climate experts winter rainfall frequency has increased about 4-times in Minnesota since the 1970s. It makes sense. A warmer winter atmosphere means more precipitation falls as rain and ice, with less snow overall in Minnesota.
Minnesota's winters are warming at the overall rate of 11 degrees per century since 1960. That means our winters today are very different than our grandparents. Our grandkids may not recognize winter as we know it in Minnesota. Every winter is different, and we'll still get an old-fashioned pioneer winter every three or four years, but the trend lines are clear.
Monday rain
Before you keep reading ...
Did you know that MPR News is supported by Members? Gifts from individuals power the headlines, clarity and context found here. Give during the Fall Member Drive to become a Member today.
Many of us picked up between .25 inches and .50 inches of rainfall Monday.
Soaking February rain
This is even weirder. I can't recall a time when rainfall was soaking into frost-free ground in February. But that's what happened today in much of southern Minnesota where frost has either partially or totally left the ground. The 16-inch frost depth at Waseca south of the Twin Cities last Thursday is now gone.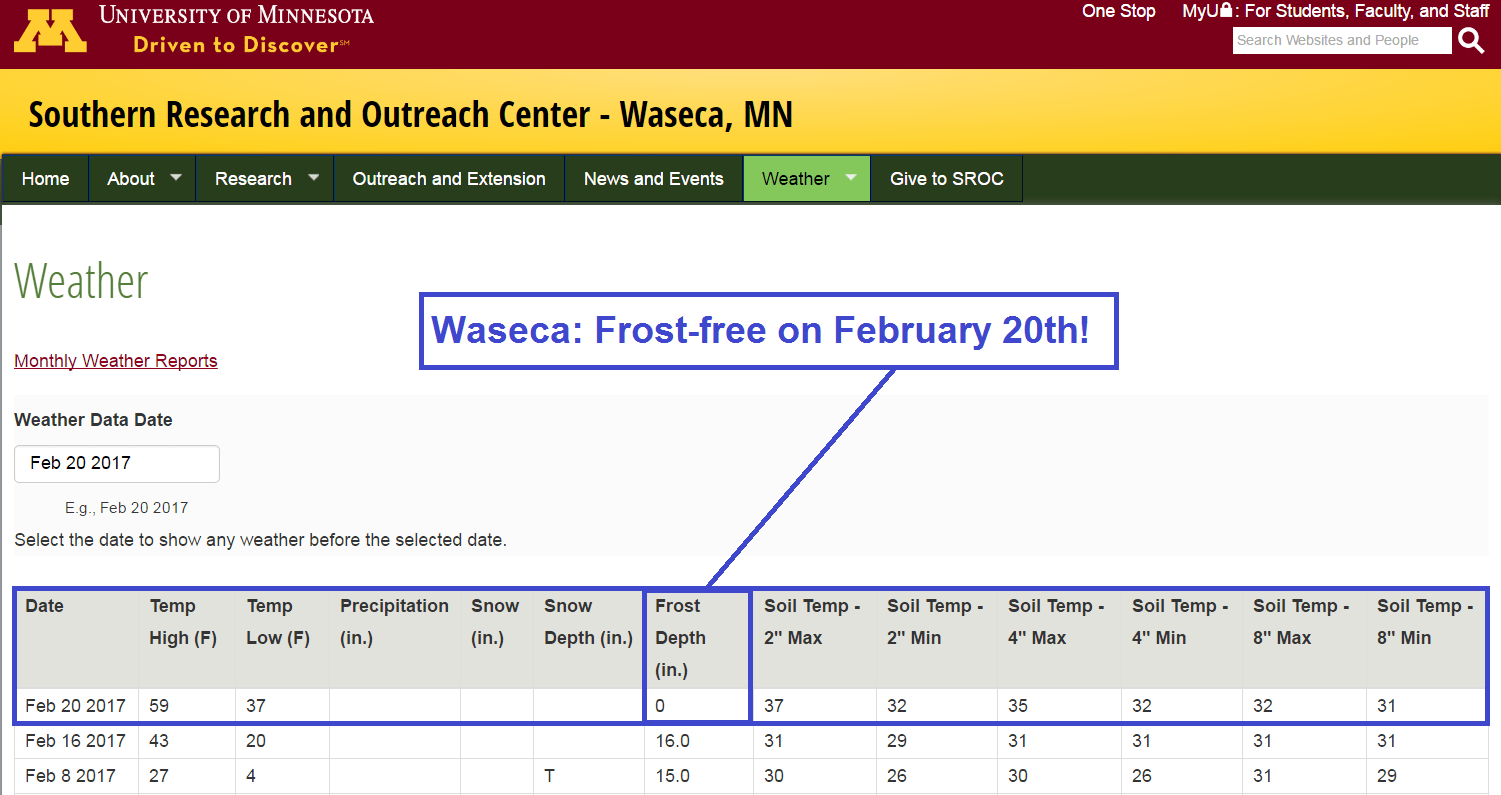 Back to the 60s
Depending on your perspective, we enjoy or lament another 48 hours of record warmth lasting through Wednesday. Highs reach the 60s in southern Minnesota once again Tuesday with abundant sunshine. More records will fall. I'm just waiting for the first reports of crocus in February.
Revenge of winter
The proverbial other shoe drops as we hit next weekend. The season formerly known as winter is down, but not out just yet. I see at least a week of properly cold temps with highs stuck in the 20s and 30s starting this weekend.
Winter's revenge?
Friday snow
The odds of a plowable snow continue to grow by Friday. There are still major differences in model forecast storm tracks. NOAA's GFS has shifted north, and now brings the heavier snow bands into the Twin Cities Friday.
One thing that seems almost certain? A foot of snow or more in the heaviest snow band somewhere across the southern half of Minnesota, northern Iowa into Wisconsin. NOAA's 12Z Monday morning GFS model run brings the heavier snow band squarely into the southern Twin Cities metro.
The Euro has backed off on Twin Cities snowfall totals and now favors a more southern solution.
Stay tuned.
Cold returns
Regardless of eventual snowfall totals, the trend toward much colder weather seems certain. The first week of March looks wintry for Minnesota.
People always ask when we're done with subzero temps in the Twin Cities. My answer is usually we see one more subzero temp the first week of March. Looking at NOAA's 16-day GFS output, this year seems like it could fit that bill once again.
Prepare for a return to winter.