Aspen Ideas Festival: Norman Lear and Khizr Khan on American values and the Constitution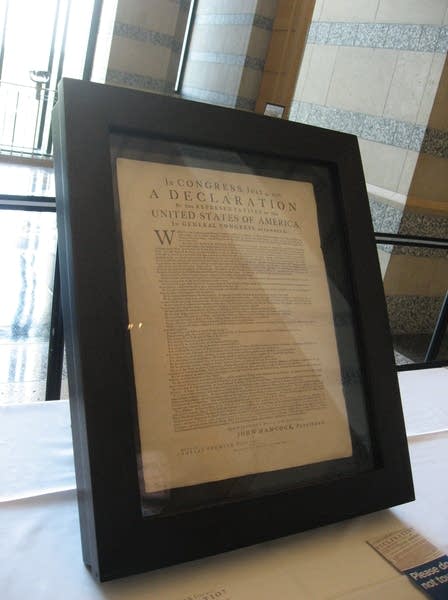 Television producer Norman Lear bought a version of the Declaration of Independence and toured it around the country to promote American values. Khizr Khan is an American citizen from Pakistan who says we must always stay true to the rights and privileges outlined in our Constitution.
Aspen Institute President and CEO Walter Isaacson moderated a discussion with Lear and Khan about the American values embodied in the Constitution and the Declaration of Independence.
Khan says he's grateful and humbled to have become "a citizen of the most dignified and privileged nation on planet earth."
"I have seen what it feels, I have gone through how it is to not have these dignities and privileges, I call them dignities, enshrined in our Constitution," he said.
Lear shares that affinity for the Constitution, saying that as a young boy he was in love with the document, as well as the Declaration of Independence and the Bill of Rights.
"Those words, they gave me all the strength I needed," Lear said, adding how difficult it was for him to grow up in a time where Jewish people were marginalized across America and the world.
Today what gives him strength is the recognition of common humanity.
"It's what pulls the American Way together. It's, for me, what has motivated most of what I've been up to in my life. Just understanding that we are one," Lear said. Lear is founder of People for the American Way, an advocacy group that fights "right-wing extremism."
To listen to their conversation, click the audio player above.
More from Aspen Ideas Festival
• Bill Bishop on why we live with people just like ourselves
• David Brooks on 'The Second Mountain'
• How presidents prepare for Armageddon
• Why millennials work the way they do
• The social downside to technology
• What you need to know about Martin Luther King
• Conservatism in the Trump era
MPR News presents offers speeches, documentaries and debates — airing weekdays from noon to 1 p.m.
Your support matters.
You make MPR News possible. Individual donations are behind the clarity in coverage from our reporters across the state, stories that connect us, and conversations that provide perspectives. Help ensure MPR remains a resource that brings Minnesotans together.