Cop who killed Ruszczyk took unconventional path to becoming officer
A little more than two years ago, Mohamed Noor was one of 27 cadets sitting in a classroom for the first day of police academy.
"This class, I just saw them today for the first time, but looks like a very diverse class," Sgt. Steven Bantle, head of the academy, said at the time.
Minneapolis' cadet training program has accepted Noor — who fatally shot 911 caller Justine Ruszczyk earlier this month — and many other people without formal law enforcement education. They're put through a nontraditional 30-week course that police officials say is condensed but thorough.
Most officers in Minnesota go the traditional training route, said Nate Gove, director of the state Peace Officer Standards and Training, or POST, board.
Grow the Future of Public Media
MPR News is supported by Members. Gifts from individuals power everything you find here. Make a gift of any amount today to become a Member!
That includes completing a two- or four-year college law enforcement program certified by the POST board.
However, departments like Minneapolis have added alternative routes to the force, Gove said, partially because the traditional way can exclude otherwise qualified candidates.
"That has been a criticism that, 'Well ... these would make excellent officers, but they don't want to have to go back to school and get another four-year degree or another two-year degree," Gove said.
Noor, for example, graduated from Augsburg College in 2011 with a bachelor's degree. He majored in economics and business administration and management. Noor had recently worked as a hotel manager in Bloomington.
The cadet program may have a part in diversifying the police force, too.
When Noor started cadet academy, then-police spokesman John Elder said Noor's group was likely the most racially, ethnically and gender diverse class in the history of the program.
Over the years, Minneapolis police force has slowly become more diverse. According to 2016 statistics, 24 percent of officers are people of color. And 15 percent of officers are women.
The police cadet program he entered has the city of Minneapolis paying for new hires to take law enforcement academic courses.
Costs for each cadet total nearly $2,400. If the cadet doesn't complete the program — or leaves the force within two years after being promoted to the rank of officer — they must pay the money back.
The cadet program started in 1989, and acting police chief Medaria Arradondo was in its initial class. Arradondo has a law enforcement degree, but entered the cadet program because he didn't finish the POST licensing process, according to police spokeswoman Sgt. Catherine Michal.
Michal didn't have an estimate for how many Minneapolis officers entered the department through the cadet program. But she said it's not uncommon for officers get their start on the force as cadets.
Minneapolis police union president Bob Kroll is not a fan of the cadet program. It's too expensive and takes too much time to get officers on the street, he said.
Kroll said he would prefer the city hired people who paid their own way through a two- or four-year program and passed their POST board exams.
"They should be the ones we're hiring," Kroll said, "because all you got to do is put them into the academy and they're on. They're ready to go."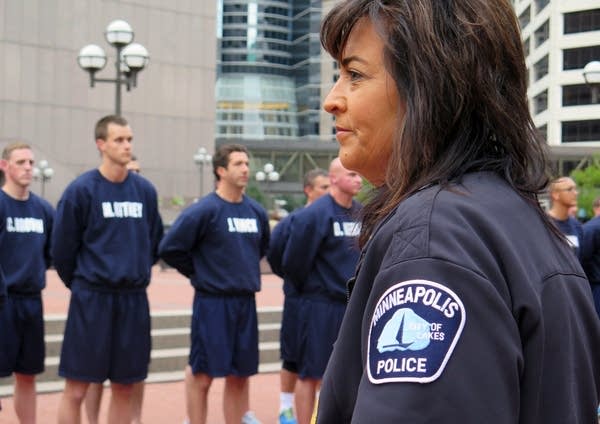 Kroll said the city needs more officers on the street now. The department is about 30 officers below its authorized size of 877, he said, adding that there are 2,000 qualified people in the state ready to be hired.
However, Gove had a different estimate for how many would-be officers are ready for hiring. While that number is hard to determine, Gove said, he estimates it's between 1,200 and 1,700 people.
Kroll said although he thinks the cadet program is slow and expensive, he thinks cadets are well trained.
"They call it accelerated because they put all your law enforcement college courses, they crunch them in — but really it's no different training and it's not shorter," Kroll said. "It's just a longer process to get them on and it's a significant financial investment."
Noor's personnel file shows that he passed firearms training, critical-incident team training, and active-shooter training. In Janee Harteau's last press conference as police chief, she said there was no indication that Noor had any problems during his six months of field training.
However, Harteau criticized Noor's actions on the night of the shooting, saying, "I believe the actions in question go against who we are as a department, how we train and the expectations we have for our officers."