Summer Music Series: Tufawon shares his experiences as an artist and activist
Tufawon and DJ Just Nine (ZULUZULUU) stopped in The Current studio to record a session with Local Show host Andrea Swensson and MPR News host Tom Weber as a part of the Summer Music Series. During the session, Tufawon shared his experiences as a globetrotting performer and an activist and how this influences his music.
Growing up in South Minneapolis, Tufawon (Rafael Gonzalez) is an active and long-time member of the local hip-hop scene. "I was birthed out of the movement," Tufawon said. "I talk hip-hop, I walk hip-hop, I live and breathe hip-hop." He got his start as a part of the trio Illuminous 3, who began doing shows together with the help of the youth organization Yo! The Movement. Last year saw the release of two solo albums, The Send Off and The Homecoming, documenting his travel experiences.
Along with music, activism is another passion of Tufawon's, as evident by the socially conscious tone of his songs. For him, these two aspects of this life — hip-hop and activism — go hand in hand. "Wherever you find resistance, you're more than likely going to find hip-hop," Tufawon explained. "Hip-hop goes hand in hand with resistance."
In fact, during the Dakota Access Pipeline protests last year, Tufawon put his music career on hold and travelled to South Dakota to be on the front line. "I really felt a need to go there and represent my people," Tufawon said, adding "Standing Rock was my calling." The four months at the protest doubled as a time of self-discovery for the hip-hop artist. "Standing Rock was also a way for me to learn so much more about my own identity," Tufawon explained.
Grow the Future of Public Media
MPR News is supported by Members. Gifts from individuals power everything you find here. Make a gift of any amount today to become a Member!
As a Puerto Rican and Dakota artist, Tufawon draws on elements of both cultures to influence his music. "I think it's important to note where my name comes from," he told Swensson and Weber. "Tufawon essentially means two for one and that represents that mixed heritage. That's where my name comes from and I want to represent that so much more in my music."
The session ended with a performance of "Solstice 2," a song that begins on the day that Prince died and recounts the moment Tufawon heard the news. "He was a voice for us," Tufawon explained. "He made it possible for people to just be themselves completely and be unapologetic about it."
Use the audio player above to hear the full in-studio session and to hear more of Tufawon's reflections on Prince. You can hear more sessions from the Summer Music Series on Tom Weber's show on MPR News on Fridays at 11 a.m.; and on The Current's Local Show on Sunday nights at 6 p.m.
Songs Performed
"Lucid Dream" "Like Her" "Sage Patch Kid" "Solstice 2"
More from the Summer Music Series:
• Manchita performs emotional new solo EP
• Reina Del Cid talks about her musical evolution
• Soul singer PaviElle talks musical heritage
• Rapper Allan Kingdom on what it means to be an artist from St. Paul
• Summer Music Series: Thelonesomekid performs in The Current studio
Hosted by Andrea Swensson and Tom Weber Produced by Julie Siple Engineered by Michael DeMark Visuals by Nate Ryan Web feature by Lilli Speakman
Gallery
8 of 8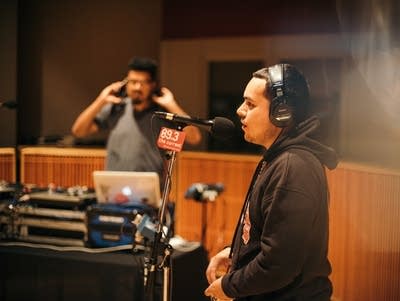 1 of 8
2 of 8