If the thought of stepping foot inside a store on Black Friday makes you queasy, we're here to help.
From hitting the great outdoors (for free!) to ringing in the new year, here are a few other special ways to spend the day after Thanksgiving.
Walk off that turkey dinner at a state park
If you ate a little too much or you're not sick of your family yet, some good news. Once again, entrance fees to all 75 Minnesota state parks and recreation areas will be waived in an effort to get Minnesotans to spend time with family outdoors.
On most days, the state charges $7 for a daily vehicle permit.
A few parks are offering special programs that day, including:
• Tettegouche State Park: From 12 p.m. to 2 p.m., you can learn how to start a fire without matches or a lighter.
• Whitewater State Park: From 10 a.m. to 11:30 a.m., find out how beavers survive and thrive in cold weather.
• Blue Mounds State Park: From 3 p.m. to 4 p.m., a park naturalist will lead a one-mile hike to the upper cliff line in search of wild turkey or signs of wild turkey. (Speaking of wild turkeys, here's what to do if you ever encounter one.)
The Department of Natural Resources says there's a state park within 30 miles of most Minnesotans.
Treat yourself to a morning of art
Instead of waking up at the crack of dawn to go shopping, how about waking before sunrise to check out some art?
Mia, the Minneapolis Institute of Art, is opening up from 6 a.m. to 10 a.m. on Black Friday.
Museum-goers can check out the "Eyewitness Views: Making History in 18th-Century Europe" exhibit for free (normally $20); tickets are first come, first served.
And! Free coffee and treats.
Celebrate the new year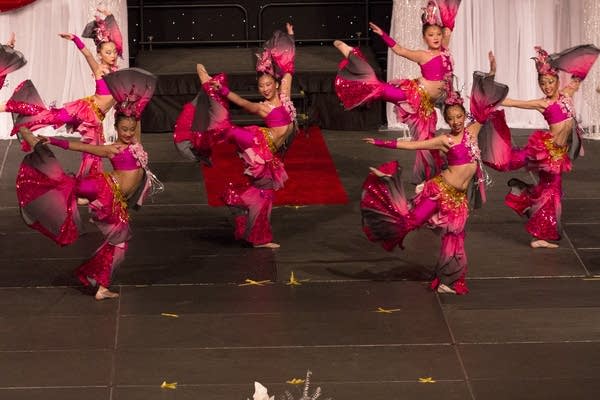 The Twin Cities is home to the largest urban concentration of Hmong in the United States. This weekend, St. Paul hosts the annual Hmong New Year at the RiverCentre.
The three-day event, beginning Friday, was traditionally a harvest celebration and a time for young people to meet each other. Heads up: Watch out for flying tennis balls. The traditional Hmong courtship ritual is a ball-tossing game call "pov pob." It gives people the chance to talk and woo potential partners.
See the sights -- and lights
By Friday, holiday light shows and parades will be in full swing across Minnesota. Some shows continue through the season, and others are one-offs.
Here's a sampling of what's up on Friday in towns across the state (disclaimer: This is by no means meant to be a comprehensive list, nor an attempt to offend any Indignant Minnesotans. Rather, it's just a sampling from across much of the state.):
• Minneapolis: Holidazzle kicks off Friday night in Loring Park. Metro Transit is offering free rides to the free event.
• St. Paul: The Schultz Family Lights show on York Avenue starts at 5 p.m.
• Mankato: The Kiwanis Holiday Lights show starts Friday at 6 p.m. in Sibley Park with a parade. Free for all.
• Duluth: "America's Largest Free Walk Through Lighting Display" — the Bentleyville "Tour of Lights" — continues Friday night from 5 p.m. to 10 p.m.
• Bemidji: After a day of holiday-themed events, the city is hosting a parade and bonfire as part of its "First City of Lights" events.
• Austin: The city's annual Christmas lights show continues Friday night, this year featuring more than 31,000 LED lights with shows every 10 minutes from 5 to 10 p.m.
• Willmar: The nightly lights show goes from 4:30 to 11 p.m. on Friday.
• New Ulm: The city's annual "Parade of Lights" runs through downtown beginning at 6 p.m.