Guthrie scene shop was hostile place, say departed workers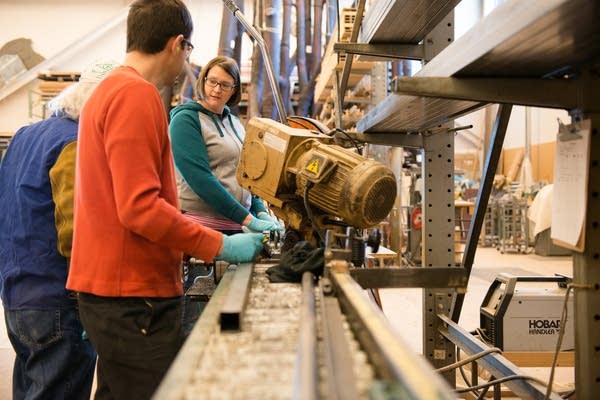 A formal investigation is underway at the Guthrie Theater in the wake of two staff resignations earlier this month.
The employees both worked as carpenters in the theater's scene shop. They say the shop was a hostile work environment, particularly for women, and that the Guthrie did not move quickly enough or effectively enough to deal with the situation.
One of the carpenters who resigned, Molly Diers, said that from the moment she started working for the Guthrie 13 years ago, she knew she wanted the job for the rest of her life.
"And I know a lot of people don't get to experience that, so I'm really glad I've gotten to," she said after her shift at U.S. Bank Stadium, where she is helping build sets for the Super Bowl halftime show. "That's why it was so heartbreaking to walk away from it, because it was my dream."
Grow the Future of Public Media
MPR News is Member supported public media. Show your support today, donate, and ensure access to local news and in-depth conversations for everyone.
Diers was 25 when she first came on board at the Guthrie. Because she was young and a freelancer — and because it was her dream job — Diers put up with things she might not have otherwise.
"The general tone" at the shop, she said, "is that women don't know what they're doing, a lot of the men touching ... every chance that they can." The touching was not necessarily sexual, she said, but "when they approach you, they sort of lead with their hands instead of their voices."
At such moments, she said, her only option was to "just laugh it off and be one of the guys."
Once, when a colleague put his hands on her, "It was just like a tickly, weird, grabbing-me-around-the-middle kind of situation," she said. "And I was very upset, and I tried to turn and go to [Human Resources], when another male carpenter blocked me — like physically blocked me — and was like, 'You don't want to be that person. You know you don't want to do that.'" Diers said the colleague made clear that if she did speak up, it was unlikely there would be a place for her at the Guthrie. So she kept quiet about the incident, and eventually in the spring of 2015 she was hired full-time.
That same year, Joe Haj took over as artistic director of the Guthrie. He hired a new managing director and a new director of production. Management launched a new initiative focused on equity, diversity and inclusion. Things were looking up.
But problems in the shop persisted.
In July 2016, Diers said, the coworker who had blocked her from going to HR years earlier was promoted to be her supervisor. A couple of months after his promotion, Diers attended the daily morning meeting.
"And he told a rape joke," she recalled. "It was really crude, it was like an incest/rape joke basically. Something about a girl outrunning her brothers. A redneck kind of thing — it was disgusting."
"And the whole room laughed," she said. "And that was when I was like, 'Oh my gosh, I don't mean anything as a human being in this environment.' The other female carpenter and I walked out of the room and looked at each other like, 'What just happened?' We just felt like we weren't even anything, you know."
She said it felt like getting hit in the face with a sledge hammer.
"Why didn't my boss walk into the morning meeting the next day and say, 'This happened, this is unacceptable?'" she said. "He never ever shut it down once, and he had many opportunities.
"So then I went to HR, more so as a concern, like 'Hey, he's breeding this culture, that's a problem.' I don't know how many times I went to HR, and still nothing happened."
The Guthrie's managing director, Jennifer Bielstein, doesn't agree that nothing happened. She offered a lengthy list of anti-harassment trainings, workshops on subtle sexism, monthly scene shop staff meetings facilitated by HR — all designed to change the culture at the Guthrie and to create a more inclusive, respectful environment.
Minnesota Sexual Harassment Law requires that employers take "timely and appropriate action" to protect their employees. Asked whether the Guthrie's response to complaints about the scene shop was "timely and appropriate," Bielstein replied, "From my awareness of what our director of production has done directly with that team and guided — yes."
Bielstein said she believed there were consequences and accountability mechanisms in place for staff members who failed to make necessary changes. But she added, "This is why we need the investigation, so that I, we, the board can understand fully what has actually gone on."
And although she thought the system was sound, "I would not have expected it to result in two strong employees resigning," she said.
The second employee is Nate Saul, also a carpenter, who'd worked at the Guthrie for 15 years. He said the culture in the scene shop was particularly toxic for women, but it also affected anybody who wasn't part of the "in" crowd. It often felt like junior high school, with an inner circle picking on the rest of the staff. And women were never part of that inner circle, he said.
Saul said he watched as Diers and other female carpenters would complain, and nothing would happen. He saw how Diers was being punished for speaking up, getting fewer leadership responsibilities, and being told her tone was a problem.
At one point he went to speak to the head of Human Resources.
"When I was asked things like, 'Do you think the negative tone is the reason why things are going so badly? Do you think she's bringing it on herself in the way that she's presenting these things?' it gave me the really clear impression that, whether or not it was specifically stated, the attitude involved was one of blaming the victim for her reaction to a justifiably frustrating situation," he said.
The final straw was when the department conducted a search for a new supervisor. Both Diers and Saul applied for the position, thinking maybe at least this way they could improve the culture.
"And when we found out a couple of weeks ago that the new shop supervisor position had been filled by somebody who had no training or experience with conflict resolution or diversity awareness or gender in the workplace consciousness — that was a really clear indication to me that my manager wasn't interested in continuing to facilitate a better environment in the shop."
Saul resigned the same day Diers did.
"Honestly, I think more than anything I feel lucky that I was presented with the opportunity to support one of the best craftspeople and one of the best people I know in making that decision at the same time that Molly did," Saul said.
Saul and Diers have been asked to participate in the Guthrie's independent investigation. Bielstein said the Guthrie is facing this situation head-on to figure out exactly what happened. Her hope is that the company will be stronger because of it.
Diers said that while she doesn't work at the Guthrie anymore, she's going to keep using her voice to try to change the scene shop, because working there should be a dream job.