In defense of Eagles fans ... sort of
Dozens of Eagles fans arrived at the Minneapolis-St. Paul International Airport just before 10:30 a.m. Thursday.
There were no reports of any horses in the Twin Cities being punched ... at least at the time this was published.
OK, OK that's a low blow.
But even those who had just walked off American Airlines flight 1906 acknowledged they bring with them a certain reputation, warranted or not.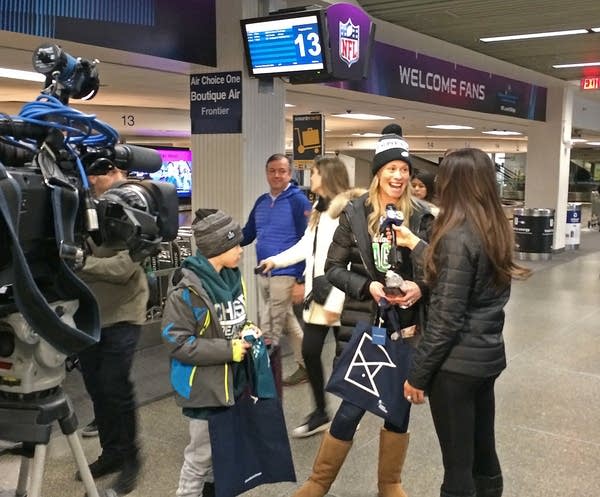 As Minnesota Public Radio News colleague Tom Scheck noted in his own ode to Eagles fandom:
"Philly fans boo Santa Claus. We punch police horses. We had a jail in the basement of the old stadium. We fire flares in the stadium during a Monday Night football game. Our coaches placed bounties on players before the Saints made it cool."
Season-ticket holder Chuck Hofius of Perham, Minn. recently attended the Vikings' loss to the Eagles in Philly. He told the Bemidji Pioneer that his husband and he "were thinking about changing our names to (expletive) and (expletive) because we'd been called that so many times," he said.
As Eagles fans waited for their baggage at the airport Thursday, they cited intense passion for the team as one explanation for some of their antics.
Most, though, said their bruiser reputation isn't deserved.
It's really just a few bad eggs they insisted.
"I have no idea what you're talking about!" quipped Shane Peters, of Philadelphia. "We would never do such a thing."
But seriously, he added: "We're passionate guys and we want our guys to win."
John Goode, who had a brief NFL career in the 1980s, agreed. "Only the bad things seem to make the papers," noted Goode, whose son Najee now plays for the Eagles.
"There's a lot of good people in the Philadelphia area,'' he said at the airport. "They're just starved for a winner."
The population in the city of Brotherly Love is about 1.5 million according to the most recent U.S. Census estimate for 2017. It is the seventh largest city in these United States.
It is also the city where officials are reportedly going to use gear oil to grease poles on Sunday in the hopes that will keep fans from climbing poles Sunday when they face off against the New England Patriots at US Bank stadium.
Meisha Johnson grew up in Blaine and now is a reporter for CBS Philly.
She also interviewed arriving Eagles fans at the airport. She noted the same some-not-all cliche, but also suggested the bad-boy reputation could be a self-fulfilling prophecy.
"Because they've had this tougher reputation, I think they sometimes try to live up to the hype,'' she said. "They are that and it becomes you." It's a dance for these fans, for sure.
Whether it's throwing cheesesteaks at opposing players or batteries ("Those big ones. Those 'D' ones") at the man who is now Philly's head coach, the caricature of the out-of-control fan base is hard to escape. The team embraces it in certain ways, like this video revisiting the 50-year-old story when Eagles fans pelted a Vikings fan dressed as Santa Claus. It hardly gets lower than picking on Santa, right?
After 50 years, it's time to bury the hatchet.#FlyEaglesFly pic.twitter.com/dOWgD4UnlY

— Philadelphia Eagles (@Eagles) December 22, 2017
Minnesota Sen. Tina Smith sent a routine press release Thursday headlined: "Senator Tina Smith Welcomes Visitors to Minnesota for Super Bowl LII (Even Eagles Fans)."
Minneapolis Mayor Jacob Frey also welcomed the world to his city in a video posted on Twitter that included a shout out to Eagles fans:
"Don't worry, we're going to be greasing all the lamp posts so you will feel right at home."
Jacob Frey, the mayor of Minneapolis, sends a warm welcome to the NFL and their fans ... well, almost everyone (sorry, Eagles fans) pic.twitter.com/u6E7TIswgw

— The MMQB (@theMMQB) January 30, 2018
The video ended with an outtake of Frey asking:
"Are we seriously welcoming the [expletive deleted] Eagles fans?" And in that spirit, not every fan just off the plane Thursday was willing to grant a full pardon.
Is the reputation warranted?
"I would say so," answered Mike Seiore, who owns a Spanish-language radio station in Philly that will broadcast the game in Spanish. "It's the way we are, the way we're built." But even the Eagles fans could offer a heartwarming example of why they're just like everyone else.
Lowell Taub of Philadelphia said he thought fans have mellowed a bit since the team moved into its new stadium.
Otherwise, why would he be taking his 13-year-old to the big game on Sunday.
"I took my dad 12 years ago in 2005,'' he said. It was the last time the Eagles played in the Super Bowl, losing to the Patriots.
"Now I'm able to take my son," he said. "It's really cool to do it with three generations."
Your support matters.
You make MPR News possible. Individual donations are behind the clarity in coverage from our reporters across the state, stories that connect us, and conversations that provide perspectives. Help ensure MPR remains a resource that brings Minnesotans together.