Prince crushes Frosty in battle of Super Bowl halftimes with Minnesotans
Whatever Justin Timberlake does in his Super Bowl halftime performance this Sunday, two things are sure to be true:
1) It cannot possibly be as goofy as the one from the 1992 show, when the game was last held in Minneapolis.
and
2) It cannot possibly top Prince's 2007 performance.
Here's a look back at the two times Minnesota took center stage at Super Bowl halftime shows, when our very own Prince headlined in Miami and when Frosty the Snowman took over in 1992. You can guess which one tops many "best of" lists.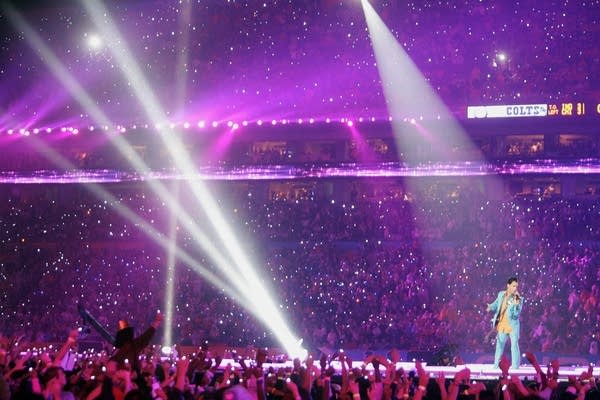 Dressed in turquoise jacket and pants with an orange shirt, Prince gave a blistering rendition of his own hits, such as "Let's Go Crazy," followed by covers of Creedence Clearwater Revival's "Proud Mary," Bob Dylan's "All Along the Watchtower" and the Foo Fighters' "Best of You" before finishing with "Purple Rain" in a driving rainstorm.
Morris Hayes, 55, was a keyboardist for Prince's former band New Power Generation and was on stage that night. He remembers organizers approaching Prince before the Super Bowl with the forecast of rain and offering to pre-record his performance. Hayes said that prompted Prince's famous response: Can you make it rain harder?
"The fact that it did rain when it did and how (Prince) did 'Purple Rain' in the rain, you can't beat that. ... It was magical, you know," Hayes recalled.
The performance was so good that it's been hailed by many as the best halftime show of all time. (See: Variety | E! News | CBS Sports | Billboard | Esquire | Maxim | Rolling Stone ranked it No. 2)
The halftime show — dubbed "Winter Magic" — featured kids in shiny harem pants rapping about Frosty the Snowman and Brian Boitano and Dorothy Hamill skating on sheets of Teflon during a salute to the Olympics that were about to begin in France. The 1980 Miracle on Ice hockey team was there, too, along with 75 people rollerblading because, why not?
Much of the country never even saw it. The show on CBS had lower ratings than a live special of the show "In Living Color" on Fox.
Lakeville resident Scott Bloom performed in the halftime show with the University of Minnesota Marching Band as a tuba player. He minced no words when looking back on it, telling WCCO: "It was terrible. It truly was terrible."
The following year the halftime show featured Michael Jackson, who ushered in the era of big-name big showy halftime shows that we know today.
Was it something we did?
The Associated Press contributed to this report.
Your support matters.
You make MPR News possible. Individual donations are behind the clarity in coverage from our reporters across the state, stories that connect us, and conversations that provide perspectives. Help ensure MPR remains a resource that brings Minnesotans together.