More sloppy days through the weekend
Abundant snow cover and warmer-than-normal afternoon temperatures will continue to produce slush and puddles on a daily basis. Many neighborhood walkers were hopping their way down sidewalks seeking higher ground Tuesday.
Overnight temperatures have again refrozen the meltwater into slick ice and crunchy snow.
We will see some increasing clouds Wednesday but temperatures will warm well above normal for most of us.
Afternoon highs should range from the low 30s in much of western Minnesota to the low- and mid-40s in the east central and southeastern parts of the state. The Twin Cities should get a high of about 44 with a light north wind.
A strong storm passing by well to our south will generate heavy rain, continued flooding and possibly severe weather from Texas to Tennessee.
Weak trough tonight
A weak upper-level trough from the northwest will bring us clouds and possibly a few flurries tonight. A light accumulation of snow is possible farther east in Wisconsin.
Temperatures will be a bit cooler behind the trough. Most of Minnesota should have highs in the 30s on Thursday and Friday.
Weekend outlook
Saturday will be mostly sunny and quite mild. It looks like the Twin Cities area could see some upper 40s for high temperatures.
The weather will become much more interesting on Sunday as a storm system forms in eastern Colorado and then builds northeastward.
This will be a sloppy, slow-moving storm. Significant snowfall is possible across much of Minnesota. Total amounts will depend greatly on how much of the precipitation falls as rain before changing to snow.
Rain and snow are likely to move into mainly the northwestern half of Minnesota on Sunday. Rain should change over to all snow gradually on Monday as colder air spreads across the state.
Snowfall could linger into Tuesday mainly in northern and eastern Minnesota.
Let's use the National Oceanic and Atmospheric Administration's Global Forecast System model to break down its forecast of precipitation type from later Sunday until Tuesday. Precipitation is likely to break out as snow (blue) in northwestern Minnesota and rain (green) on the warmer southeastern side on Sunday.
The changeover from rain to snow should proceed southeastward Sunday night and on Monday.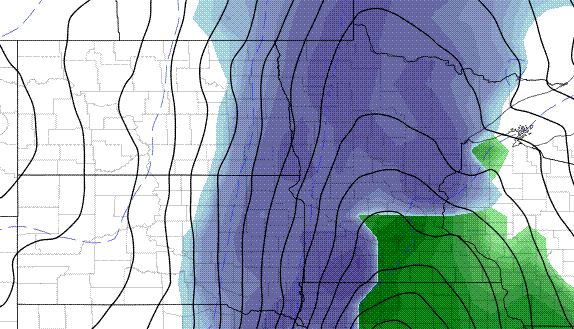 Snowfall could linger in northern and eastern Minnesota well into Tuesday.
Of course, this is just one model well ahead of time. The storm will not even begin to form for several days, so much could change.
GOES-S launch
GOES stands for Geostationary Operational Environmental Satellite. It refers to a very important class of weather satellites that remain stationed over a particular place on Earth so we can get continuous loops of weather imagery.
GOES-R was launched in November 2016 and began sending incredibly sharp cloud images at a much more frequent rate than its predecessor. It became GOES-16 after reaching geostationary orbit.
After testing, GOES-16 was stationed above 75° W longitude over the Atlantic and became operational as GOES-East.
Correction to rocket type (thanks to reader John O.)
On Thursday, NASA will launch a partner for GOES-East aboard an Atlas V rocket. It will initially be known as GOES-S but will become GOES-17 in geostationary orbit and then GOES-West after testing and being positioned above 135° W longitude over the Pacific.
The launch window will be two hours beginning at 4:02 p.m. on Thursday. NASA plans to stream the launch on NASA Live beginning at 3:30 p.m.