Climate Cast Live: How far have climate trends and solutions come in 5 years?
It's hard to believe Climate Cast has been on the air at Minnesota Public Radio News for 5 years.
In late 2012 I pitched the idea to MPR News managers for a weekly show on climate change and climate science. Climate Cast began as a conversation with Kerri Miller on Thursday mornings in early 2013.
The idea for Climate Cast was simple. Let's do a weekly show that explores the latest evolving climate science and trends. Let's explore how to best communicate climate science, and make sometimes obscure climate trends meaningful to people's daily lives. Let's relate climate and extreme weather trends to peoples weather and climate experiences. Let's focus on science & analysis. Let's communicate growing areas of climate risk, and explore growing climate solutions.
The latest climate science, news, and solutions. That's been my Climate Cast mantra for the past 5 years.
Grow the Future of Public Media
MPR News is supported by Members. Gifts from individuals power everything you find here. Make a gift of any amount today to become a Member!
An eventful 5 years
It's amazing how much climate science, news, and policy has evolved in the past 5 years. The past 4 years are the warmest years on record globally. That's unprecedented in the modern climate surface temperature record dating back to 1880. The 5 hottest years on record have all occurred in this decade.
The past 5 years has also seen incredible boom in renewable energy and jobs.
We've seen the globe sign the Paris Climate Agreement, and we've seen a U.S. President drop out.
Extreme weather attribution
One of the most important trends in climate science in the past few years is the advancing sub-science of climate change attribution to extreme weather events. Climate science can now credibly attribute the climate change components of many individual extreme weather events like Hurricane Harvey.
[image]
While hurricanes occur naturally, human‐caused climate change is supercharging them and exacerbating the risk of major damage. Here, using ocean and atmosphere observations, we demonstrate links between increased upper ocean heat content due to global warming with the extreme rainfalls from recent hurricanes. Hurricane Harvey provides an excellent case study as it was isolated in space and time. We show that prior to the beginning of northern summer of 2017, ocean heat content was the highest on record both globally and in the Gulf of Mexico, but the latter sharply decreased with hurricane Harvey via ocean evaporative cooling. The lost ocean heat was realized in the atmosphere as moisture, and then as latent heat in record‐breaking heavy rainfalls. Accordingly, record high ocean heat values not only increased the fuel available to sustain and intensify Harvey, but also increased its flooding rains on land. Harvey could not have produced so much rain without human‐induced climate change. Results have implications for the role of hurricanes in climate. Proactive planning for the consequences of human‐caused climate change is not happening in many vulnerable areas, making the disasters much worse.
Insurance industry and corporations already impacted
The insurance industry already sees the impact of climate change-enhanced extreme weather events in their catastrophic loss numbers. Insurers like Allianz have stopped insuring coal companies. Fortune 500 corporations in the United States are increasingly investing in climate sustainability. Many large emitters are achieving economic growth while reducing GHG emissions at the same time.
We have a long way to go to reverse GHG trends in the atmosphere. But there is significant momentum in business toward a path of climate sustainability.
State of earth's climate?
It is in this backdrop of growing climate connections to increasingly damaging extreme weather events we find ourselves today. We now live at the intersection of climate theory and weather reality.
In the past 5 years I have interviewed many of the world's top climate scientists. Michael Mann, Kevin Trenberth, Jennifer Francis, Ben Santer, Richard Alley, and countless others have shared the importance of their climate work in our daily lives. Minnesota experts like Mark Seeley, Pete Boulay, John Abraham, Jay Austin, and more have shared insight into climate changes in Minnesota.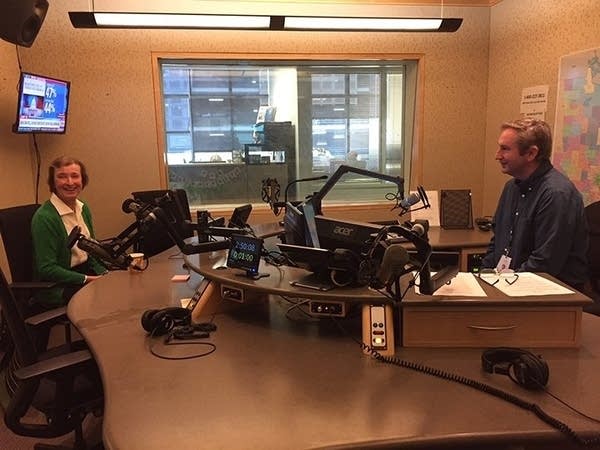 It is in that context we produced this Climate Cast Live event recently at Minnesota Public Radio. If you were unable to attend the sold out event, you can listen here.
Climate change can seem like this big overwhelming problem. It's like the big scary monster under the bed that nobody wants to talk about. But I still think taking about the latest climate science, news, and solutions is the only way forward.
With change, comes opportunity.
If you are seeking hope for earth's climate future I hope you will listen. You'll hear experts asses the state of earth's climate today. And you'll hear some very impressive young climate activists with iMatter Youth tell us what they are doing to have a positive impact on climate.  It's their planet now & tomorrow, and they're doing something about it today.