Filing deadline drama: Ellison, Omar moves scramble Minnesota politics
Updated 6 p.m. | Posted 9:46 a.m.
Attorney General Lori Swanson's decision Monday to leap into the Minnesota governor's race set off a chain reaction Tuesday of state and local politicians rushing to seek new offices.
The first big political shake-up happened around noon when DFL U.S. House Rep. Keith Ellison came to the Minnesota Secretary of State's office to file for Minnesota attorney general, throwing a wild card into that race and opening the floodgates to candidates for Ellison's 5th District congressional seat.
Grow the Future of Public Media
MPR News is supported by Members. Gifts from individuals power everything you find here. Make a gift of any amount today to become a Member!
A few hours after Ellison's filing, state Rep. Ilhan Omar, DFL-Minneapolis, signed up to replace him. Elected to the Minnesota House in 2016, Omar became the nation's first Somali-American legislator, making her run for Congress potentially historic.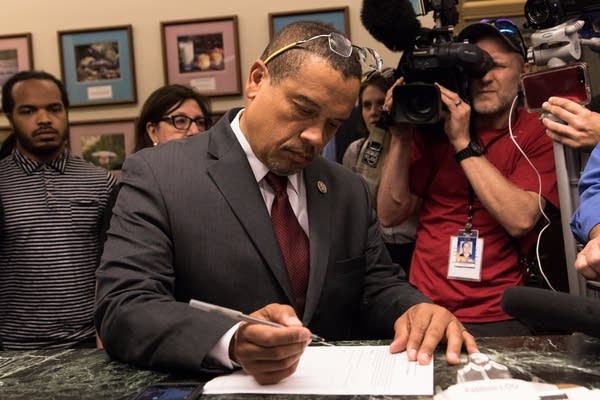 She'll contend with a raft of opponents who filed papers Tuesday for Ellison's seat, including former Minnesota Speaker of the House Margaret Anderson Kelliher, state Sen. Patricia Torres Ray, DFL-Minneapolis and state Sen. Bobby Joe Champion, DFL-Minneapolis.
The decisions by Ellison and Omar highlighted an unpredictable day of falling dominoes set in motion by Swanson's decision to run for governor. Candidates had until 5 p.m. to file. They have until the end of business Thursday to withdraw from the ballot.
"There's things you don't control, who files and who doesn't file," DFL Party chair Ken Martin said early Tuesday as the intrigue rose. "But one thing we do control is what we're going to be able to do over the next two months leading into the primary."
Former attorney general Mike Hatch got the ball rolling Tuesday morning when he filed to run for his old seat. Despite doing the paperwork, he said he'd make a final decision on whether or not to run based on who else files.
Hatch mentioned state Rep. Debra Hilstrom, DFL-Brooklyn Center among qualified candidates who might lead him to stand down.
Hilstrom filed just after 11 a.m. Tuesday to run in the primary against DFL-endorsed attorney general candidate Matt Pelikan, who won the party backing after Swanson withdrew her name for consideration.
Ellison told reporters he was excited to serve the entire state as attorney general, adding that he would also continue as deputy chair of the Democratic National Committee.
He said he would not endorse any candidate running for his congressional seat. Hours later, though, Ellison received a key endorsement for his attorney general run from Minnesota Gov. Mark Dayton.
Omar told reporters after filing that she'd be a "voice for the voiceless" and bring the same fight and energy to the U.S. Capitol that she brought to the Minnesota statehouse. "I have proven myself to be someone who shows up, takes up the hard fight and delivers."
Even before Omar announced her run for Congress, at least one candidate had already filed to run for her Minnesota House seat: Mohamud Noor, a Minneapolis school board member and former state legislative candidate.
Outside of the attorney general and governor's races,other filings of interest included Joe Radinovich, a former DFL state representative running for the 8th District congressional seat in what will be a closely watched Democratic primary.
U.S. House Rep. Rick Nolan, who's retiring from that seat, has signed up to run for lieutenant governor to the ticket behind Swanson.
State Rep. Erin Murphy, of St. Paul, the DFL-endorsed candidate for governor, filed on Tuesday and said she's focused on winning regardless of who jumps in.
"I set out to win this race, and I've got my eye on that prize," said Murphy, who right now is facing Swanson and U.S. House Rep. Tim Walz in the Aug. 14 DFL primary.
If others decide to get into this race, then they do," she said. "I've learned over and over again, from my very first race, that competition makes me better and I will be a stronger candidate winning the primary because others are in this race."
The Secretary of State's office was humming all day Tuesday, seemingly jammed with as many reporters and camera crews as would-be candidates. Secretary of State Steve Simon went so far as to hand out popcorn to the media throng. Nearly 100 Minnesotans came to the office to file to run for public office.
More surprises came at the end of the day when Kim Ellison, the ex-wife of Keith Ellison, put in the paperwork to run for her ex-husband's congressional seat, as did former state Sen. Julie Sabo, daughter of former 5th District Rep Martin Sabo, who was succeeded by Keith Ellison.
Frank Drake, who ran against Ellison in 2016 as a Republican, filed to run for the seat as a Democrat.
Minutes before closing time Tuesday at the Secretary of State's office, former Ramsey County Attorney Tom Foley walked in to fill out forms to run as a DFLer for attorney general.
Jokingly, Foley asked: "Did anyone else file today?"
Some of those who filed on Tuesday
Governor
• State Rep. Erin Murphy, DFL
• Ex-Gov. Tim Pawlenty Republican
Attorney general
• U.S. House Rep. Keith Ellison, DFL
• Ex-Attorney General Mike Hatch, DFL
• State Rep. Debra Hilstrom, DFL
• Ex-state Sen. Bob Lessard, GOP
• Ex-Commerce Commissioner Mike Rothman, DFL
5th Congressional District
• Jamal Abdulahi, DFL
• Bob "Again" Carney, Jr., GOP
• State Sen. Bobby Joe Champion, DFL
• Frank Drake, DFL, ran against Ellison as a Republican in 2016
• Kim Ellison, ex-wife of Keith Ellison, DFL
• Ex-Ramsey County Attorney Tom Foley, DFL
• Ex-Minnesota House Speaker Margaret Anderson Kelliher, DFL
• State Rep. Ilhan Omar, DFL
• Ex-state Sen. Julie Sabo, DFL
• State Sen. Patricia Torres Ray, DFL
8th Congressional District
• Ex-state Rep. Joe Radinovich, DFL
• Pete Stauber, GOP
• Harry Robb Welty, GOP
• Kirsten Kennedy, DFL
• Michelle D. Lee, DFL
• Jason Metsa, DFL
• Soren Christian Sorensen, DFL
Rep. Ilan Omar's Minnesota House seat
• Minneapolis School Board member Mohamud Noor, DFL
• Peter Wagenius, DFL
• Joseph Patiño, GOP
• Fadumo Taani, GOP
• Mohammadkheir (Mo) Gaba, DFL
• Angelo Jaramillo, DFL
• Cordelia Pierson, DFL
• Joshua Preston, DFL
• Haaris Pasha, DFL
Rep. Debra Hilstrom's Minnesota House seat
• Robert Marvin, GOP
• Samantha Vang, DFL
• Cindy Yang, DFL
• Alexander Koenig, DFL
Gallery
12 of 12
1 of 12
2 of 12