Minnesota storms, flooding prompt Dayton to declare state of emergency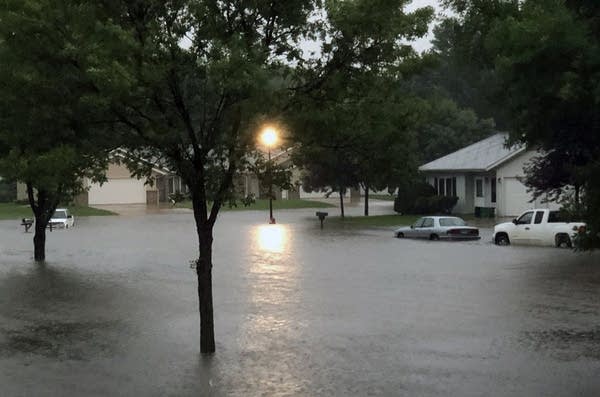 Minnesota Gov. Mark Dayton has declared a state of emergency in response to severe weather in the past month that has caused flooding and property damage across much of the state.
Dayton's order on Thursday applies to 36 counties and the Red Lake Nation. His order cites a persistent weather pattern since June 9 that has generated a series of severe summer storms packing high winds, tornadoes and torrential rains resulting in flash flooding.
Just this week, a tornado touched down in Bemidji and flash flooding has affected homes and highways in southwestern Minnesota.
Residents of an apartment complex in Springfield, Minn., remained evacuated Thursday because of flooding along the Cottonwood River.
They're staying with relatives or being housed in various motels in New Ulm and Springfield until officials decide it's safe to return. The Cottonwood River crested at about 33 feet in Springfield, lower than the forecast crest of 35 feet — but still near a record level and 12 feet above the river stage earlier this week. The river is still rising downstream in New Ulm.
Flood warnings remain in place along several other rivers and streams in southern Minnesota. The Minnesota Department of Transportation has closed the State Highway 30 bridge over the Des Moines River east of Currie, Minn., amid concerns about the force of the water on the structure. U.S. Highway 14 east of Lamberton also remained closed on Thursday.
MPR News is Reader Funded
Before you keep reading, take a moment to donate to MPR News. Your financial support ensures that factual and trusted news and context remain accessible to all.
Dayton's emergency order directs state agencies to continue to assist affected local governments in responding to and recovering from the effects of the storms.
The order also allows the state Department of Public Safety Homeland Security and Emergency Management division to request that the Federal Emergency Management Agency conduct a preliminary damage assessment, and determine if the damage exceeds Minnesota's federal disaster declaration threshold of $7.7 million.
On Friday, Dayton, Sen. Tina Smith and Rep. Collin Peterson plan to visit the cities of Slayton, Walnut Grove and Balaton to assess the storm damage there.
The following counties are included in Dayton's order: Aitkin, Becker, Beltrami, Blue Earth, Brown, Carlton, Cass, Clearwater, Cottonwood, Faribault, Fillmore, Freeborn, Jackson, Kittson, Lake, Lyon, Mahnomen, Martin, Mille Lacs, Mower, Murray, Nicollet, Nobles, Pine, Pipestone, Polk, Red Lake, Redwood, Renville, Rock, Sibley, Stearns, Stevens, St. Louis, Waseca and Watonwan.