$10M question: Are counties' efforts to fight aquatic invasives working?
Minnesota spends millions of dollars every year to fight invasive species — like zebra mussels and starry stonewort — in the state's lakes and waterways. But the damaging plants and animals continue to spread.
In 2014, the Legislature took the unusual step of setting aside $10 million each year to distribute to the counties fighting invasives. The money came with very few strings: No detailed financial reporting is required. Counties must submit a spending plan, but it can be as simple as a county board's resolution saying it will use the money for aquatic invasive species programs. The low overhead was intended to avoid bureaucracy and spur innovation.
Four years into the program, many Minnesota counties have taken the funding and run with it. The money has prompted a raft of new local initiatives, but because the reporting is slim and invasives are tough to track, it's unclear if all that funding — and activity — is protecting Minnesota's lakes.
Aquatic invasive species first arrived in Minnesota more than a century ago, when common carp were introduced as a new game species. Zebra mussels arrived in the 1980s in the ballast waters of an oceangoing ship that stopped in Duluth, one of several non-native species to arrive by ship. There are more than three dozen invasive animals, plants and diseases in Minnesota's waters now — and many more that could show up in the future. Some of the invasive species spread slowly. Others spread easily and can have significant economic and biological impact.
Grow the Future of Public Media
MPR News is supported by Members. Gifts from individuals power everything you find here. Make a gift of any amount today to become a Member!
All but three Minnesota counties get money from the state to fight aquatic invasives. The amount each county gets is determined by a formula based on the number of public boat landings and boat trailer parking spaces it has. Because of that, about 40 percent of the aid is directed toward 10 Minnesota counties, mostly in the northern half of the state.
'>
In most cases, inspectors hired to check boats entering or leaving a lake account for the biggest share of spending, followed by advertising and public outreach. The inspection programs also often include decontamination units to clean boats that might carry invasive species. Many counties hire an aquatic invasives coordinator to lead the effort, and several set up citizen advisory boards to help decide how the money is spent.
State officials, counties and many lake associations say the state aid is a catalyst for innovation: Counties are trying new approaches and learning from each other. The state Department of Natural Resources offers coordination and technical advice, but county staff also share information about successes and failures informally with each other.
Itasca County: Early detection, rapid response
About 70 percent of the $650,000 Itasca County received in aid this year will pay for inspectors at its boat ramps.
But it also spends roughly 20 percent of that money on a sort of invasive species SWAT team.
"It's all about early detection and rapid response. It's a critical component of what we do here in Itasca County," said aquatic invasives coordinator Bill Grantges. Nearby, two members of his rapid response team, in swim trunks and goggles, duck under the water near the public access point on Spider Lake, a popular fishing spot 40 minutes north of Grand Rapids, searching for signs of flowering rush.
Flowering rush is an invasive plant, likely brought to this lake by a boat. It can spread rapidly, creating thick masses that cover fish spawning beds and choke out native plants. It's found in more than 30 locations across the state. Early detection efforts identified Spider Lake's infestation while it was still small.
Ever since, Grantges' team has been working to remove it. The divers pull a dozen plants from the lake bottom and dump them in a canoe. Last year, they filled half a canoe. They hope to thin out the plants, year by year, until they're gone from the lake completely.
Grantges is confident they will eliminate it.
The eight-member team spends most of the summer canoeing or walking lakes' shorelines, looking for invasive species, mapping what they find and removing small infestations.
People often jokingly ask team leader Chris Evans if the county can't afford boats.
But the best tools for looking for aquatic invasives are your bare hands, walking around picking up rocks and sticks — manual labor, Evans said: "You can't just stand at a boat access and look around."
The team focuses on popular lakes with a lot of traffic. Grantges is convinced aggressive early detection and rapid response are much cheaper than trying to eradicate or control an invasive species after it's established.
Crow Wing County: Decisions built on data
An hour and a half down the road in Brainerd, Jake Frie oversees about $450,000 in aquatic invasive aid. Like most of its counterparts, Crow Wing County spends the majority of its aid paying boat inspectors.
But the county has 102 public boat landings — and, on a typical weekend, about 40 inspectors on duty. It's a problem of math — so, increasingly, Frie relies on data to guide the way he staffs inspection points.
The county tracks boat traffic and past inspections, and takes into account which lakes have invasive species and which are most popular with boaters. Each public landing is assigned a risk level, and staffed accordingly.
"The first couple years we said, 'Yeah, I'm pretty sure people use this landing a lot,' and then as the years have gone by, we've refined that to say, 'You know what, this is not exactly what we thought this is going to be,'" Frie said. "And now we finally have the data to say, 'Not only do we think that, we know.'"
Still, Frie admits there's often pressure from lake residents who don't see inspectors at their launches and want to know why their lake isn't being watched closely.
"Being able to have objective information helps us sort through the noise and get to: 'Here's why,'" he said.
Crow Wing is one of a growing number of counties that are turning to data-driven formulas to prioritize boat inspections — and the Minnesota Aquatic Invasive Species Research Center has spent the past four years building a massive database to analyze the risk levels of lakes across the state for zebra mussel infestations.
During inspections at boat landings, inspectors ask which lakes boaters have come from, and where they plan to go next. Scientists looked at the data from 1.3 million inspections across the state to paint a clearer picture of boat — and, therefore, potential aquatic invasive — movement across Minnesota's waterways.
And while boat movement data doesn't always explain zebra mussel infestations, MAISRC director Nick Phelps said it shows that the more connected a lake is in the network of boat movements, the more likely it is to be infested with zebra mussels.
The study found that the five most connected lakes in the state — the ones that are frequented most often by boats that also visit other lakes — are Lake Minnetonka, Leech Lake, Gull Lake, Lake Vermilion and Lake Waconia.
"Mathematically, I could find the optimal place to put an inspector to reduce risk," Phelps said. But for counties, it's more complicated than pure math. People are passionate about the lakes they live on or frequent. "It's a difficult job for these counties to allocate those resources to make people happy while minimizing risk," he said.
Phelps and his team at MAISRC plan to pair their boat movement data with information about lakes' suitability for zebra mussels — and they plan to expand the predictive model to other aquatic invasive species in the future.
Cass County: Coordination brings empowerment
Minnesota's spending in the fight against aquatic invasives doesn't stop with the $10 million the state gives to counties. The DNR alone had a $9 million budget for aquatic invasive prevention and enforcement last year.
And a recent study conducted by Concordia College in Moorhead for the group Minnesota Lakes and Rivers Advocates found that lake associations — groups of lakeshore property owners — around the state spend about $1.65 million a year protecting lakes.
Their members, according to the study, volunteer more than a million hours each year, sometimes as unpaid inspectors at boat landings when paid state or county inspectors aren't available. Some lake associations also contribute funding to expand county inspection programs.
With so many layers, tensions abound over money and approaches. A recent survey of lake association members found that many feel shut out of the process, said Minnesota Lakes and Rivers Advocates executive director Jeff Forester.
"Lake associations, which are highly organized and have a sense of urgency about protecting the lakes, are this huge resource in the state," said Forester. He said he's beginning to see signs of improving communication between lake associations and local governments.
Phil Hunsicker, an aquatic invasive species prevention planner for the DNR, said the agency sees the tensions but tries to stay out of those relationships, which he said are best worked out at the local level.
"Some of the more successful programs we've seen happening around the state are in these counties where they have really good relationships between the lake associations, the local government, the local businesses. They're all on the same page about where this money should be targeted," he said.
It's not just money that needs coordinating. Counties work with the DNR — and, often, lake associations — to coordinate inspections. The DNR has about 100 boat inspectors statewide; counties hire over 900 more.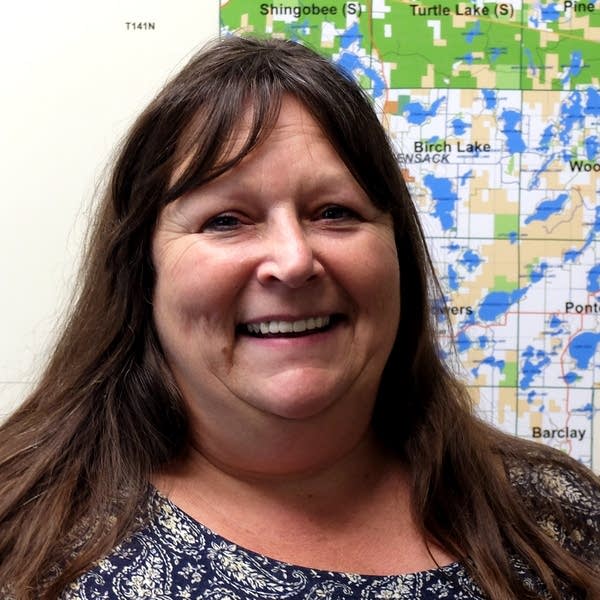 State law requires all inspectors to be trained by the DNR, which provides basic information about inspecting boats. But the first year Cass County started hiring inspectors, Rima Smith-Keprios, who runs the aquatic invasives program there, quickly learned they were ill-prepared to answer questions about invasive species or deal with boaters angry about having their boat inspected.
"That first year, the inspectors were calling me every 15 minutes with either, 'You know, I want to kill this person at this access,' or 'I'm pretty sure I found a zebra mussel,'" she said. "My phone was blowing up."
For the next year's inspectors, Smith-Keprios created a two-day training workshop to build on what the inspectors had learned from the DNR's training. She brought in experts on basic lake ecology and customer service. The next year, she noticed Cass County's inspectors were far more confident than they had been the year before.
Several are now in their fourth summer inspecting boats at county lakes, reminding boaters to check for attached invasive species and pull their boats' drain plugs.
"Now, they're just like, 'I'm at the gas station, I see a boat and I'm thinking, oh my god, that guy has his plug in.' It's like you've got to stop yourself from doing inspections," she laughed.
Otter Tail County: Registering boat lifts and docks
A new ordinance in Otter Tail County has set up a registry for boat lift and dock sales.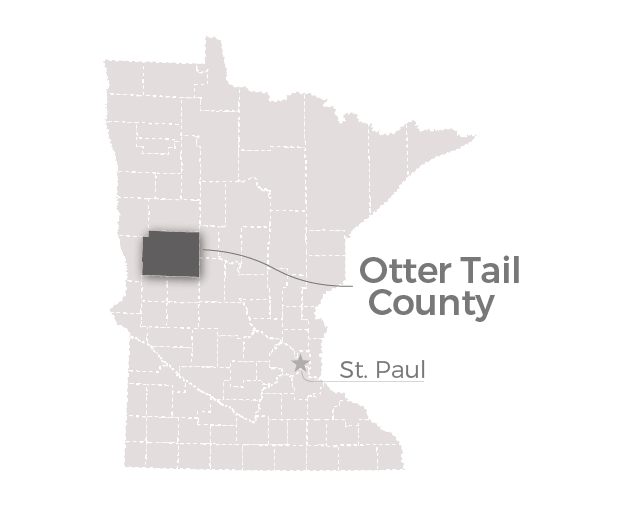 State law requires docks and boat lifts to be out of the water for 21 days — the amount of time it takes to kill an attached invasive species like a zebra mussel — before being moved to a new lake. Now, any time a boat lift or dock is bought in Otter Tail County, its owner must notify the county.
Experts say those docks and boat lifts are among the biggest risk factors for moving zebra mussels from lake to lake. But there's been little enforcement or inspection of private sales of that equipment.
"We did a lot of research across the state, and this is really the first of its kind. It lets us sort of quantify the problem," said Spencer McGrew, the county's aquatic invasives coordinator. "How many docks and lifts are actually moving? We don't really know, so I think with this registry we're going to be able to put some figures to that and really see what the magnitude of it is."
Aquatic invasive coordinators in other counties are watching Otter Tail's registry pilot closely to see if it works as a potential solution to what many consider a vexing problem. And Otter Tail County is also seen as a leader in getting aquatic invasive species education into schools. McGrew says between 2014 and 2017, nearly 1,500 students learned about aquatic invasive species.
"Counties are really good about sharing this information. It's very collegial," the DNR's Hunsicker said. He thinks counties can be more flexible and creative in tackling the problem of aquatic invasives than a statewide agency like the DNR can be. "From what I've seen, whatever anybody's doing, they want to try and get it out there so that other people can use it or comment on it and make it even better."
The annual state funding doesn't come with any stipulation that counties share their findings or the details of their programs. And when it was first implemented, there were concerns that giving money directly to counties to fight invasives would result in a fragmented approach, with wasted funds and duplication.
But state and local officials say counties are seeking advice and offering assistance freely.
"I don't think there's really any reinvention of the wheel," McGrew said. "Different counties have different needs, so they might have a different-sized program or a different way of doing things, but the fundamentals, we can all just hop on the phone and talk about it."
Is any of it working?
Still, the $10 million question remains. Is all that effort making a difference?
Answering that question is a challenge, because it's hard to prove you've prevented something from happening.
"It's really hard to determine if the work you're doing is really having an impact on the spread of invasive species," Hunsicker said. "Are we having an impact? We think we are, but how do you capture that information? We're not really sure. We're kind of learning as we go along."
Hunsicker said a voluntary reporting form is in the works to better measure what counties are doing with the state funding. He thinks it's only a matter of time before legislators begin to question the return on that $10 million annual investment.
Crow Wing County Commissioner Paul Thiede said counties tend to be frugal, because they often need to stretch scarce resources. But he worries that, the more money counties are given to combat aquatic invasives, the more counties will be expected to take the lead in fighting those invasives. Thiede is also a member of the DNR's aquatic invasive species advisory committee. Ultimately, he said, the state agency is responsible for keeping Minnesota's waterways clean.
He sees counties as partners with the state. Counties, cities, soil and water conservation districts, lake associations: There's a long list of groups playing a role — and spending money — in the fight against aquatic invasive species.
Thiede wonders what might happen if the Legislature were to take away the aquatic invasives prevention aid, and if, in the future, $10 million will be enough. There are new invaders on the horizon.
"It's an issue that is a bottomless pit, no matter how much money you put into it," he said. "The list of potential invasive species is much longer than the ones we currently have."