Red Lake Nation, Frey offer surprise option for homeless camp in Minneapolis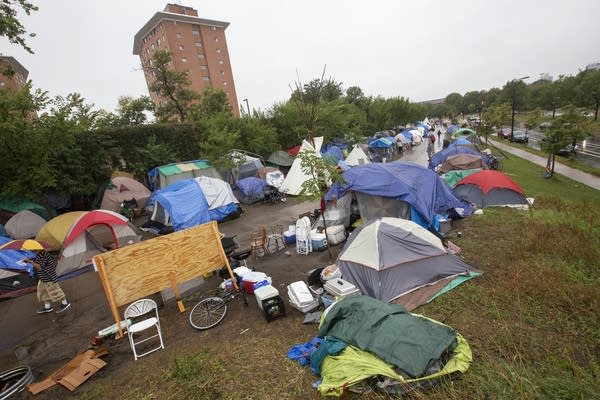 Updated: 7:35 p.m. | Posted: 3:53 p.m.
The Red Lake Nation and Minneapolis Mayor Jacob Frey Friday announced a new site to build a temporary shelter for residents of a homeless encampment that's swelled to an estimated 300 people near Hiawatha and Franklin avenues.
The Red Lake Nation is offering to house the camp residents on plot of land it owns nearby. Red Lake Secretary Sam Strong says the tribe wants to build a six-story apartment building there to serve low-income people.
Grow the Future of Public Media
MPR News is supported by Members. Gifts from individuals power everything you find here. Make a gift of any amount today to become a Member!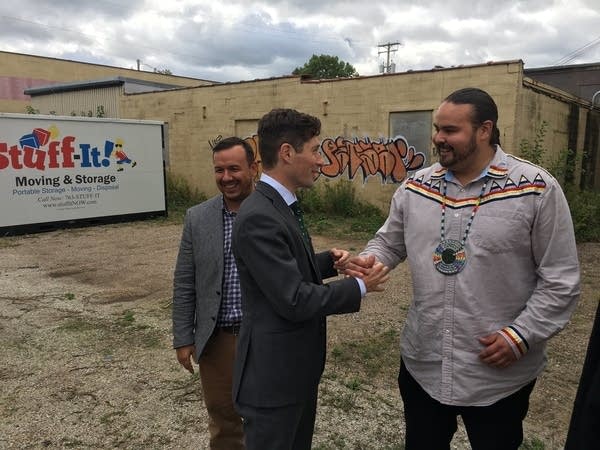 He says those plans haven't changed. But in the meantime, the Red Lake Nation is promising to work with the city to put temporary housing trailers there for residents of the encampment.
"We wanted to make sure the city had exhausted their options and it seemed like today, they had come to an impasse in terms of where they were going to go relocating the encampment. And so we wanted to come to the table and offer it up," Strong said.
Mayor Frey said the site on Cedar does pose other challenges, mainly that the old buildings there that once housed Amble's Surplus Hardware have to be torn down.
"Given the need for demolition, this will take a bit longer than some of the previous options. But it's certainly a viable option that needs to be considered," Frey said.
Sam Strong with the Red Lake Nation said if demolition of the buildings begins soon, encampment residents could relocate there in about six weeks.
Council President Lisa Bender said she learned of the proposal after MPR News contacted her following Frey's news conference. She said she's grateful to the Red Lake Nation for providing a potential solution, but said Frey should have notified council members first.
"It is much easier for council members to be able to support things and communicate with our constituents, adjacent property owners, and stakeholders in the community if we know about things ahead of time before the're publicly announced in the press," Bender said.
Bender added there are many unanswered questions about the Red Lake site, including what agencies would provide social services there and whether the land needs environmental cleanup. She said the city also needs to figure out a budget.
On Thursday, Community Planning and Economic Development Director David Frank said building a temporary camp, not including the social services, and operating it for a year, will cost an estimated $2 million to $2.5 million.
Ultimately, the city council must approve a new site for the temporary shelter, or "navigation center," for the mostly Native American residents. Earlier in the morning, the council decided to delay making a decision on a new site that would have relocated residents to a vacant lot owned by the city, which is near two charter schools.
That proposed location, at East 26th Street and Minnehaha Avenue, was strongly criticized by the community and some city council members, who say building a temporary shelter so close to schools would traumatize children.
More than 60 students, parents, and staff from Aurora Charter School came to the meeting to urge the council not to move forward with plans to construct a temporary shelter on the vacant lot near their school.
"We are looking for compassion for our school but also this community," said Guille Leal, a technology teacher at Aurora Charter School. "We are happy that the people in charge are going to have time to think about it in a better way because the idea is not to make a rash decision but the right decision."
City leaders are under pressure to find temporary shelter for the tent dwellers before winter. The encampment is nestled next to a concrete sound barrier and is being called "the wall of forgotten natives" by some who live there. Mayor Jacob Frey previously said the city would find shelter for people at the encampment by the end of September but later acknowledged it would take longer.
Frank, with the city, said it will take one to two months to set up the temporary housing once the Minneapolis council decides on a place to put it.
Frank's office suggested one other site for the city council to consider, a parking lot next to the former Roof Depot site south of the camp, not far from the Midtown Greenway.
This was the most popular site among residents of the encampment, according to groups working with them. It wouldn't require people to cross four lanes of traffic at Hiawatha Avenue to get to the American Indian Cultural Corridor where many service organizations are located. The Roof Depot site also has a fence, which would provide outreach groups like Natives Against Heroin more control over the camp.
"We have separated families from our active users. The problem is there's no control on how many people can go in that direction or not," said Margarita Ortega, a resident of Little Earth near the encampment and a member of Natives Against Heroin.
However, that site would cost $6.8 million to prepare a shelter. The city acquired the land with water fund money to expand an adjacent maintenance facility, and cannot legally use it for another purpose without supplanting with other monies.
Frey said he learned of the Red Lake Nation's offer Friday morning. He announced the proposal alongside tribal leaders before discussing it with city council members.
Council member Alondra Cano opposed putting the camp next to the charter school. In an interview after the announcement, she said a key benefit of the Cedar Avenue site is that it's owned by a Native American nation.
"We really want to ensure that we're doing this in tandem with them and not identifying sites that folks are either not going to want or where folks might not feel welcomed," Cano said.