Judge stays civil suit in Ruszczyk shooting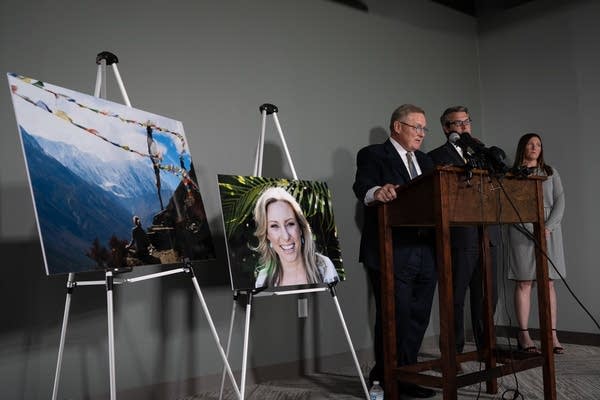 A federal magistrate judge has ruled in favor of the former Minneapolis police officer who sought to stay civil proceedings against him while his criminal case moves through state court.
In his order published Tuesday, Judge Tony Leung relied heavily on Mohamed Noor's decision to remain silent as he explained his decision to hold off on the proceedings for now.
Noor faces third-degree murder and second-degree manslaughter charges in the shooting death of Justine Ruszczyk, who was also known as Justine Damond. He's scheduled to stand trial April 1 in Hennepin County District Court.
Noor, his then-partner Matthew Harrity, the city of Minneapolis and the Minneapolis Police Department are subjects of a civil rights lawsuit in U.S. District Court that Ruszczyk's father, John, filed in July.
The lawsuit alleges that Noor and Harrity "conspired to deprive Ruszczyk of her civil rights in the shooting and its aftermath." The July 2017 shooting was not captured on video because Noor and Harrity didn't have their body cameras or dash camera activated as they cruised through the alley behind Ruszczyk's home after she called 911 to report a possible assault.
The federal complaint also alleges that the city violated Ruszczyk's civil rights by failing to train its police officers appropriately and that former Chief Janee Harteau and current Chief Medaria Arradondo oversaw a "custom, pattern, or practice concerning the improper use of deadly force on civilians."
Leung wrote in his order that because Noor has invoked his Fifth Amendment right against self-incrimination, it's unlikely that the federal case will provide the answers that John Ruszczyk and his attorneys are seeking about what happened that night. Leung's order also says Harrity is expected to assert his Fifth Amendment right in the civil case (although he has spoken to state investigators).
"Thus, where Plaintiff seeks answers, he is poised to receive none of the potentially critical testimony of Noor, and possibly Harrity, should this civil suit proceed," Leung wrote. "So while Plaintiff should not be forced to sit indefinitely idle, his understandable quest for the truth behind his daughter's tragic death would be enhanced, rather than diminished at this time, by a stay of this civil proceeding while the criminal trial proceeds."
In the meantime, Leung ordered both sides in the civil case to provide updates on the criminal case. He said he could lift the stay at some point before the criminal case is resolved, depending on what he learns during those periodic check-ins.
Correction (Oct. 3, 2018): Judge Tony Leung's title was misidentified in an earlier version of this story. The article has been updated.