4 questions in Mohamed Noor trial that may get answered Friday
A pretrial hearing set for Friday in the case of former Minneapolis police officer Mohamed Noor will mark the last major step before Noor's trial in the shooting death of 911 caller Justine Ruszczyk.
Attorneys for both sides will argue motions they've made in the last few weeks, ranging from the evidence that should be admitted in court to whether the charges against Noor should be heard separately.
Noor is charged with second-degree murder, third-degree murder and second-degree manslaughter for shooting and killing Ruszczyk in July 2017 after she called 911 because she thought she heard a woman being assaulted in the alley behind her home.
Noor shot Ruszczyk, who was also known as Justine Damond, through the open driver's side window as he sat in the passenger seat of the police vehicle. His trial is set to start April 1 in Minneapolis.
Here are some key questions Hennepin County District Judge Kathryn Quaintance is expected to decide.
1) Should Noor's charges be separated?
Noor's attorneys are asking the court to sever the second-degree murder charge from the third-degree murder and second-degree manslaughter charges.
Noor's attorneys argue that each charge he's facing requires competing defenses.
"Second-degree murder requires defendant to defend against the element that he specifically did not intend to cause the death of Ms. Ruszczyk, but while doing so he, in essence, proves the element of third-degree murder that his act was not specifically intended to cause death," defense attorneys wrote in their court filing.
Prosecutors responded that Noor has said he'll use the same defenses to all three charges: "self-defense, reasonable force and the defense of others," which means he wouldn't need to rely on alternate defense theories for each charge.
Prosecutors also argued the charges should be tried together because they all stem from the same incident with the same victims, locations, times and facts.
If the judge agrees to sever the charges, it could mean more than one trial.
2) Is a 911 call earlier on the day Ruszczyk was killed relevant?
In a filing last month, prosecutors argued that a 911 call that Noor responded to earlier on the day he shot Ruszczyk should be admitted at court.
The 911 caller reported an elderly woman who appeared to be lost. Noor and his partner Matthew Harrity responded to the call less than two hours before Noor shot Ruszczyk. One of the reported locations of the woman was just 140 feet from the alley where Ruszczyk died, according to the filing.
Prosecutors said Noor and his partner should have connected that earlier incident to Ruszczyk's 911 report that she heard a woman being assaulted. They also argued that the two 911 calls taken together show Noor's "lack of investigative curiosity and indifference to citizens," and his "disregard for public safety."
Noor's attorneys responded that the earlier 911 call is not relevant to the case. They argued that admitting the call would run counter to a U.S. Supreme Court decision that found the "the 'reasonableness' of a particular use of force must be judged from the perspective of a reasonable officer on the scene, rather than with the 20/20 vision of hindsight."
3) Should Noor's psychological test results be allowed in court?
Another dispute between the parties has been over whether Noor's pre-hire psychological exam with the Minneapolis police should be admitted as evidence.
The Minnesota Multiphasic Personality Inventory found in part that Noor disliked people and disliked being around them, and that some of his characteristics "may be incompatible with public safety requirements," according to the prosecution's filing.
Those test results also found that Noor "is also more likely than most police officer candidates or trainees to exhibit difficulties confronting subjects in circumstances in which an officer would normally approach or intervene."
Noor's attorneys have said the exam isn't relevant to the case, and that it could be prejudicial because it didn't take race or ethnicity into account.
The defense attorneys argued that the test provides no insight into Noor's personality. They point out that a psychiatrist found that Noor was fit to work as a police officer because there was no evidence of "major mental illness, chemical dependency or personality disorder."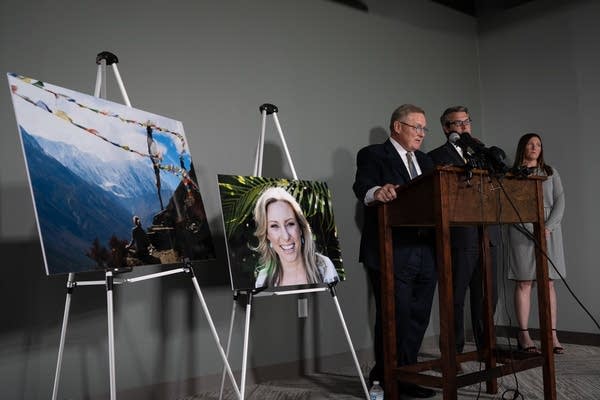 4) Can prosecutors use Noor's silence against him in trial?
Prosecutors are also asking the court to let them use Noor's silence since the shooting against him.
They argue that Noor "had a choice on whether to tell his side of the story during a voluntary interview in a non-coercive setting," before he was arrested and outside of an interrogation.
According to the prosecution filing, Noor's attorneys told investigators that Noor wouldn't be providing a statement two days after the shooting, and later told prosecutors that he would not answer questions before a grand jury called in the case because he was asserting "his constitutional right to remain silent."
Noor's attorneys have argued that allowing evidence about his pre-arrest silence would violate his due process.