Some rivers still rising; prolonged flooding leaves communities weary
With some state highways now closed by flood waters for more than a month, and the water still rising in some locations, residents in Minnesota communities affected by flooding are growing weary.
The Minnesota and Mississippi rivers are seeing a second flood crest in the wake of recent rain and snowmelt — and more significant rain is possible on Monday.
While river levels aren't forecast to surpass this spring's earlier crest, the prolonged nature of the flooding is weighing on minds of residents and hurting some businesses.
Meanwhile, in northwestern Minnesota and eastern North Dakota, the Red River was slowly rising at Fargo on Sunday, while river levels were slowly dropping at Grand Forks and Oslo.
Minnesota River: Prolonged flooding hurting businesses in Henderson
Businesses in the south-central Minnesota city of Henderson are being hit hard by floodwaters that have blocked most roads in and out of town for weeks.
The Minnesota River had been dropping after a crest earlier this spring. But after a snowstorm and rain in the past couple weeks, it reversed course and is on the rise again. That forced Henderson to reinstall a flood gate that had been taken down.
"We're in a situation where, you know, people thought things were getting better," Henderson Mayor Paul Menne said Saturday. "Putting the flood gate back in has really been hard on the community from a spirit standpoint."
All roads leading in and out of the city are closed except one, State Highway 19 on the west side. That's meant longer commutes for residents and local businesses losing customers, Menne said.
"There are vendors that will not deliver it to Henderson because of the flooding, and some of the vendors that do deliver are adding extra trip charges," Menne said. "It's almost an insult to injury, salt in the wound to our local economy."
Forecasters expect the river to crest early this week. But it might take a while to inspect and repair the roads before they can be reopened, Menne said.
Two of the highways leading to Henderson have been closed now for more than a month. Another nearby highway that had reopened — State Highway 93 between U.S. Highway 169 and Le Sueur — closed again on Saturday.
Businesses in Henderson are still open and need customers, Menne said. He said as a stop on a scenic byway in the Minnesota River valley, Henderson thrives on tourism.
"We absolutely need people to come to town," he said. "We know it's a little bit of an inconvenience ... If people make the extra effort, I can assure you that the town's businesses and local community sure would be grateful."
— Kirsti Marohn

Red River: Cabin fever in Oslo; close call for young driver
The residents of Oslo in northwestern Minnesota have spent another weekend stranded by flood waters. The cresting Red River cut off every road to the community earlier this month.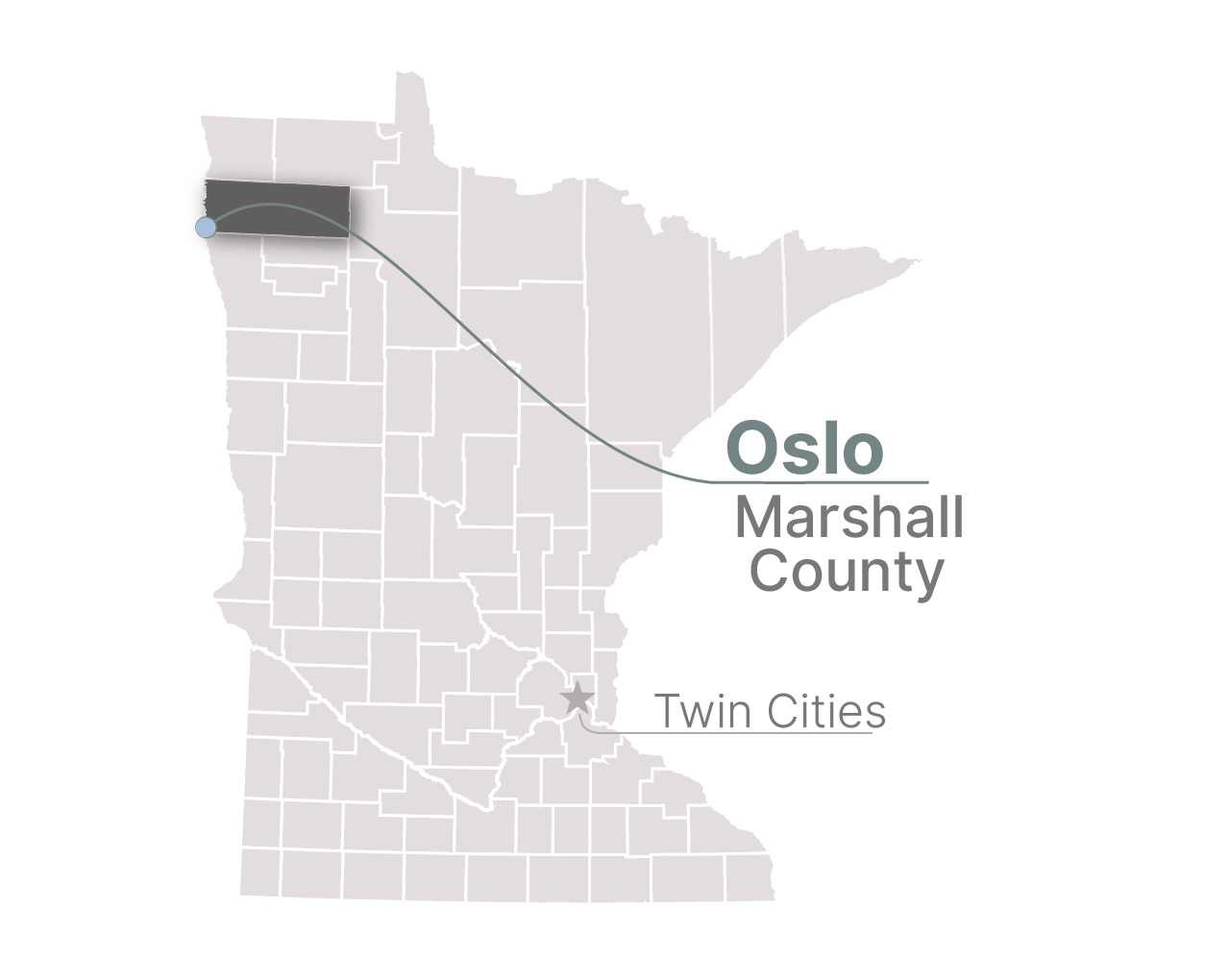 Most people with out-of-town jobs, or school-age kids, leave Oslo during flood season. But some people have to stay behind to patrol the city's ring levee. And those people are getting bored.
City Clerk Debbie Goschke said people are already tired of staying in and watching Netflix. They're wandering the streets, gazing out over the flooded roads they used to drive on.
"I will say that everybody is getting a little bit of cabin fever right now. A little stir crazy," she said. "Everybody is so used to being able to get in your vehicle and going wherever you want, whenever you want. And you can't really go anywhere."
Oslo's residents aren't on their own. National Guard members were stationed in Oslo in the past week to monitor the levee and help residents.
"They have been absolutely wonderful," Goschke said. "They have the higher (clearance) vehicles where they can get in and out. And they have been shuttling supplies in and out. That has been absolutely fantastic."
Without those big military vehicles, Goschke said, all supplies would have to be shipped in by boat, across three miles of flooded farmland. If you don't know where you're going, she said, it's easy to get lost, or tangled in a fenceline.
About 40 miles south-southeast of Oslo and a few miles from the Red River, a driver who went around a barricade near Climax, Minn., had be rescued Friday when flood waters swept their pickup truck off the road.
The Polk County Sheriff's Office reported that the juvenile driver had to first climb onto the roof of the truck, then had to scramble up a nearby tree when the pickup sank.
Friends rescued the driver, who escaped without injury.
The sheriff's office said many roads across northwestern Minnesota remain closed due to flooding. In some cases, currents in the flood waters are causing damage to submerged roadways.
Water levels are projected to start dropping in the next week.
— John Enger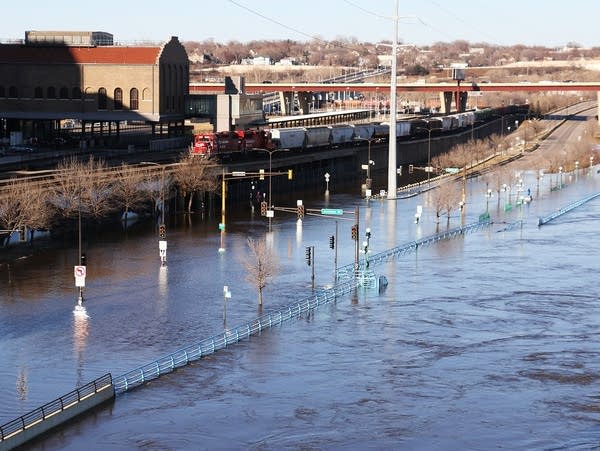 St. Paul: Waiting to assess the condition of riverside roads
Across the Twin Cities metro area, rivers are rising again, but are not expected to hit the levels they hit earlier this spring.
It's been nearly a month since the rising Mississippi River forced the closure of Shepard and Warner roads near downtown St. Paul; the popular commuting routes closed to traffic on March 24.
The river started falling in early April, but now it's back on the rise thanks to snowmelt and rain in the past week. The river is forecast to climb to about 18 feet by midweek. That's considered major flood stage, though it's a couple feet lower than the season's first flood crest back on March 31.
St. Paul Public Works spokesperson Lisa Hiebert said crews have done preliminary inspections of riverside roads and parks.
"We had a little lull as the river went down into minor flood stage, so we were able to get crews in there to kind of do some initial testing, assessment and review," she said. "And right now things are looking pretty good — but again, we weren't able to do a full assessment, because the water was still up and high in a lot of areas. We really won't know what we're really dealing with until the water fully recedes."
Once that happens, Hiebert said, "we can get in there and take a look and do the necessary repairs and assess damages — and then, of course, do the clean-up — once we get all of that done, we will open everything back up as quickly as we possibly can."
The St. Croix River in Stillwater is climbing again and is expected to crest later this week at around 87 feet, about a foot and a half below where it crested earlier this month. The temporary dike in Stillwater remains in place.
In Hastings, the Mississippi River is rising again, and is expected to crest just below major flood stage on Thursday at 17.9 feet. That's about two feet lower than it was earlier this month.
The rising waters have again closed the main road in and out of an eastern Hastings neighborhood, meaning residents there are having to use a woodchip road to get to and from their homes.
— Andrew Krueger, Peter Cox
Your support matters.
You make MPR News possible. Individual donations are behind the clarity in coverage from our reporters across the state, stories that connect us, and conversations that provide perspectives. Help ensure MPR remains a resource that brings Minnesotans together.