Native plants become a weapon in battle to save algae-choked Little Rock Lake
A giant science experiment is underway on a central Minnesota lake with a long history of pollution problems.
Little Rock Lake is often covered with slick green algae in August, making it unappealing for boating or swimming. But this year is different. Last week, the lake was lowered by several feet, exposing vast stretches of muddy flats.
Then, over the weekend, lake residents, Boy Scouts and other volunteers planted more than 45,000 native plants — like bulrushes, lake sedge and common spikerush — on the exposed lake bottom.
They hauled trays of plants out to the lake bed in sleds, then used a stick to pole a hole in the soft soil. They dropped in the plants into the holes and packed mud around them.
MPR News is Member Supported
What does that mean? The news, analysis and community conversation found here is funded by donations from individuals. Make a gift of any amount today to support this resource for everyone.
Drawing down Little Rock Lake
6 of 6
1 of 6
2 of 6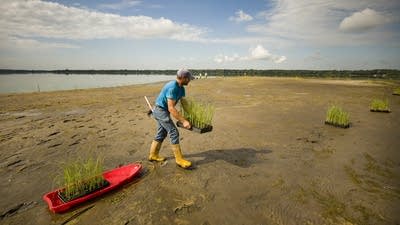 The plants will absorb some of the lake's extra phosphorus — the nutrient that causes algae to bloom, turning the lake green in the summer — and prevent the harmful blooms that slick up the water and kick off a domino effect of problems for the health of the lake.
The goal is to return Little Rock Lake to the condition it was in decades ago, when the water was clear and plant life thrived. After six weeks, the lake level will be returned to normal.
Plants an indicator of lake health
Most shallow lakes like Little Rock have several hundred acres of emergent vegetation, said Eric Altena, Little Falls area fisheries supervisor for the Minnesota Department of Natural Resources.
Emergent plants grow along the shore and are rooted in the lake bottom, but their leaves and stems extend out of the water. They're crucial to a lake's health, Altena said, because their roots keep the shore from eroding, they filter nutrients out of the water, and they provide shelter for fish and wildlife.
But in the last half-century, those life-giving plants have all but disappeared from this 1,300-acre Mississippi River reservoir just north of St. Cloud. Just an acre or so of emergent plants remain, Altena said.
"It's shoreline stability, it's nutrient processing, it's fish habitat," he said. "And that's what we're trying to gain back."
Decades ago, locks and dams built on the Mississippi River changed the natural cycle of flooding followed by drought that had maintained the ecosystems around the region's waterways. In the Little Rock Lake reservoir formed by a dam downstream, aquatic vegetation declined.
In the years since, farming and urban runoff carried too much phosphorus into the lake, spurring algae growth that sometimes turns the lake bright green and smelly. Altena recalls surveying the lake 10 years ago in an aluminum boat.
"When we were cruising across the lake, you could actually hear the algae as it's rubbing on the bottom of the boat," he said. "It sounded like you were driving through sand. It was that thick."
Algae on Little Rock Lake
1 of 2
2 of 2
It wasn't always that way. A 1948 survey of Little Rock Lake reported good water quality and abundant vegetation — a condition Altena hopes could one day return.
A year from now, he hopes the lake will look a lot different.
"That would be the best-case scenario: More clear water, a lot of emergent vegetation, floating-leaf stuff," Altena said. "[Underwater] vegetation would be gangbusters in all the shallow areas."
Long time coming
On Aug. 1, the gates of the Sartell dam were temporarily lifted to allow water from the lake to flow downstream into the Mississippi River.
The lake level steadily dropped, exposing a wide swath of muddy flats along the shore. Great blue herons stood gracefully in the shallow water, looking for an easy catch among the fish now crowded together.
The drawdown project was hard-won. It took the DNR and Little Rock Lake Association more than two years to get the permits and support they needed. The project was originally scheduled for last summer, but was delayed a year.
The roughly $200,000 project is being paid for with a grant from the Minnesota Board of Water and Soil Resources, as well as donations from the community, Little Rock Lake Association and Eagle Creek Energy, which owns the hydroelectric dam.
"I was overwhelmed when we got the OK," said Kellie Gallagher, president of the Little Rock Lake Association. "It's been a long time."
Some residents who live along the Mississippi downstream from the lake had opposed the drawdown, concerned that they wouldn't be able to use their boats while the water level was low. Gallagher said she understood the concern, but added, "This is a once-in-a-lifetime thing. We have many more boating seasons."
Even before the drawdown, Gallagher said the lake's water quality has been slowly getting better. She attributes that to efforts by local farmers to reduce fertilizer and manure runoff. The lake's phosphorus level has dropped from a high of 600 parts per billion in 2006 to 124 parts per billion now. The goal is to reduce it to less than 90 parts per billion.
"This year, it has been the cleanest I've ever seen," Gallagher said. "Through most of July, I could actually see the rocks down below. Typically, we get the pea-green soup."
Gallagher is optimistic that those lake improvement efforts will continue long after the drawdown is over and the water level returns to normal.
A glimpse into the past
For Little Rock Lake residents, the drawdown is a once-in-a-lifetime event, giving them access to the lake bottom that hasn't been seen since the lake formed more than a century ago.
Aaron Trompeter has collected a pile of trash around his dock, including shards of faded glass.
"That's a hundred years of beer cans and ice fishing and all that crazy stuff," he said.
Trompeter, a real estate agent, has lived on Little Rock Lake for seven years. He hopes after the drawdown, it will be more like crystal-clear lakes, like Big Watab in Stearns County.
"All those lakes over there where you can see down like 7 feet," Trompeter said. In contrast, on Little Rock Lake, "I can't see the bottom of my minnow bucket," he said.
And he worries about his children's health when they swim amid the algae blooms in the lake.
"I would like to walk down here and have my kids play in the water and without freaking out about it," he said.
After the six-week drawdown, the water level of Little Rock Lake will be gradually returned to normal. DNR officials will be monitoring phosphorus levels and plant growth in the lake as well as the transparency of the water, which Altena expects to increase by 50 percent. Currently, it's less than a foot.
Altena said he's cautiously hopeful about Little Rock's future. He expects the plants to begin growing almost immediately and start doing their part to return Little Rock Lake to its healthier past.
"This is a big experiment," he said. "I know it'll be better. I just don't know how much."