Ask a 'sotan: Does Minnesota really have more shoreline than California?
Ask a 'sotan is an occasional series exploring the questions from curious Minnesotans about our state. Have a question about life in Minnesota? Ask it here.
We're collecting questions from audience members at the Minnesota State Fair MPR Booth about what they're most curious about. One question we received: Does Minnesota really have more shoreline than California?
Chris Finke is a software programmer who is originally from Minnesota, but moved to Oregon in 2015. He remembered watching an advertisement in 2013 from "Explore Minnesota" that claims there's "More to explore in Minnesota," including more shoreline than California.
"I just remember thinking, 'Can that be true?'" Finke said, "and I mentioned it to my wife, and she just responded, 'maybe, whatever.' But it was pretty much the only question I talked about for the next week."
Grow the Future of Public Media
MPR News is supported by Members. Gifts from individuals power everything you find here. Make a gift of any amount today to become a Member!
He reached out to Explore Minnesota, who responded with an email that stated the commonly used statistic was researched and compiled at least 20 years ago by a former advertising agency.
Rather than wait to find out the answer, Finke decided to use an open-source mapping resource called OpenStreetMap and write a program to calculate the total shoreline for each state.
Not only did he calculate based on lakes and oceans, he also included any shoreline included in rivers and streams.
"I wanted to consider what they maybe used to calculate this, because so many people quote this statistic. So I wanted to make sure I went as far as possible with this," Finke said.
(For a better understanding of the methodology, check out his blog post from 2013.)
When the numbers came in: Minnesota had a total of 44,926 miles of shoreline, all consisting of lakeshore. California, on the other hand, had 35,477 miles of shoreline, a majority coming from lakeshore (3,427 miles were from ocean shores).
He also calculated that the Land of 10,000 lakes has more shoreline than Florida, which has 30,672 miles.
Does Minnesota have more than California, Hawaii and Florida, combined?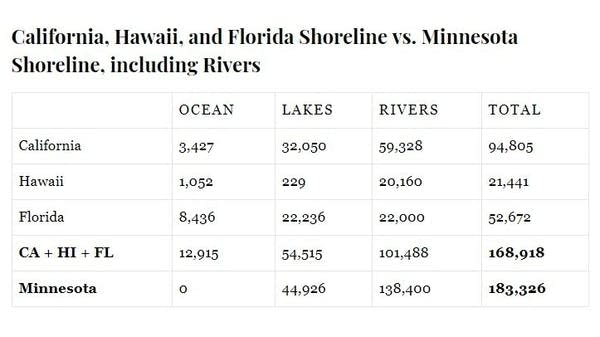 It depends on how you define shoreline. If we only consider oceans and lakes, then no. Minnesota falls short compared to the other three. The three states have 67,430 miles of shoreline combined.

But if you add in rivers and streams, Minnesota takes top billing again. The three states combined have a total of 168,918 miles of shoreline when including rivers and streams as well. Minnesota clocked in at 183,326 miles.
Have a question about life in Minnesota? Submit your question here.