Omar: Women of color on the rise in national politics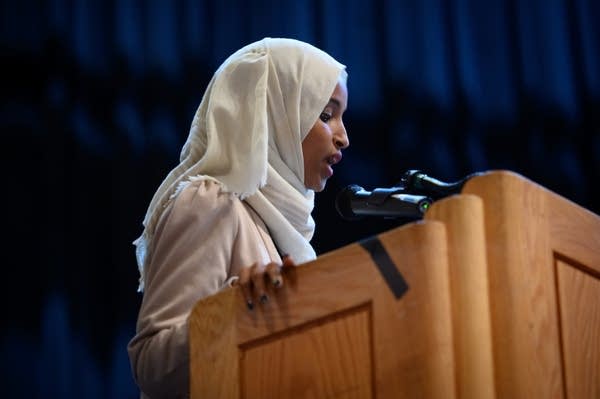 Minnesota DFL U.S. House Rep. Ilhan Omar said Monday that despite regular attacks on her from President Trump and Republican opponents, she doesn't think being the focus of a national political spotlight is as bad as it could be.
"I'd expected that things would be extremely tough. I wrote a list of all the things that could go wrong in my run for the Statehouse, to my run for Congress," she said in an interview with MPR News host Angela Davis. "None of the things that I wrote on that list have fully happened, so I feel blessed so far."
Omar told listeners she intends to run again for her seat in Congress and that she hoped to win approval for a wide variety of legislation, for everything from education policy to recycling.
She also said she expects that other women of color in Congress will be a focal point for the fall 2020 election campaigns.
"They know that having our faces, the faces of black, brown women as the face of the party, is to instill a particular fear, incite a base that really gets fueled by this bigotry. But truth be told, we are the face of our party," she said. "We represent many of the voices that are fighting for progress."
Omar also addressed ongoing controversies about her personal life, calling into question her personal finances, her first marriage and its possible link to immigration fraud.
Gain a Better Understanding of Today
MPR News is not just a listener supported source of information, it's a resource where listeners are supported. We take you beyond the headlines to the world we share in Minnesota. Become a sustainer today to fuel MPR News all year long.
She said she was done defending herself from them.
"It doesn't matter how often I deny it and what I do, people will still ask for more or insinuate more things," she said. "And so I have made a decision not to give it any more air and have it stay in the garbage where it belongs and continue to focus on representing the beautiful district that I represent, giving back to the country that has given me so much."
Use the audio above to listen to the segment. It includes analysis from political editor Mike Mulcahy. He also talked about which 2020 Democratic presidential candidates have visited Minnesota and Jason Lewis, the former Congressman from the 2nd District, announcing he'll run for U.S. Senate.
Subscribe to the MPR News with Angela Davis podcast on: Apple Podcasts, Google Podcasts, Spotify, or RSS