Shooter admits he intentionally fired on school bus following I-94 fender bender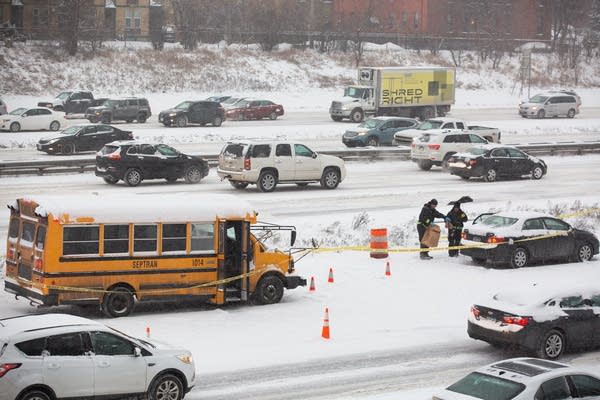 Updated: Aug. 27, 7:43 a.m.
Kenneth Lilly, 32, who shot a Minneapolis school bus driver following a freeway collision in February, pleaded guilty to one count of first-degree assault. The St. Paul man admitted in Hennepin County court on Monday that he intentionally fired his gun at the school bus on Feb. 5.
"I was on the split of 94W and I-35W," said Lilly. He said after the bus hit his car, Lilly pulled ahead and parked on the shoulder of the freeway to check the damage. While on the side of the freeway, Lilly said the bus moved forward and struck him.
"I drew and discharged my weapon," he said.
Senior Hennepin County Attorney Daniel Allard asked Lilly if the bus knocked him down, to which Lilly replied it had not. In a statement Hennepin County Attorney Mike Freeman identified Lilly's victim as Thomas Benson. "Benson was trying to merge onto Interstate 35W near Chicago Avenue during a snow storm," said Freeman. "The bus scraped Lilly's black sedan, although Benson was unaware of it."
Lilly's attorney Thomas Plunkett said bullet fragments scarred the driver, leading to hearing loss in one ear. The bus was contracted with Minneapolis Public Schools at the time of the shooting.
When Lilly was reminded that they later found a young child on the bus, he said, "That's something I'm truly sorry for." The child was not harmed.
As part of the agreement, prosecutors dropped the attempted murder and second-degree assault charges. Lilly faces between three and eight years in prison. Freeman said his office will argue for eight years at the sentencing hearing. Lilly will remain out of custody until he is sentenced in October.