Northern lights may dance across Minnesota skies this weekend — including the Twin Cities
A moderate geomagnetic storm may bring the aurora into view over several northern U.S. states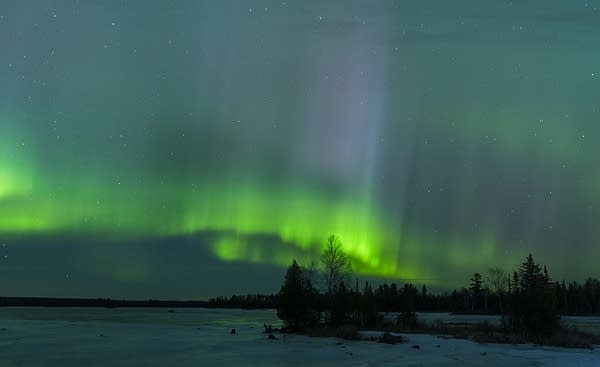 Updated: Aug. 31, 1:45 p.m. | Posted: Aug. 30, 6:09 p.m.
This weekend, there's one more reason to get outside besides the State Fair: The northern lights may be visible across Minnesota, including the Twin Cities. 
They were visible across much of northern and central Minnesota late Friday night. Just north of the Twin Cities, the aurora borealis glowed green, low on the northern horizon. Farther north, there were reports of brighter displays.
Moderate geomagnetic storm conditions forecast to continue over the weekend are expected to bring the aurora back into view over several northern U.S. states, according to the National Oceanic and Atmospheric Administration's Space Weather Prediction Center. 
The best time to catch the spectacle may be Saturday night into Sunday, when the lights may reach as far as southern Minnesota — although the farther north you go, the better the view.
One potential catch: Clouds may hamper the viewing across parts of Minnesota. But there may be some breaks in the clouds through the night, that would allow the northern lights to be seen if they do make an appearance.
The light pollution map can help you find a dark area near you. You also can monitor the chances of seeing the aurora at the Space Weather Prediction Center's website. In case you can't catch the sight this weekend, the Alaskan Geophysical Institute carries a live stream of the night sky.