Multiple rain waves through Thursday; wettest year on record in U.S.
The first of several rain waves ahead crosses southern Minnesota overnight
Welcome to the northern tip of what's remains of summer.
Minnesota rides the northern edge of a summery air mass for about the next week. Tuesday afternoon's temperature map accurately depicts the tale of two air masses across Minnesota. In the south, it feels like summer. Highs in the 80s and sticky dew points in the 60s felt like June today. Cooler October-like temperatures persist in northern Minnesota.
September monsoon ahead
I hope you were able to get out there Tuesday and enjoy the dry, sunny skies. Our weather is about to take a turn for the wetter. Again.
The first of three main rain waves rumbles across southern Minnesota overnight. The risk for locally heavy rainfall favors the Interstate 90 corridor and the southern third of Minnesota.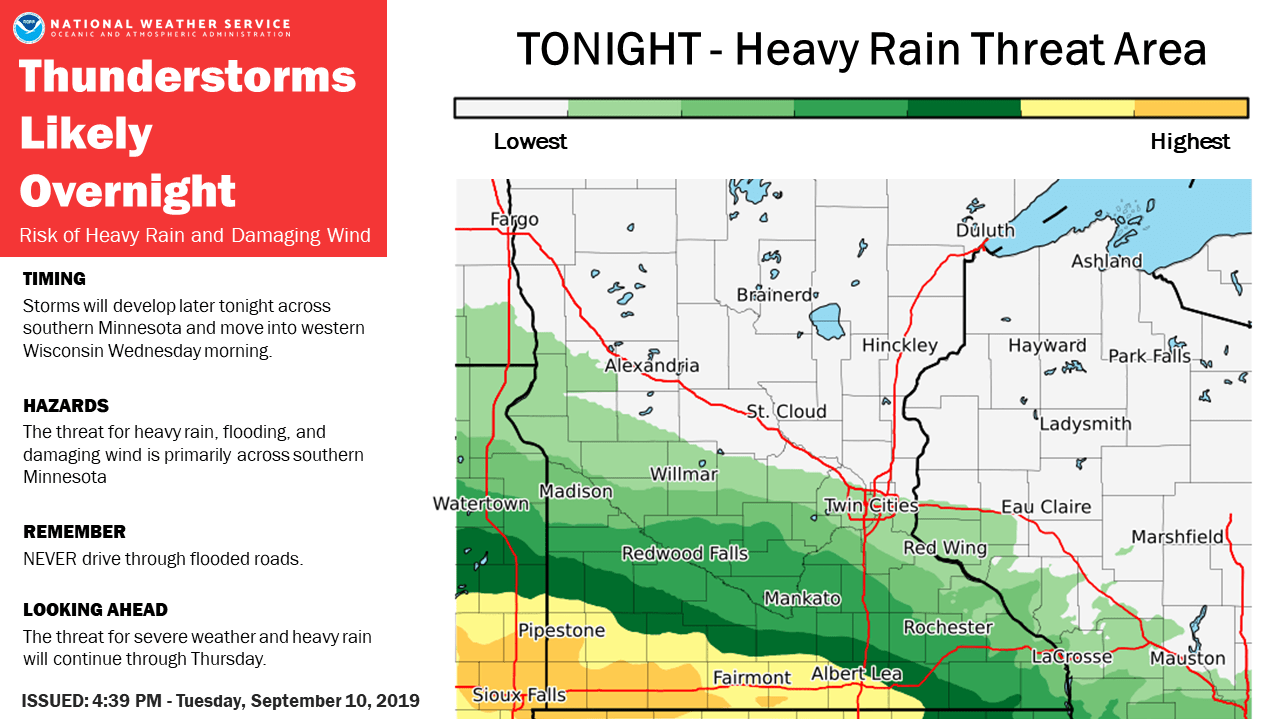 Three rain waves
Our inbound low pressure system likely drives three distinct rain waves through Minnesota through Thursday. The first crosses southern Minnesota after midnight and likely reaches the Twin Cities between about 4 and 7 a.m.
Round two brings severe weather potential to southwest Minnesota Wednesday evening, then rides into the Twin Cities around midnight into Thursday morning. A third wave develops Thursday afternoon.
National Oceanic and Atmospheric Administration's North American Mesoscale 3 km model captures the essence of multiple rain waves ahead.
Growing flood threat
Moisture levels in this air mass are more typical of early summer. Precipitate water is a measure of how much moisture the atmosphere holds at any given location. Precipitate water values across southern Minnesota reach 1.75 inches by early Wednesday. That's more typical of a June air mass in Minnesota. Storms can pool that moisture into locally heavier rainfall zones.
Many forecast models crank out 2 to 4 inches of rain across a big chunk of southern Minnesota by Friday. The Canadian model continues to be among the most aggressive. Tuesday morning's Canadian model run lays out a potential for a swath of 5 inches plus across central Minnesota right through the Twin Cities.
Summer lingers next week
The upper air maps and forecast models suggest highs well into the 80s early next week. The guidance below is on the conservative end for Monday.
The European model cranks out highs between 85 and 90 across southern Minnesota next Monday and Tuesday.
Stay tuned.
Wettest year on record in contiguous U.S.
The widespread persistent nature of heavy rainfall is causing problems across much of the U.S. Climate change trends suggest most of the U.S. is getting wetter. It's simple atmospheric physics; More water vapor in the atmosphere produces heavier rainfall.
That signal seems to be playing out in spades across the U.S. in the past several years. 2019 so far is the wettest year on record across the 48 contiguous United States. And the past 12 months are also the wettest on record.
Longer-term trend
The longer term trends on record rainfall go deeper and become more worrisome. The past 12 months are just the latest of many record setting wet years across the U.S.
Weather Underground's Bob Henson has a great write up on this distinct and troublesome trend.
The last 12 months (September 2018 – August 2019) are the wettest Sept-to-Aug span by far, with the 37.55" total smashing the previous record of 34.43" (Sept. 1972 – Aug. 1973). This period also landed in fourth place among all of the 1496 overlapping 12-month spans going back to January 1895. Amazingly, the eight wettest of these 12-month spans — and nine of the ten wettest — have occurred in the last five years. Even given the fact that a very wet span of a few months will be factored into such listings more than once, this is still remarkable testimony to the power of our warming climate to make extreme rain events even more extreme.

Here is the top 10 list:

37.86" July 2018–June 2019
37.73" August 2018–July 2019
37.68" June 2018–May 2019
37.55" September 2018–August 2019
36.20" May 2018–Apr. 2019
35.95" May 2015–Apr. 2016
35.78" Apr. 2015–Mar. 2016
35.73" Mar. 2018–Feb. 2019
35.63" Feb. 1973–Jan. 1974
35.49" Apr. 2018–Mar. 2019
See the trend?
A warmer atmosphere amplifies the hydrologic cycle by adding additional water vapor. Our cities, farms and societal infrastructure were built under a set of 18th and 19th century climate assumptions. Our new 21st century climate is capable of delivering much heavier rain and snow.
It's not by heat, but by water, that many of our most difficult and devastating climate impacts are unfolding.