University of Minnesota rolling out welcome mat for new president
Joan Gabel becomes first female president in U's history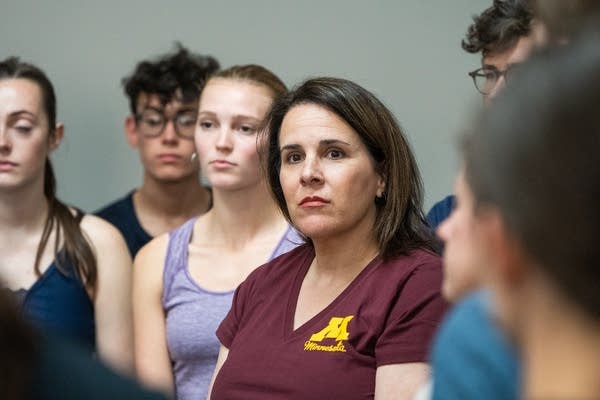 With her installation as the University of Minnesota's 17th president a little more than 24 hours away, Joan Gabel has entered a storm of activity. Technically, she's in a "body storm."
For this exercise, Gabel walks slowly through a room in the Weisman Art Museum, as more than two dozen dancers dressed in black move past her. Some make quick random movements and bump into each other, but they don't crash into the incoming president.
After about a minute, everyone stops and stays in place.
"What we're trying to do is embody what it's like to be in a cell," said David Odde, a biomedical engineer at the U of M, who, for a decade, has collaborated with choreographer Carl Flink and the Black Label Movement dance troupe to conduct body-storming exercises like this one.
Odde explains to Gabel that this type of simulation mimics the process of cell division. The technique is particularly helpful to cancer researchers who want to quickly get an idea of how cancer cells grow in multiple environments, he said.
Gabel was impressed.
Before you keep reading ...
MPR News is made by Members. Gifts from individuals fuel the programs that you and your neighbors rely on. Donate today to power news, analysis, and community conversations for all.
"We say — from behind podiums and during speeches — about how we try to think about things in fresh ways in order to solve problems and that's how we serve," said Gabel. "It's one thing to say that and it's another thing to see something like this."
Gabel is still getting used to her new surroundings. And so are the school's freshmen, like Alexis Loges. She said she doesn't know much about the new president. But Loges would like Gabel to focus on making the university more welcoming to students of color, like her.
"I did this thing called MK Kickoff and it's for multicultural students," said Loges. "And then immediately after that is 'Welcome Week' and you can just see the big difference from being only with students of color and then you do 'Welcome Week' and then your whole group is white."
Loges said she hasn't felt really excluded, but she also doesn't feel like she's really found her community yet either.
Freshman Jadon Warneke said right now he's more concerned about getting accustomed to his new surroundings than he is with what policies the new president should work on first. So far, Warneke said the school's 'Welcome Week' programs and events are helpful.
"I think that's a really good program," said Warneke. "And I know that they're doing their own kind of surveys on that. And so I think if they keep that up that'll be a good thing for new students."
Before Gabel was selected by the Regents to head the U of M, she served as provost of the University of South Carolina. She comes to a system with five campuses and rising tuition costs.
Gabel said she knows maintaining the type of innovation and education at the U — while keeping it accessible and inclusive — is a distinct challenge. And right now, Gabel said she's ready to take it on.
Gabel will be installed Friday at 9 a.m. Gov. Tim Walz and Board of Regents Chair Ken Powell are scheduled to attend, and the event will be streamed online.
Correction (Sept. 19, 2019): A previous version of this story misspelled Jadon Warneke's name. The story has been corrected and updated.