Family, friends, colleagues mourn Minnesota soldiers as investigation begins at crash site
Updated: Dec. 8, 9:58 a.m.
Investigators arrived at the scene of a deadly Minnesota National Guard helicopter crash on Saturday near St. Cloud, as a memorial took shape in a nearby field and colleagues spoke about the three men who died.
The Guard identified the three soldiers who died as 30-year-old Chief Warrant Officer 2 Charles Nord of Perham, 28-year-old Chief Warrant Officer 2 James Rogers Jr. of Winsted, and 28-year-old Sgt. Kort Plantenberg of Avon.
Nord and Rogers were pilots; Plantenberg was a mechanic on track to attend flight school. All three had returned home last May from a nine-month deployment to Kuwait, where they conducted aerial medical evacuations.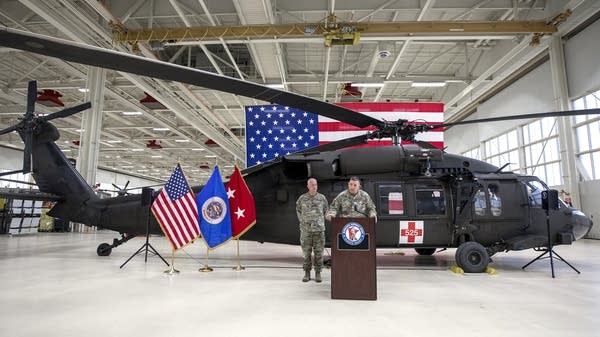 "This is a devastating loss for the families of our deceased soldiers, and our entire Minnesota National Guard family," Maj. Gen. Jon Jensen, adjutant general of the Minnesota National Guard, said at a news conference Saturday. "... To the families of our three soldiers, there is nothing I can say that will take away or lessen the pain you are feeling. What I can tell you is you are not alone in your grief."
Jensen said the Guard has been receiving messages of support not just from around the state, but from military units stationed around the world.
All three soldiers were assigned to the St. Cloud-based Company C, 2-211th General Support Aviation Battalion.
Plantenberg's family issued a statement Saturday, saying "this is a time of unimaginable loss, sadness and sorrow for our family. Kort was everything to us — a kind, loving son and brother as well as an incredibly dedicated and loyal friend, neighbor, correctional officer and Guardsman. It's impossible to envision life without him. ...
"We take comfort in our faith, the love of family and friends, and the knowledge that Kort died doing what he loved best: serving his country and pursuing his lifelong dream to be a Black Hawk helicopter pilot."
According to biographical information provided by the Guard:
Nord was born in Breckenridge and graduated from Perham High School in 2007. He joined the Guard the same year as an M1 armor crewman, and later became a UH-60 Black Hawk aeromedical evacuation pilot. He is survived by his wife, 2-year-old daughter, and another child expected.
Rogers was born in Madelia and graduated from St. James High School in 2010. He enlisted in the Guard in 2009 as a field artillery specialist, and later became a UH-60 Black Hawk pilot.
Plantenberg was born in St. Cloud, graduated from Albany Area High School in 2009 and enlisted in the Guard in 2016 as an aircraft electrician. He was preparing to start the state warrant officer program next March, followed by flight school.
Guard colleagues of the three spoke after Saturday's news conference. 1st Sgt. Shawn Schmidt remembered Nord as someone who lifted his fellow soldiers' spirits.
"I particularly remember (Nord) on the initial deployment — which is a very, very trying time in our mobilization. Spirits are down, everybody's a little bit frustrated — and he'd walk in the room and just lighten it up. It was just amazing; it was always great to have him around."
Schmidt said all three men were athletic — especially Plantenberg, who was a member of the Guard's biathlon team.
"He could run like the wind; it was amazing," Schmidt said. "Then again, he was very, very good at almost everything he did, which I thought was truly special. He was a shooting star; he was a tremendous individual."
Maj. Bill Alms recalled a particular training mission with Nord.
"We had one mission that was flying up near his hometown of Perham and happened to fly over his house, and he was talking about a construction project that was going on, he was talking about his family and how incredibly proud he was of his family," Alms recalled. "He also does crop-dusting with helicopters, and I remember him talking about how excited he was to do that again next summer."
Nicholas Arrigoni, a flight paramedic with Company C, told KARE 11 that Rogers "was the goofball, he was the one to make jokes and laugh and have a good time. One thing though -- when it was game time, his serious face went on quick."
Update on National Guard helicopter crash
10 of 10
1 of 10
2 of 10
Investigation update
The UH-60 Black Hawk helicopter took off from St. Cloud around 2 p.m. Thursday for what the Guard described as a "maintenance test flight," and the pilots called mayday about nine minutes after takeoff.
Stearns County authorities said it took several hours to find the craft following the mayday signal. Emergency responders, including an aviation rescue team from St. Paul, rushed to the scene after it was discovered by a State Patrol helicopter in trees by a field about 16 miles from St. Cloud, near Kimball, Minn.
The Black Hawk is the Army's standard utility helicopter. It's used to transport troops and equipment, for air assaults and as a medevac for the wounded.
Col. Shawn Manke said an Army team from Alabama was at the crash scene Saturday to begin the investigation. After they complete field work at the site, the wreckage of the helicopter will be moved and the team will work on determining the cause of the crash.
Jensen said there is no timeline for the investigation.
Officials would not say what maintenance had been performed on the helicopter prior to the crash, but Manke said "we do know that it was a routine maintenance flight that is conducted almost daily in the Minnesota National Guard."
Manke said the three-person crew was typical for a maintenance test flight, which is conducted after certain kinds of maintenance and repairs; some work requires only a check on the ground.
Manke said all UH-60 Black Hawks in Minnesota have been grounded in the wake of the crash, which is standard procedure; he said he expects them to resume flights soon.
A short distance from the crash scene, near the small community of Marty about 15 miles southwest of the St. Cloud airport, the Krippner family who owns the land erected a flagpole in tribute to the fallen soldiers. It was joined by a wreath and poinsettia plants on Saturday.
Jensen said the Guard and the families are very appreciative of the support they've received in the wake of the crash.
It's the first major helicopter crash for the Minnesota National Guard since 1993, when five soldiers died in the collision of two aircraft at Camp Ripley.
Your support matters.
You make MPR News possible. Individual donations are behind the clarity in coverage from our reporters across the state, stories that connect us, and conversations that provide perspectives. Help ensure MPR remains a resource that brings Minnesotans together.