April 8 update on COVID-19 in MN: 39 dead; Walz extends stay-home order to May 4
Updated: 6:10 p.m. | Posted: 5:30 a.m.
Gov. Tim Walz said Wednesday he's extending his stay-at-home order for Minnesota through May 4 as state leaders work to slowly reopen parts of the economy without worsening the spread of COVID-19.
The new order means bars and restaurants will remain takeout-only for roughly another month. Landscapers, however, are exempt from the extended stay-home order, allowing golf courses, for instance, to begin grooming courses in anticipation of opening.
At an afternoon news conference, Walz said he's told his commissioners to come up with guidelines for reopening parts of the economy, such as recreation, within social distancing guidelines. But he added: "I will not sacrifice the health of Minnesotans and the gains we've made."
Walz's current two-week order had been set to expire Friday, although he'd been signaling the past few days that he intended to extend it with some refinements.
Grow the Future of Public Media
MPR News is supported by Members. Gifts from individuals power everything you find here. Make a gift of any amount today to become a Member!
Besides letting landscapers work, the new order lets employees supporting arts and crafts stores distribute materials for making face masks and other personal protective equipment. Business owners will also get some flexibility to go on site to manage inventory.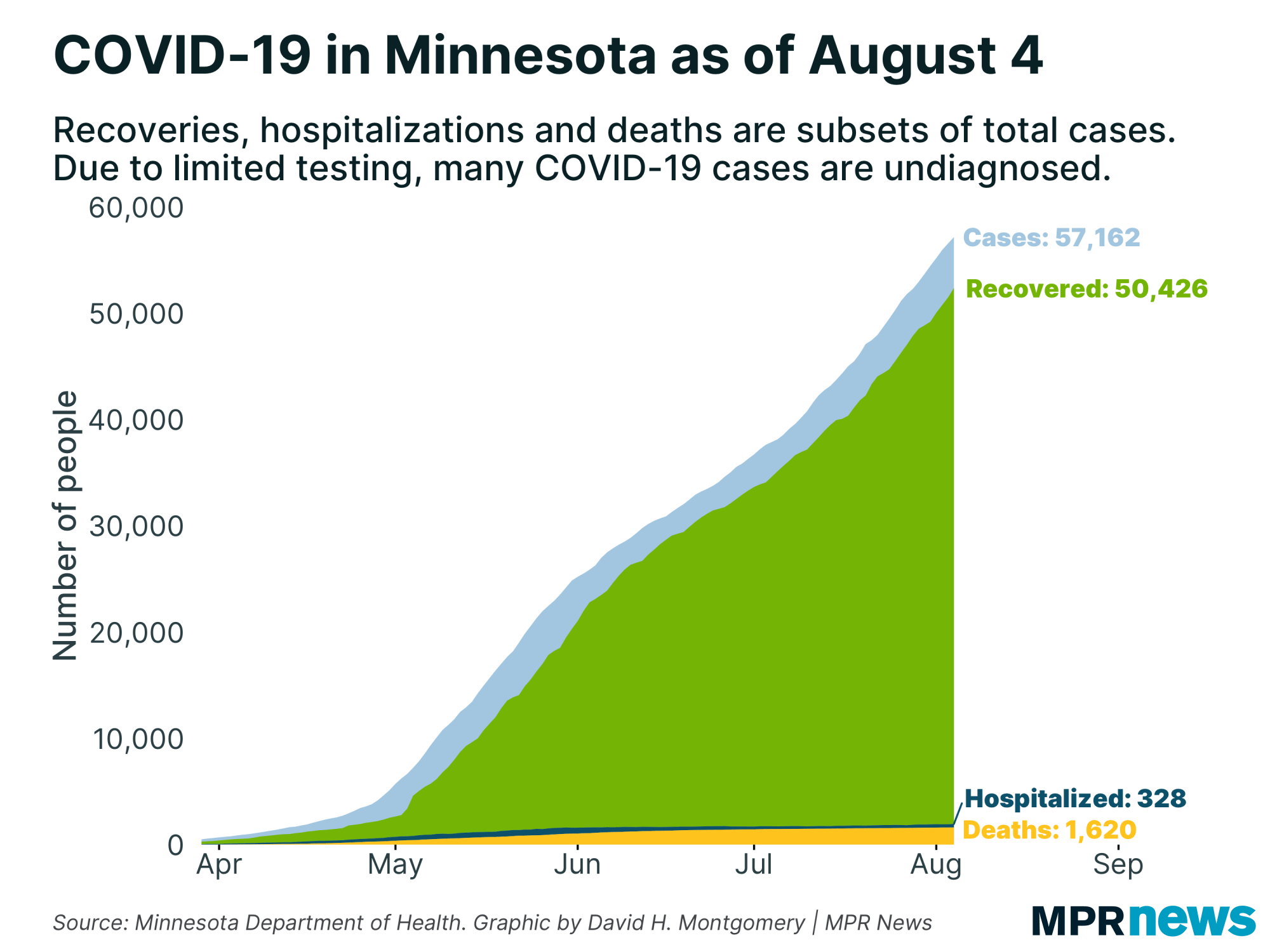 Extending the public restrictions will continue to buy Minnesota time to manage the spread and push the expected peak on the disease to mid-July, Walz said, noting that health care leaders support the extension.
Walz's comments and the extended stay-at-home extension came hours after the state Health Department reported deaths linked to COVID-19 in Minnesota rose to 39, up five from Tuesday, as the total number of cases jumped to 1,154, up 85.
While deaths and cases continued to rise, the number of people in intensive care — a key indicator of the state's ability to manage the spread — stayed unchanged from Tuesday at 64, according to data posted by the state Health Department.
About 55 percent of the people who've tested positive for COVID-19 in Minnesota since the pandemic began have recovered to the point where they no longer need to be isolated.
Walz, however, said to avoid the worst-case scenes in some other states, Minnesota will need at least 3,000 intensive care beds starting now through July, he added. "We cannot rest easy. This thing can explode overnight if you do not take the proper precautions."
Officials are increasingly concerned about the disease's creep into rural and small-town Minnesota where hospitals and intensive care help is limited. "We do know there is a lot of disease in our state that has yet to show up in the counts," said state Health Commissioner Jan Malcolm.
The state continues to struggle to get the laboratory and testing supplies and personal protective gear for health workers that will need to meet the expected surge in hospitalizations, Walz said.
One startling example of that: He said the state had a private sector deal arranged to ship a stockpile of health worker protective gear to Minnesota from China, but as it was being loaded, "the Chinese army surrounded it and said it's not going anywhere."
The jump of 85 cases from Tuesday was the largest one-day increase since the pandemic began. Cases jumped by nearly as much Monday to Tuesday. Despite the continued spread, officials have noted that a key metric — Minnesota's rate of doubling of COVID-19 cases — has slowed, offering encouragement that the efforts to keep residents out of public spaces is working to stem the spread.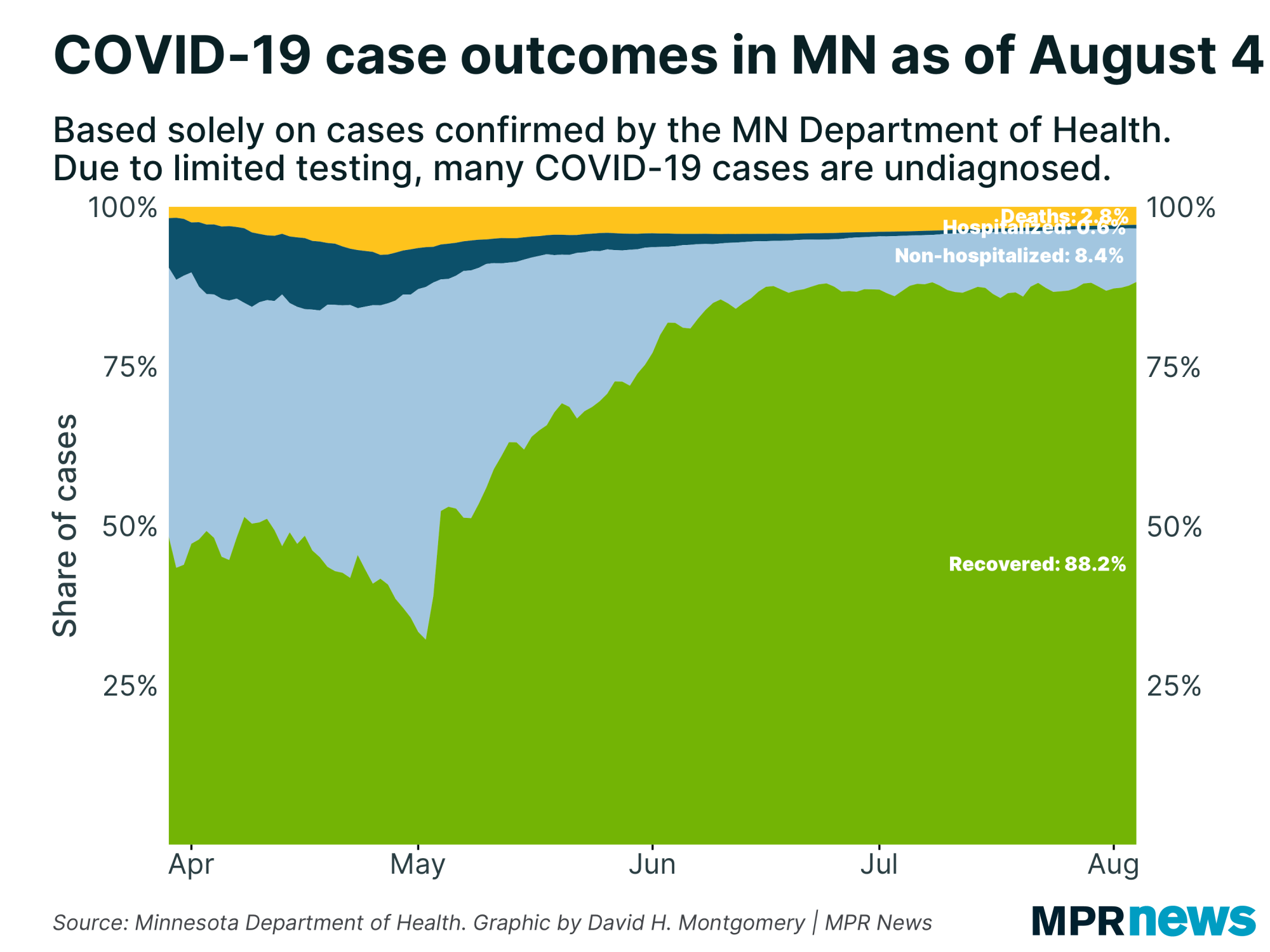 Beyond the updates on cases and deaths, the Health Department Wednesday noted:
Among those who have died in Minnesota, ages run from 58 to 100. Of the newly reported deaths, two are in Hennepin County, with one each in Washington, Wilkin and Winona counties; four were in long-term group care settings.

About 35 percent of COVID-19 cases are now considered to have originated from community spread, the greatest likely source of exposure to this point.

Martin County on the Minnesota-Iowa border continues to account for the largest number of cases outside of the Twin Cities metro area and Rochester. But its numbers were stable Wednesday at 34 cases and four deaths.

Sixty-five of 87 Minnesota counties have at least one confirmed case. Pine County is now on the list
State officials say some 300 Minnesota health care workers have tested positive for the disease.
The governor the past few weeks has repeatedly acknowledged many Minnesota residents and businesses are suffering financially because of the disease and the state's efforts to slow its spread.
Bars, restaurants and other hospitality businesses have been hit especially hard by the order to keep people apart in public spaces to fight COVID-19. He's also conceded that it is unlikely public school buildings, which he'd ordered closed through early May, will reopen this school year.
The order has kept more than 11 percent of the state's workforce home, most without pay.
Some good news on that score came Wednesday when Steve Grove, Minnesota's commissioner of employment and economic development, said that an additional $600 weekly benefit from the federal government is on its way to nearly 200,000 applicants and should start to show up this week in Minnesota bank accounts.
With the projected peak of hospitalizations expected now to hold off until July, Walz and state leaders also faced questions Wednesday about whether Minnesotans should begin canceling their summer plans.
"We hesitate to say, 'Let's just cancel summer,'" but Minnesotans must still be smart about social distancing and other behaviors, Malcolm said.
"Yeah, it's hard," Walz said, noting that health experts have been discouraging people to head to cabin country during this time for fear people would get sick and overwhelm small-town hospitals. People who don't go up north may end up clogging already busy parks and lakes in the Twin Cities, including Lake Minnetonka.
"We're certainly not going to have the party barges coming together," he said. "It's not going to be a typical summer."
For daily COVID-19 updates in your inbox, subscribe to our morning newsletter.
---
Developments from around the state
North Dakota travel quarantine order exempts essential workers crossing state border
North Dakota Gov. Doug Burgum is easing quarantine restrictions on people coming from areas with widespread COVID-19 cases.
Burgum had issued an order requiring a two-week quarantine for anyone returning to North Dakota from states the Centers for Disease Control and Prevention has listed as having widespread cases of coronavirus.
This week, Minnesota was added to that list, causing a lot of confusion for people in communities along the border.
On Wednesday, Burgum amended the quarantine order to exempt anyone who is an essential worker, a consumer buying essential supplies, or is engaging in outdoor activities, including driving for pleasure.
Burgum said the goal was to quarantine snowbirds returning from states like Arizona or Florida, not to impose border restrictions between communities.
— Dan Gunderson | MPR News
COVID-19 cases up sharply in St. Louis County
St. Louis County in northeastern Minnesota has seen a significant jump in the number of confirmed COVID-19 cases in the county.
As of Wednesday, 11 more people in the county have confirmed cases of COVID-19 — bringing the total number of cases in St. Louis County to 28. In two of the new cases, patients have been hospitalized.
Many of the new cases are linked to St. Ann's Residence, an assisted living facility in Duluth.
"This is obviously very concerning. It's a vulnerable population that St. Ann's residence serves, and these are the situations we've been preparing for but hoping wouldn't happen," said Amy Westbrook, who directs the St. Louis County public health division.
Older people and those with underlying health conditions are especially vulnerable to the effects of the new coronavirus. Westbrook said the virus is also likely being spread by community transmission, which means health officials haven't been able to trace the origins of all the cases.
— Dan Kraker | MPR News
'It's unfair': Grocery workers not included in workers' comp bill
Grocery store workers say they're disappointed they won't automatically qualify for workers' compensation benefits if they test positive for COVID-19.
Under a bill the Legislature passed Tuesday, coronavirus infections would be presumed to be work-related for doctors, nurses, firefighters, home health, child care and many other workers.
Jennifer Christensen, president of the union representing about 6,000 workers at grocery stores in the east Twin Cities metro area and Duluth, said it's unfair that grocery workers are not covered.
"The likelihood of our members catching the virus from a customer is pretty high. Many of our folks are working 60 hours a week," Christensen said.
Christensen said that while many people get to isolate themselves, grocery store workers must go where people gather in large numbers.
— MPR News staff
MN hospitals, clinics receive $50M state emergency fund
The Minnesota Department of Health says hundreds of organizations across the state are getting money from the state to respond to the COVID-19 outbreak.
Lawmakers and Gov. Tim Walz set aside $50 million for short-term emergency funding. Most of the money is going to the Twin Cities' major hospital systems, including $5 million each for Fairview and Hennepin Healthcare; more than $4 million for Allina Health; and $3 million each for Essentia Health Care and St. Luke's, based in Duluth. North Memorial Health Hospital is also getting more than $1 million.
The rest of the funding is being doled out to clinics, pharmacies, ambulances and medical transportation companies and tribal health services.
Nursing homes, among the hardest hit of the state's care providers, are eligible for a separate $150 million in aid from the state.
— Tim Nelson | MPR News
State weighs more tax filing relief for Minnesotans
The Minnesota Revenue Department remains in discussions about relaxing additional tax filing deadlines to give those financially affected by the coronavirus more breathing room.
Assistant Commissioner Justin Nieman told a Minnesota House committee Wednesday that the agency is weighing how to accommodate taxpayers while ensuring enough money comes in to operate state government during the crisis.
"We are taking this seriously," Nieman said. "Now more than ever state and local governments are needed to perform essential services for the state. We recognize that maintaining it right now is difficult and may present challenges for both our taxpayers and preparers."
Annual tax filers now have until July 15 to get their 2019 tax forms and payments in, but those who pay on a quarterly basis still have a looming deadline. Rep. Greg Davids, R-Preston, said those taxpayers deserve equal treatment and soon.
"I'm very disappointed in that non-answer," Davids said. "We need to know this before April 15th and we're just pushing the ball down towards disaster again."Businesses are also seeking deadline flexibility, and property owners are voicing worry about an upcoming May 15 deadline for tax payments.
— Brian Bakst | MPR News
Mayo joins COVID-19 plasma trial
Mayo Clinic is one of dozens of medical centers launching a new effort to fight COVID-19, using plasma from people who've recovered from the disease.
Dr. Michael Joyner is directing the study at Mayo.
"When people recover from COVID-19, they will have antibodies to help fight the virus. We're then able to take the plasma which contains these antibodies, infuse it into patients who are in the midst of fighting the disease, and give their immune system a temporary boost," he said.
Joyner said the technique dates back more than 100 years, and that a handful of initial tests of the effort have shown some promise.
Researchers are looking for people who have had the coronavirus, but are no longer ill. Joyner said the treatment could be used to help protect health workers, keep people from requiring acute care or as an effort to save those most ill from the virus.
— Tim Nelson | MPR News
---
Top headlines
Trump issues disaster declaration for Minnesota: President Trump has issued a disaster declaration for Minnesota as the state combats the coronavirus outbreak. Gov. Tim Walz had asked Trump to issue the declaration to allow federal funding to flow to the state. Minnesota's congressional delegation had urged the Trump administration to approve the request.
Grocery store inventories rebounding — except for toilet paper: Shoppers are more likely to find what they want at many Twin Cities grocery stores, now that the initial shopping frenzy ignited by COVID-19 fears has passed.
Therapists forge ahead with telehealth — not knowing if they'll be paid: With the stay-at-home order, mental health care has moved from therapists' offices to the internet or the phone. Private insurance companies are still figuring out exactly what telehealth services they will cover. But when they do, those changes could stick after the coronavirus pandemic ends.
Minnesotans find Passover meaning in a pandemic: Seder tables across Minnesota will likely be a little bit smaller this year, as families mark the beginning of Passover in the midst of a global pandemic.
COVID-19 in Minnesota
Health officials for weeks have been increasingly raising the alarm over the spread of the novel coronavirus in the United States. The disease is transmitted through respiratory droplets, coughs and sneezes, similar to the way the flu can spread.
Government and medical leaders are urging people to wash their hands frequently and well, refrain from touching their faces, cover their coughs, disinfect surfaces and avoid large crowds, all in an effort to curb the virus' rapid spread.
The state of Minnesota has temporarily closed schools, while administrators work to determine next steps, and is requiring a temporary closure of all in-person dining at restaurants, bars and coffee shops, as well as theaters, gyms, yoga studios and other spaces in which people congregate in close proximity.