Bill would set standard for preserving rape kits in Minnesota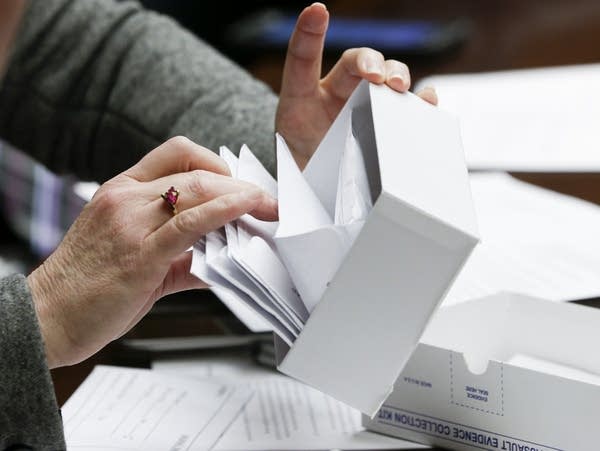 Law enforcement and sexual assault advocates are calling on Minnesota lawmakers to pass legislation that would fund centralized storage for sexual assault kits and regulate what they call inconsistent practices across the state.
A 2018 law requires police agencies to collect rape kits within 10 days and submit them for testing within the following 60 days if a victim requests it. A new bill, sponsored by Rep. Marion O'Neill, R-Maple Lake, would ensure cases that aren't reported to law enforcement are preserved.
Ramsey County Attorney John Choi said Monday that the current system is a patchwork of policies and storage practices that lack tracking, accountability and support for sexual assault survivors.
"Sometimes these kits would actually be destroyed, and what we know in law enforcement and in prosecution is that oftentimes the victim will change their mind," he said. "They will come to a place after they get some services and they will want to report to law enforcement."
At a virtual press conference, Choi joined representatives from the Minnesota Coalition Against Sexual Assault, Regions Hospital's Sexual Assault Nurse Examiner program, the St. Paul Police Department and the Ramsey County Sheriff's Office.
Ramsey County sexual assault investigator Jessica O'Hern spoke of a 2018 case in which the victim decided to pursue charges after seven months.
O'Hern said the kit was about to be destroyed at Hennepin County Medical Center when she asked hospital staff to hold it for her. She was able to bring charges against the man involved.
"I wasn't sure why the kit was about to be destroyed. I found out a lot of kits were getting destroyed," she said, adding that she's since instituted a practice of collecting all restricted kits and holding them in a refrigerator that the Ramsey County Attorney's Office purchased.
In 2019, there were more than 400 sexual assault exams performed in Ramsey County, according to the county attorney's office. Regions cited a 65 percent report rate for sexual assault victims, meaning the rest of the restricted — or untested — cases need storage space.
"Communities across the state of Minnesota should not be having to rely on the heroics of an investigator to go out and collect rape kits from hospitals," Choi said. "What we really need to have is some very clear direction about where hospitals would be sending their kits to."
A new system would require more than $3 million in funding during fiscal year 2021 to pay for the testing of the kits, storage and a website for survivors to track the status of their case. An additional $2 million would be needed for the following year.
This plea comes amid a challenging COVID-19 crisis that has pushed lawmakers to act quickly to pass a $330 million rescue plan for health and economic relief.
Supporters of the bill, however, say it should still be a priority. Legislation would allow for hospitals to send their sexual assault kits to the Bureau of Criminal Apprehension, which would then be responsible for a statewide storage system.
Jude Foster, medical forensic policy program coordinator with the Minnesota Coalition Against Sexual Assault, said hospitals see restricted kits as being evidence that doesn't belong in their facilities. Law enforcement, on the other hand, doesn't consider them evidence because they haven't received a report.
Foster said that discrepancy creates a rift in some communities.
"We know that victim survivors, after that one year anniversary, are much more likely to convert a restricted or unreported case to a standard case," she said. "This really gives victim survivors the opportunity to take the time that they need to decide if they want to engage with the criminal justice system."
Your support matters.
You make MPR News possible. Individual donations are behind the clarity in coverage from our reporters across the state, stories that connect us, and conversations that provide perspectives. Help ensure MPR remains a resource that brings Minnesotans together.