Minnesota farmers to feel fallout from closure of major pork processing plant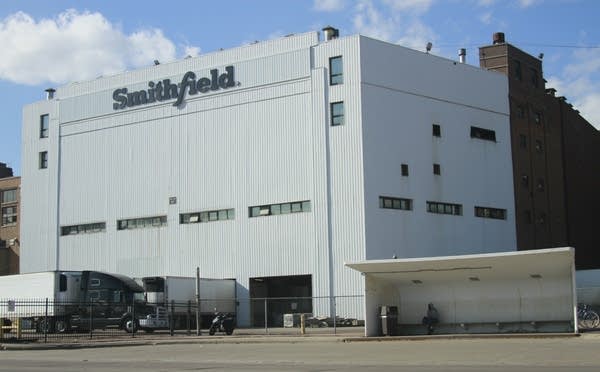 The indefinite closure of a major pork processing plant in South Dakota will reverberate to farms across the Midwest — including Minnesota.
Smithfield Foods announced Sunday that its plant in Sioux Falls will shut down amid an outbreak of COVID-19. Nearly 300 cases have been confirmed among the plant's 3,700 employees. The company did not give a targeted date to reopen.
For Minnesota, one of the biggest pork-producing states in the country, the plant plays a significant role in hog farms' sales.
"It would be pure speculation as to what the price impact for farmers is going to be starting this coming week, but I see zero scenario that it's not negative. It's just a question of how much," said David Preisler, CEO of the Minnesota Pork Producers Association.
Grow the Future of Public Media
MPR News is supported by Members. Gifts from individuals power everything you find here. Make a gift of any amount today to become a Member!
He said hog farmers had already been taking a hit due to changes in the marketplace and demand.
"As of last week, collectively Minnesota hog farmers are losing about $2.5 million a day," he said.
Smithfield's closure adds an additional layer of difficulty for an industry already hit hard by the economics of COVID-19. Preisler said plants across the country have not been operating at their usual pace.
At the same time, restaurants closing or being limited to takeout orders has changed consumer demand.
"Sixty percent of bacon is sold at restaurants. And so as that evaporated, the bacon still ends up being made, so the price of the raw materials — the pork belly — over the last two and a half weeks has lost two-thirds of its value," he said.
Farmers were already getting less money. One year ago, the price for lean hogs was just under $90 dollars. Today it's just shy of $43.
With fewer processors running at the usual clip, the cycle of raising and selling has also been thrown off. Farmers raise pigs to be a certain weight at a certain time to be ready for market. Not being able to sell hogs at that time can decrease their value, and at a certain point make the animal unsellable.
Preisler said some farmers worry they won't have anywhere to sell their hogs.
"I think it's important for people to understand the financial pain that's occurring. Farmers are really left with a series of bad choices at this point," he said.
In announcing the closure, Smithfield CEO Kenneth Sullivan said the shutdown may imperil meat supplies in the nation.
"It is impossible to keep our grocery stores stocked if our plants are not running. ... We have a stark choice as a nation: we are either going to produce food or not, even in the face of COVID-19," he said in a news release.
The announcement came a day after South Dakota Gov. Kristi Noem and Sioux Falls Mayor Paul TenHaken wrote to Smithfield and urged the company to suspend operations for 14 days so that its workers could self-isolate and the plant could be disinfected.
Maggie Seidel, Noem's senior adviser and policy director, said in an emailed statement Sunday that science and data support a 14-day closure to slow the spread of the virus in the community.
"Obviously, the situation is dynamic and changing by the day. The industry (like the country) needs to fight its way through this situation – and it will – and make adjustments as it changes. As a critical infrastructure industry in our nation's food supply, the governor is committed to working with them to get through this," Seidel wrote.
While the Sioux Falls plant is closed indefinitely, Priesler said that there is hope that a plant that had been closed for a week in Iowa will reopen this week, and one in Canada might do the same, to help at least keep sales flowing elsewhere.
The Associated Press contributed to this report.