April 14 update on COVID-19 in MN: 79 dead; job losses falling hard on people of color
Updated: 7:01 p.m. | Posted: 5:15 a.m.
Startling numbers of Minnesotans — including more than 1 in 4 people of color in the state's labor force — are seeking unemployment aid as the COVID-19 pandemic wallops the economy.
Updating reporters on efforts to ease the virus' medical and economic damage, Gov. Tim Walz and other state leaders on Tuesday made clear that a massive scale-up in testing was key to reopening businesses while trying to keep people safe.
They also acknowledged the economic fallout from COVID-19 appeared to be falling disproportionately on people of color and on women.
Nearly 452,000 Minnesotans have applied for jobless benefits in the past few weeks — about 14 percent of the state's overall labor force and twice the total number of applicants filing during all of 2019, said Steve Grove, the state's employment and economic development commissioner.
Grow the Future of Public Media
MPR News is supported by Members. Gifts from individuals power everything you find here. Make a gift of any amount today to become a Member!
Broken down by race, Grove said it works out to about 12.2 percent of the white labor force seeking benefits and nearly 26 percent of the non-white labor force.
Women make up 55 percent of the total applicants.
"The scope and scale of this is stunning," Grove said.
News of those grim economic markers came hours after the Health Department reported Minnesota deaths tied to COVID-19 rose to 79, up nine from Monday and over the weekend, as the number of people hospitalized jumped by 20, to 177.
One key indicator — the number of people needing intensive care — remained stable at 75, one up from Sunday. Total cases since the pandemic began ticked up to 1,695 with about 54 percent recovered to the point they no longer need to be isolated, the state Health Department reported Tuesday.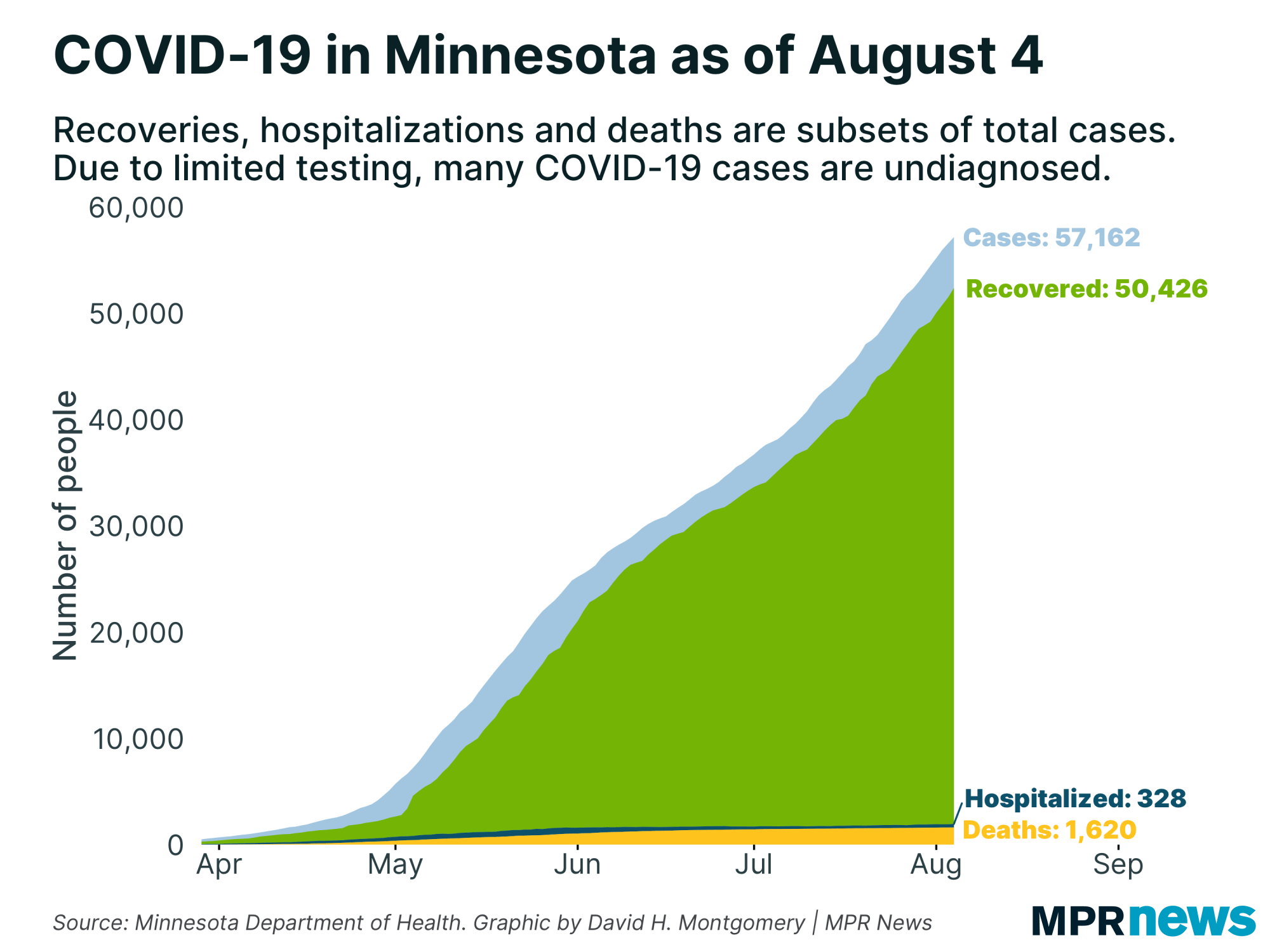 Grove said he and others continue to work on plans to bring parts of the economy back online, but that science would drive the decisions-making.
Walz on Monday signaled the state planned to move into a more aggressive posture to test for COVID-19 and trace and isolate those infected as part of the next phase of reopening parts of the economy.
Minnesota has tested nearly 40,000 people for COVID-19 since the pandemic began. But before the state begins returning to normal, Walz said he was aiming for some 5,000 tests per day or 40,000 a week. Walz said he was pushing to get the more aggressive testing regimen ramped up by May 4, when his current stay-at-home order is set to expire.
Much of the state's retail industry has been forced to shut down and temporarily shed thousands of jobs as part of Walz's effort to keep people out of public spaces to slow the virus' spread. Restaurants remain takeout-only.
Walz acknowledged the growing frustration of Minnesotans over the need to check the disease. He said he was sick of it, too, but that it was still necessary. "I wish I could say it's magically over ... but that will kill people."
Officials continue to caution the virus is much more widespread than what the daily updates indicate, with yet-undiscovered cases potentially higher than 150,000.
With 39 cases and four deaths, Martin County on the Minnesota-Iowa border continues to have the state's most severe outbreak of any county relative to its population (19,785). The seven cases and two deaths in tiny Wilkin County, south of Moorhead on the North Dakota border, are also concerning given the number of residents (6,254).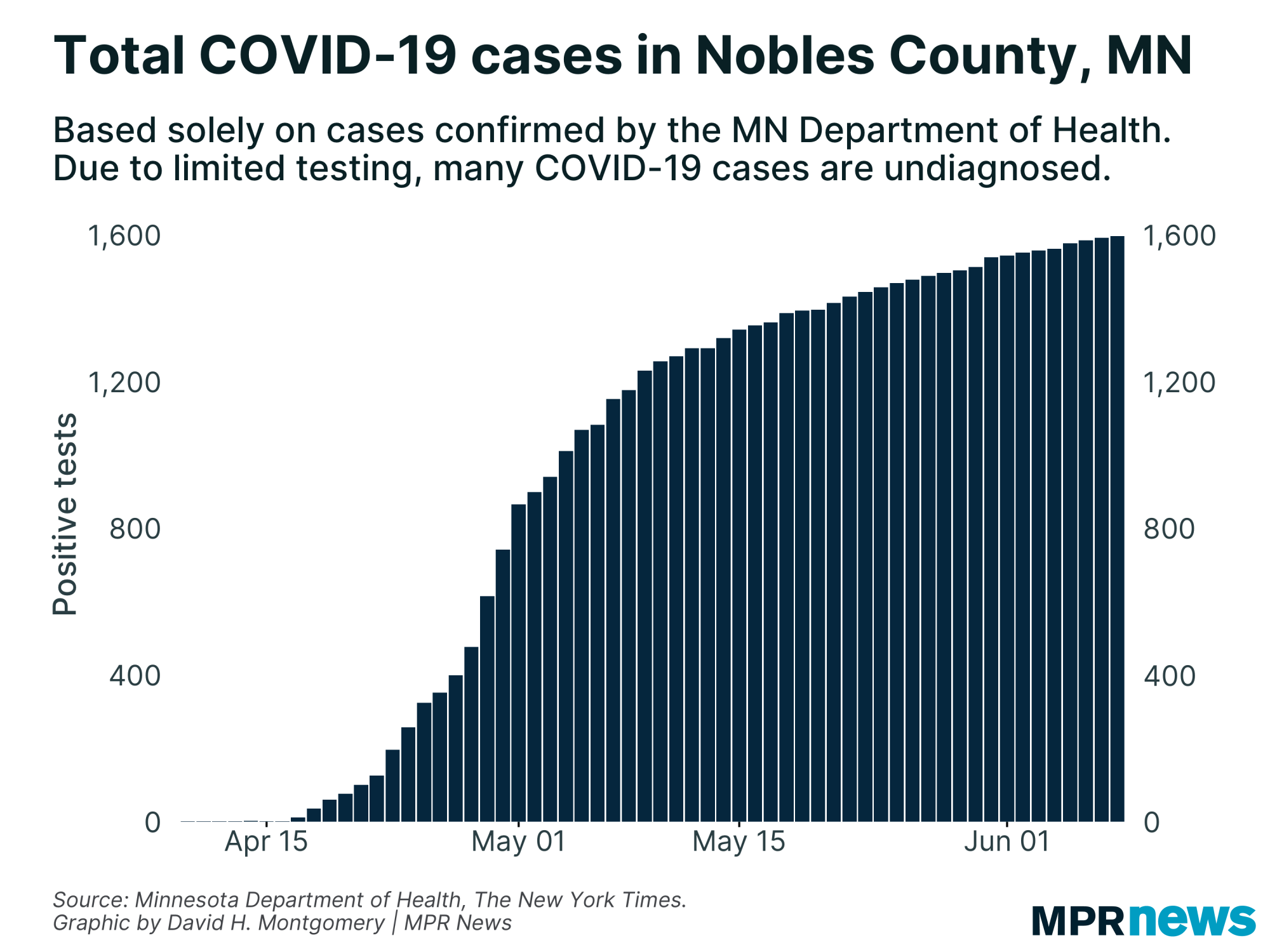 Among the other updates posted Tuesday by the Health Department:
The latest deaths include six in Hennepin County, with one each in Ramsey, Dakota and Wilkin counties.

Nearly every one of Minnesota's 79 deaths involved people with underlying health problems. Fifty-seven had been living in long-term care settings, said state infectious disease director Kris Ehresmann.

70 of Minnesota's 87 counties have at least one confirmed case, unchanged from Monday.
Among his other concerns, Walz on Tuesday said he was keeping close watch on the outbreak at a massive pork processing plant in Sioux Falls, S.D., near the southwestern Minnesota border. The plant is now shut indefinitely. While concerned, state officials say they are prepared in that corner of the state to handle spillover effects from the plant outbreak.
Separately, the governor has extended his "peacetime emergency" order through May 13, allowing him to take executive actions to deal with the coronavirus.
The order extension drew a rebuke from some Republicans, who tried but failed Tuesday to overturn the order in the DFL-controlled House. House Minority Leader Kurt Daudt argued that the state needed to tailor restrictions to those at higher risk and "allow the rest of us to go back to work."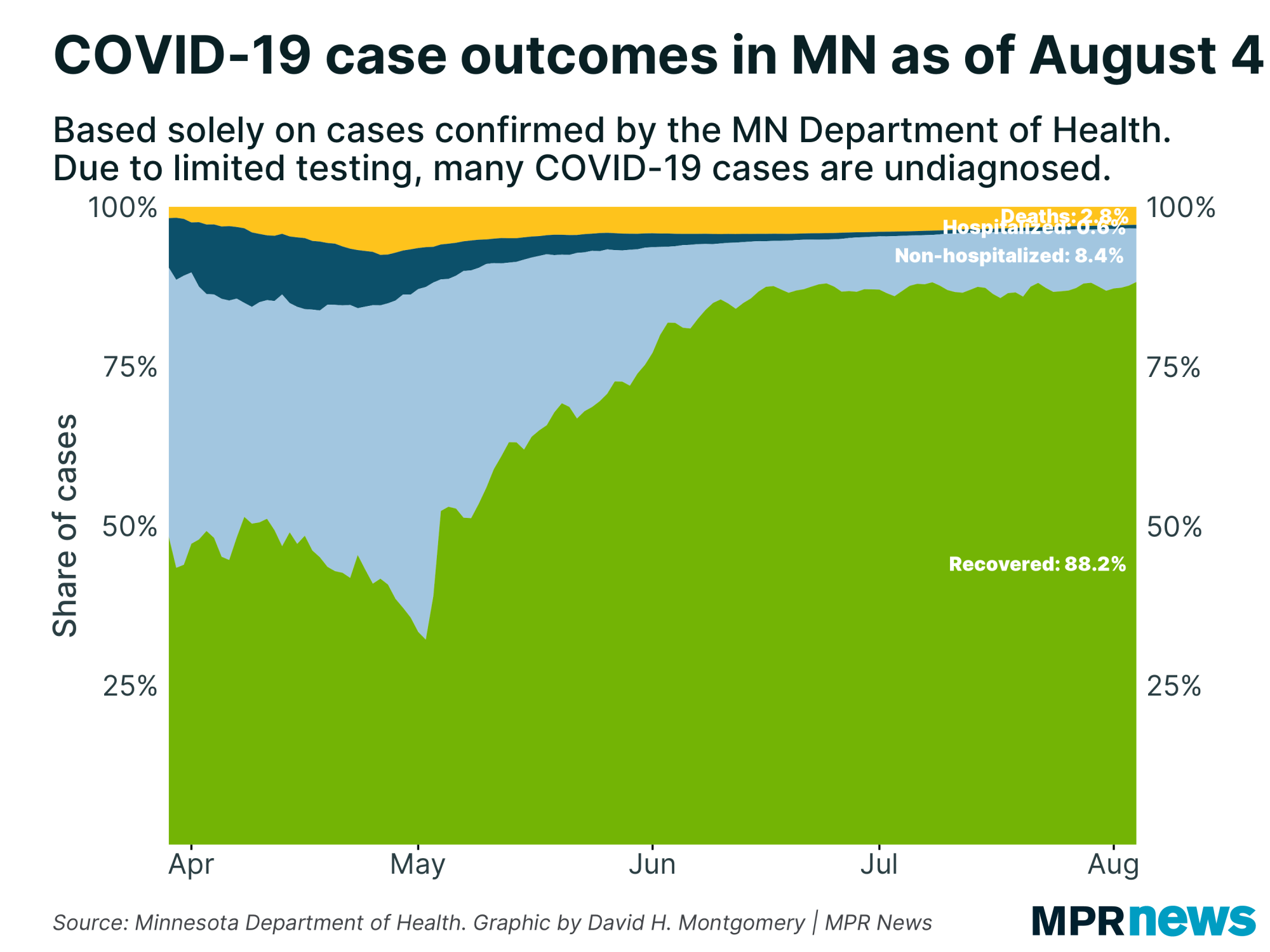 The House and Senate on Tuesday did pass another COVID-19 bill, focused more on policy than money, and sent it to Walz for his signature.
"People are weary. I don't deny that at all. That's why we're pressing to get it right and get it right the first time," Walz said Tuesday when asked about the public's appetite for continued restrictive measures.
"Everyone out there, me included, I am sick of this," he said. "I want us to get done as quickly and smartly as possible."
---
Developments from around the state
Medtronic announces $9M ventilator contract with HHS
Medtronic said on Tuesday the company has a federal contract to provide hospitals with hundreds of ventilators that can save the lives of COVID-19 patients. The contract with the Department of Health and Human Services is worth about $9 million.
The deal calls for Medtronic to deliver about a thousand ventilators to hospitals by June 22. About 200 of the devices would arrive by early next month.
Dublin-based Medtronic has extensive operations in the Twin Cities. The company has increased ventilator production by more than 40 percent and is looking to more than double its ventilator manufacturing capacity.
— Martin Moylan | MPR News
Layoffs, shutdowns spike in N.D. oil industry amid pandemic
The sharp decline in oil prices caused by the coronavirus pandemic continues to hit hard in the North Dakota oil fields.
In his monthly briefing, North Dakota Mineral Resources director Lynn Helms said 2,200 oil workers were laid off in March — and that's just the beginning.
"That could extend by maybe another 6,000 jobs with a total of somewhere between 8,000 and 8,500 job losses before things start to turn around and come back," Helms said.
Helms says oil drilling activity is down by 40 percent, and because prices are so low, oil companies have stopped pumping oil from 4,600 wells.
Helms said the downturn will have a significant but as yet undetermined effect on state tax revenue.
— Dan Gunderson | MPR News
Minnesota Orchestra reworks season schedule
The Minnesota Orchestra has restructured the remainder of its current season due to the coronavirus. This involves postponing or canceling all concerts through this June.
The "Summer at Orchestra Hall" season is now pushed back to July 2021.
The orchestra is adding five extra weeks of performances in August and early September this year to accommodate some concerts postponed from the current season. Others from the spring schedule will be part of the 2020-21 season, including two concerts with the band Cloud Cult.
— Euan Kerr | MPR News
Inmates at Hennepin Co. jail, Willow River prison test positive for COVID-19
The Hennepin County Sheriff's Office says the jail has detected its first confirmed case of COVID-19.
In a news release, sheriff's office spokesperson Rob Allen said a man exhibiting symptoms of the virus was booked into the jail last Friday. The man was tested and isolated pending the results of the test. Allen said after the man tested positive, he was notified about his status and was released to isolate at home.
Allen said the jail had already implemented safety precautions to prevent an outbreak including suspending visits, training jail staff on sanitation and the use of personal protective gear and isolating symptomatic inmates or those who may have been exposed to the virus.
The state Department of Corrections said on Monday an inmate at the Willow River correctional facility has also tested positive for the coronavirus.
As of Sunday, 11 inmates at the Moose Lake prison have tested positive. Moose Lake had the first confirmed cases of the coronavirus in a Minnesota adult prison. Corrections Commissioner Paul Schnell has said the release of some state prisoners because of the coronavirus could happen as early as this week.
— Brandt Williams | MPR News and The Associated Press
---
Top headlines
Minnesota lawmakers advance new COVID-19 bill: An increasingly fractured Legislature pushed the latest coronavirus-related package through Tuesday, providing couples remote access to marriage licenses and farmers more breathing room on debt. The bill also assures coronavirus testing and treatment for the uninsured, gives food shelves money to buy excess milk and food products, waives some Health Department regulations to speed the COVID-19 response and gives the courts more latitude to deal with disrupted cases.
Closed schools in Minnesota begin to lay off, furlough staff: Dozens of educators and other staff in several Minnesota districts have been laid off or furloughed as a result of statewide school closures that are intended to prevent the spread of the coronavirus.
MN Arts Board changes grant process at a troubled time: The government entity — which is responsible for distributing millions of dollars in cultural legacy funds to artists across Minnesota — is suspending nine of its grant-making programs. The move, coming as arts groups are reeling from the effects of the pandemic and Minnesota's stay-at-home order, struck some artists as yet another hit to their incomes.
In a pandemic, 'gig' workers can fall through the social safety net: Many workers who have made their living in recent years in the so-called "gig economy," including driving for companies like Uber, are facing difficult choices during the COVID-19 pandemic. It's not yet clear how states, including Minnesota, are going to make sure these workers receive the unemployment benefits they were promised by Congress.
---
COVID-19 in Minnesota
Health officials for weeks have been increasingly raising the alarm over the spread of the novel coronavirus in the United States. The disease is transmitted through respiratory droplets, coughs and sneezes, similar to the way the flu can spread.
Government and medical leaders are urging people to wash their hands frequently and well, refrain from touching their faces, cover their coughs, disinfect surfaces and avoid large crowds, all in an effort to curb the virus' rapid spread.
The state of Minnesota has temporarily closed schools, while administrators work to determine next steps, and is requiring a temporary closure of all in-person dining at restaurants, bars and coffee shops, as well as theaters, gyms, yoga studios and other spaces in which people congregate in close proximity.