April 20 update on COVID-19 in MN: 143 dead; Walz cites good talk with Trump
Updated 6:55 p.m. | Posted: 5:40 a.m.
Fielding questions from virus testing to food safety to a weekend talk with President Trump, Gov. Tim Walz on Monday said the state was on the right track preparing for an expected COVID-19 surge but continued to caution that normalcy won't return soon to many parts of daily life in Minnesota.
The governor's wide-ranging comments came hours after the state Health Department reported 143 people have now died from COVID-19, up nine from Sunday, while the number of people in intensive care rose by 10 to 126.
"Minnesota has started potentially up the climb that we thought would come," Walz told reporters of the rising numbers of dead and triple-digit case increases the past six days.
Total cases jumped to 2,470 with nearly half recovering to the point they no longer need isolation. Health data experts continue to warn that the total cases identified represent only a sliver of those Minnesotans carrying the coronavirus, which causes COVID-19.
Grow the Future of Public Media
MPR News is supported by Members. Gifts from individuals power everything you find here. Make a gift of any amount today to become a Member!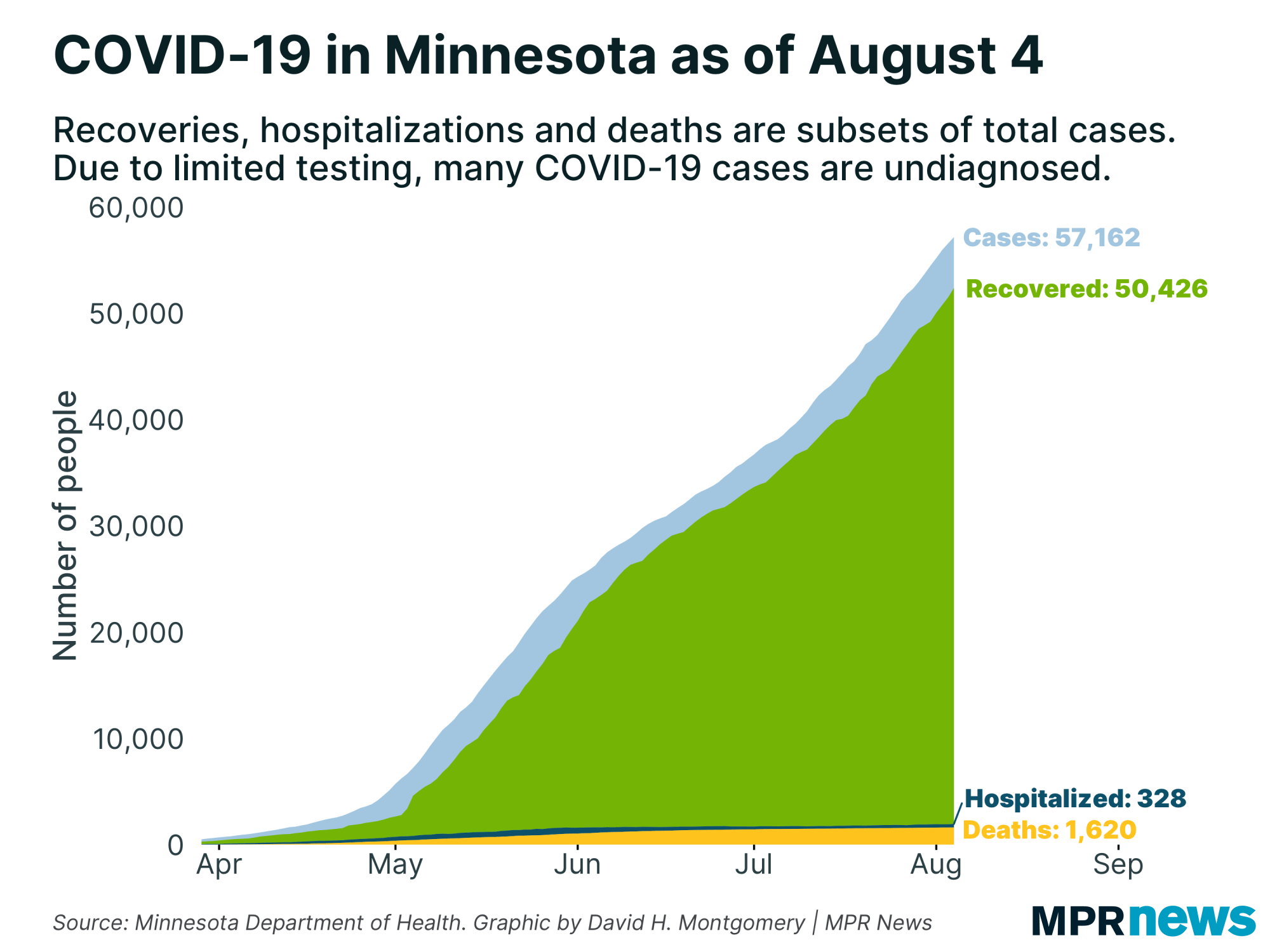 JBS pork shutting down
The newest numbers came on the same day southwestern Minnesota's Nobles County saw cases jump to 76 on Monday, nearly doubling from Saturday. Health Commissioner Jan Malcolm said later the case count was 77.
The JBS pork processing plant in Worthington is at the center of that outbreak. On Monday morning, company executives announced they were indefinitely shutting the plant, which employs some 2,000 workers, to try and get control of the situation.
Malcolm said at least 33 of the Nobles County cases are JBS employees, while six are family members of plant employees. Part of the challenge in investigating the outbreak, she added, is that some workers might be undocumented and they are afraid of stepping forward for immigration reasons.
Confirmed cases of COVID-19 continued to increase in the Sioux Falls, S.D., area, with more than 1,300 total cases reported in Minnehaha County as of Sunday. The now-closed Smithfield pork processing plant in Sioux Falls, about an hour's drive from Worthington, has been a national hot spot for coronavirus, with more than 600 employees testing positive.
Minnesota officials have said there are families of workers employed at both the Smithfield and JBS operations.
Despite the disease's spread through the JBS plant, there is no evidence of food or food packaging transmission, said Thom Petersen, Minnesota's agriculture commissioner. "It's safe to consume pork," he said.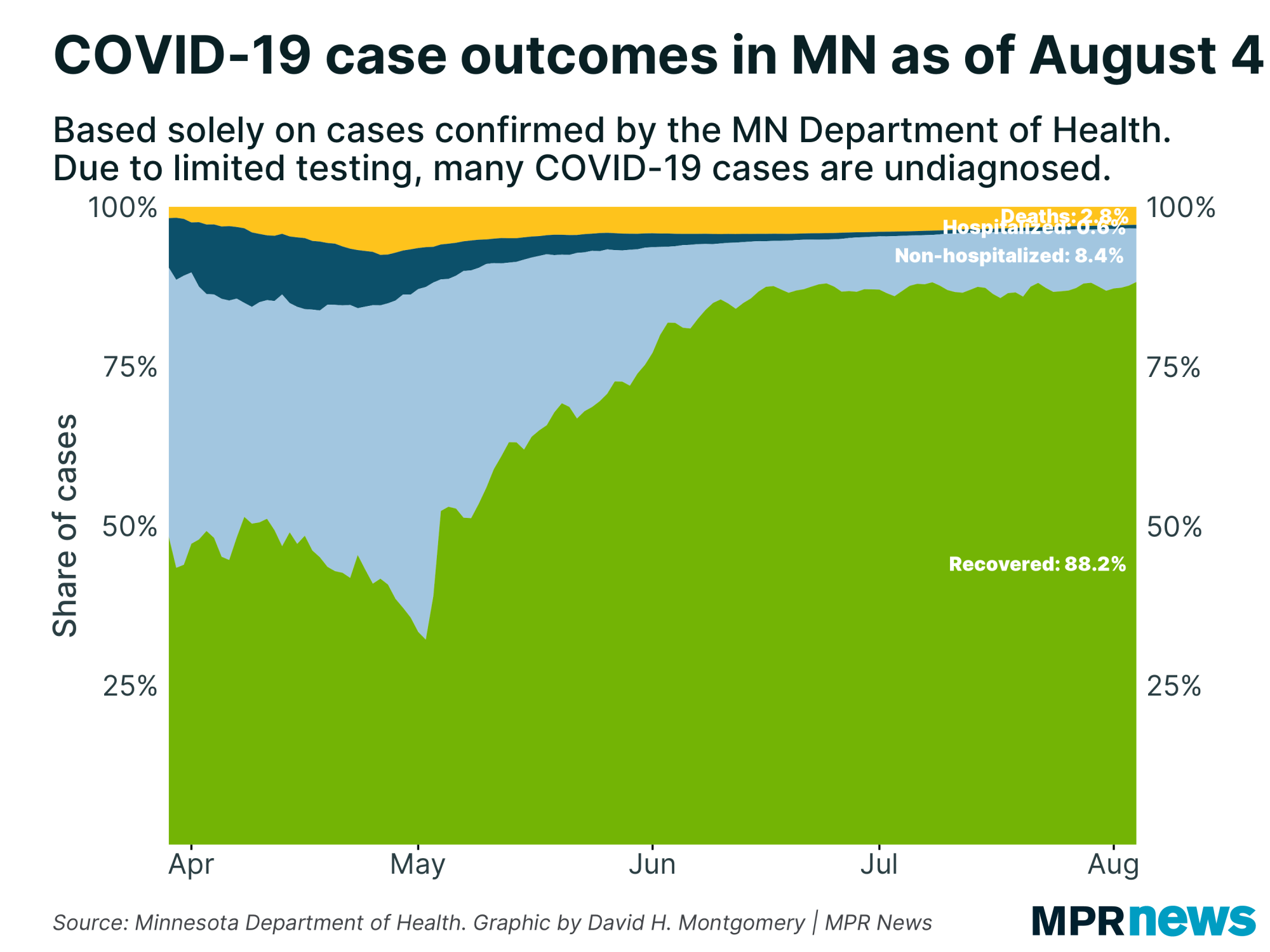 Beyond the updates on deaths and cases, the Health Department on Monday also reported:
The youngest person in intensive care is 20 years old. For weeks it had been 25. The age range of deaths is still 56 to 104 years old.

77 of 87 Minnesota counties now have at least one confirmed COVID-19 case. Chippewa is now on the list.

Nearly 47,000 tests have been conducted in Minnesota, with 1,134 reported Monday. That's still below the 5,000 a day Walz says is needed by May 4, when his stay-at-home order is set to expire.
Including the outbreak of cases tied to the JBS plant, Nobles County now has the largest outbreak in Minnesota outside the Twin Cities area and Rochester. It has the highest rate of COVID-19 cases of any county relative to its population.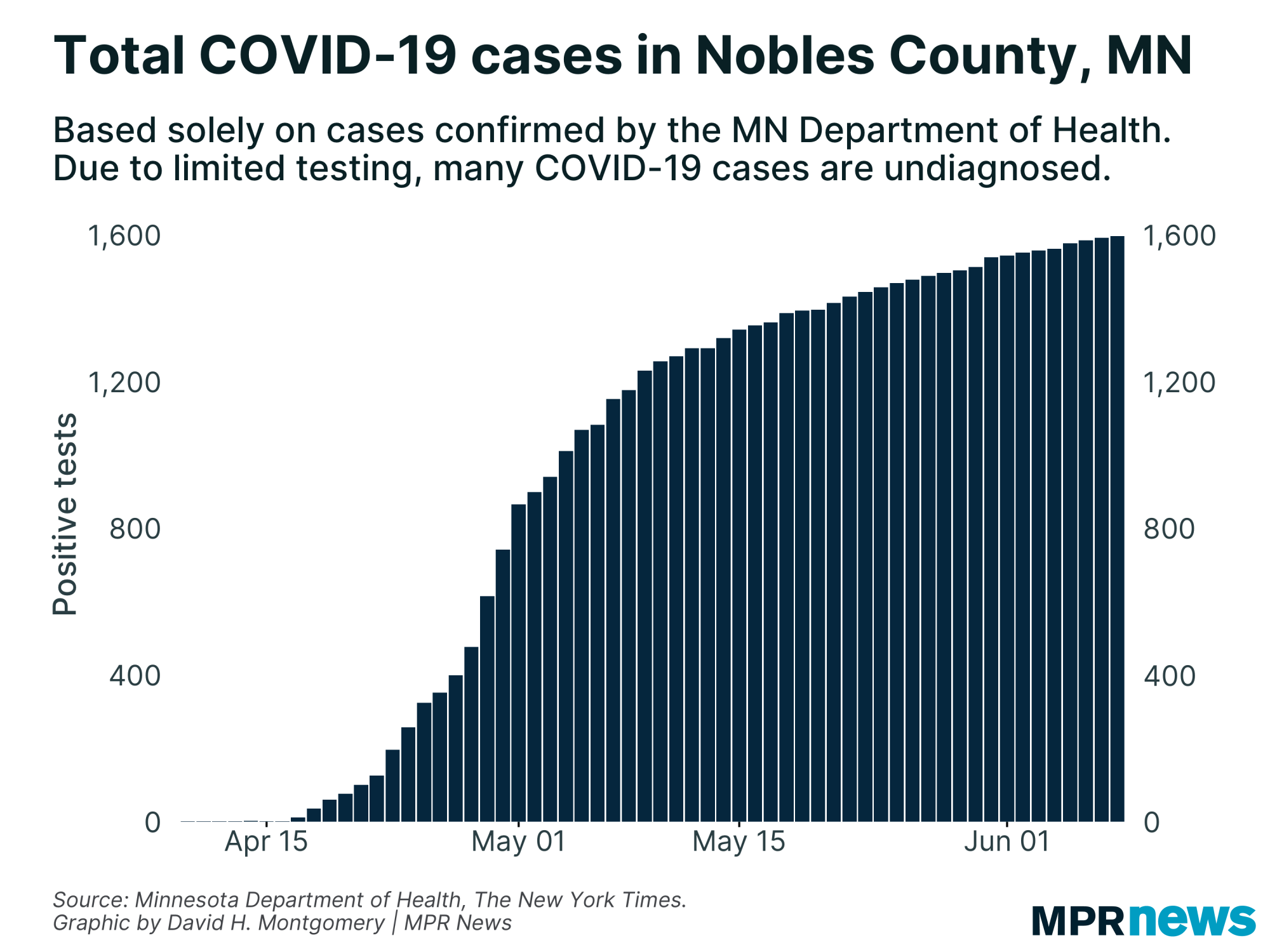 Talk with Trump after 'Liberate Minnesota!'
Walz said he also talked to President Trump Saturday night, following Trump's "Liberate Minnesota!" tweet encouraging those protesting against Walz's stay-home order.
Walz said the 10-minute talk was very good and that he feels state and federal leaders are now in alignment on the process to restart the economy slowly.
He said he told Trump the tweeting "is not really helpful" but also that he we wasn't interested in placing blame on what happened but in how to help Minnesotans.
The governor said he told the president that Minnesota was trying to "thread the needle opening businesses while keeping people safe," and Trump "expressed great desire to continue to work with us."
State officials continue to work with the state's international corporations and executives to work supply chains and secure personal protective gear for health care workers and other supplies needed to deal with the pandemic.
Along with the gear, testing and obtaining the supplies around testing are a huge concern. Walz has said he wants the state to be testing 5,000 people a day and has linked that to restarting sectors of the economy, but the state is only testing now at about a quarter of that level.
"If you don't have the stuff figured out and the reserves right, it's very hard for the governor and the team to give the go-ahead to open the state," said Doug Baker, CEO of Ecolab.
'Change the way business is done'
Walz has said repeatedly that science will guide his decision-making on reopening parts of the economy and eventually allowing people back into crowded public spaces. On Friday, he modified the stay-at-home order to allow Minnesotans to take part in golfing, boating and other outdoor activities with social distancing rules.
On Monday, he noted again that the stay-at-home order, set to expire May 4, had helped buy time for the state to prepare for an expected surge of hospitalizations expected in the summer — and he signaled that the order is likely to stay in place with more modifications.
Citing the JBS and Smithfield shutdowns, Walz reiterated that it was not feasible to simply let businesses reopen without a plan to keep the spread of the disease from reigniting and that the state must get to the point where daily testing is massively increased with plans in place to trace and isolate those infected.
"The virus shut down JBS," Walz said. "Nobody's going back to work tomorrow even if the stay at home order is lifted."
The governor also cautioned that even when businesses and retail establishments start to reopen they are "going to have to change the way business is done for the next 18 months …. the retail buying experience is going to change dramatically."
There has to be a clear safety plan before businesses can reopen on a broad scale, he added. "If opening up the businesses were safe, we'd do it tomorrow," he said. "Just to say open up, that's not reasonable."
---
Developments from around the state
Duluth faces $25M budget shortfall amid COVID-19 outbreak
Duluth officials have begun making cuts to help absorb a projected $25 million budget shortfall caused by the COVID-19 pandemic.
Mayor Emily Larson said Duluth will also delay opening the Lake Superior Zoo, Park Point beach house and Wade Stadium until July 1. The city will not open one of its two golf courses this summer, a move Larson said will save $150,000.
"This is one of the first announcements that I think will start impacting people in a very personal way. There will be many to come. I know that because I know the decisions that are likely ahead of us," Larson said.
The mayor said Duluth will be able to move ahead with nearly $7 million in street projects. City officials also announced new loans and grant programs to help small businesses hurt by the pandemic.
The city has already laid off 45 temporary workers.
— Dan Kraker | MPR News
More than 100 cases linked to N.D. wind turbine factory; 11 from MN
A total of 128 people associated with a Grand Forks, N.D., wind turbine factory have tested positive for COVID-19.
LM Wind Power employees nearly 900 people. Grand Forks Public Health Director Deborah Swanson said about half of them were tested last week, and a significant number of those tests came back positive for COVID-19.
"The total number is 128 associated with this worksite; 11 of those individuals are residents of Minnesota. And our colleagues in Minnesota will be following up with contact investigation in Minnesota counties," Swanson said.
Grand Forks city officials say workers at the plant had complained prior to the outbreak that the company wasn't following health guidelines. Mayor Michael Brown said state and local health officials acted quickly when they learned of a possible outbreak at the plant.
LM Wind Power, which is owned by General Electric, has closed the facility for a minimum of 14 days.
— MPR News staff
Golf courses, marinas reopen in Minnesota
Golf courses, outdoor shooting ranges, bait shops and marinas were allowed to reopen over the weekend in Minnesota, following Gov. Tim Walz's decision to ease COVID-19 stay-at-home restrictions.
Customers and employees of those businesses still must comply with social distancing rules.
Cindy Bisek owns and operates the Red Wing Marina along the Mississippi River. She said Saturday that people are already looking to put boats in the water.
"I think everyone is just chomping at the bit to get outside and enjoy being outside. And obviously, if you have boat in the water, that's one place where you can be somewhat quarantined with your family," she said.
Ramsey County opened two golf courses Saturday, and expects to open three more by Wednesday. Driving ranges are opening, too.
Mark McCabe is Ramsey County's parks and recreation director. He said there are many precautions in place to keep people a safe distance apart.
"We are spacing out tee times, with a minimum of 10 minutes between each tee time. Our clubhouses are not open. We will allow one rider per golf cart," he said.
Golf carts, golf balls and flag sticks will be regularly sanitized. Multiple riders will be allowed on golf carts only if the players are from the same household.
Prohibitions continue on camping and some other outdoor activities.
— Martin Moylan | MPR News
Some seasonal property owners disobeying stay-at-home order
Earlier this month the Otter Tail County Sheriff's Office offered to check on seasonal properties, if owners stayed away while the state is under a stay-at-home order because of COVID-19.
Sheriff Barry Fitzgibbons said a few people have taken the county up on the offer. Deputies have checked about 20 homes so far out of an estimated 8,000 seasonal properties in the county.
But he said many seasonal residents are returning.
"Whether it's to check on it as a result of it being vacant all winter, or to just spend some time up here away from the metro or wherever they're from, I think that is happening," he said.
Fitzgibbons said local health systems are concerned they won't be able to handle the influx of seasonal residents if those visitors become ill with COVID-19.
He noted that the county economy is dependent on those seasonal property owners.
"It's part of what makes Otter Tail so great. But the message coming from the CDC and public health is just hold off for now," he said. "And once this epidemic passes we encourage you to come up and stay a long time."
— Dan Gunderson | MPR News
---
Top headlines
Coronavirus spread puts Minnesota's Willow River boot camp on edge: Just 8 miles from a coronavirus outbreak at the Moose Lake prison, another cluster of cases has emerged at a boot camp in Willow River, where up to 180 men live in very close quarters. It's an environment that some family members worry is ripe for the spread of the virus.
Pathway to reopening Minnesota should get clearer this week: Gov. Tim Walz and his administration have been consulting with businesses about safety protocols to resume activity without heightening the coronavirus risk. There's still two weeks to go on the current stay-at-home order.
Small businesses race to get financial help amid pandemic — but will it be enough to survive? Small businesses across Minnesota have been approved for $9 billion dollars in paycheck protection plan loans. Now, they're trying to figure out how they can best use the money to try to survive the COVID-19 crisis.
Residents moved from Wayzata assisted living facility amid outbreak of COVID-19: More than 40 residents of a Wayzata, Minn., assisted living facility were moved to other facilities Saturday amid an outbreak of COVID-19 affecting residents and staff members.
Twins 'Homer Hankies' to be used to make thousands of face masks: Minnesota Twins "Homer Hankies" left over from the 2019 season now are being used to make thousands of face masks.
---
COVID-19 in Minnesota
Health officials for weeks have been increasingly raising the alarm over the spread of the novel coronavirus in the United States. The disease is transmitted through respiratory droplets, coughs and sneezes, similar to the way the flu can spread.
Government and medical leaders are urging people to wash their hands frequently and well, refrain from touching their faces, cover their coughs, disinfect surfaces and avoid large crowds, all in an effort to curb the virus' rapid spread.
The state of Minnesota has temporarily closed schools, while administrators work to determine next steps, and is requiring a temporary closure of all in-person dining at restaurants, bars and coffee shops, as well as theaters, gyms, yoga studios and other spaces in which people congregate in close proximity.