Northern Minn. companies step in to help fill PPE shortage
Two Duluth companies, housed in 100-year-old brick buildings just three blocks apart from one another, have transformed their businesses in the past month to make thousands of pieces of equipment to help keep health care providers safe as they cope with the coronavirus outbreak.
In normal times, Frost River Trading Co. and Duluth Pack make canvas and leather luggage, like canoe portage packs and briefcases.
But they were both shut down in late March when Minnesota's stay-at-home order went into effect. So over the past few weeks, they have retooled their operations, brought their employees back to work, and begun to manufacture thousands of pieces of personal protective equipment, from masks to face shields to reusable hospital gowns.
They're helping to supply health care providers with hard-to-obtain but crucial PPE, as state and federal governments bid against one other for critical supplies, and exports from China and elsewhere have slowed in the face of increasing global demand.
Grow the Future of Public Media
MPR News is Member supported public media. Show your support today, donate, and ensure access to local news and in-depth conversations for everyone.
Other manufacturers around the state have also pitched in, joined by individuals who have already made thousands of cloth masks for health care workers at hospitals, clinics, assisted living facilities and elsewhere.
Health care providers in Duluth say the equipment being provided has been critical for staff, and for preserving their existing supplies.
"The work that is being done is not just feel-good," said Dr. Nick Van Deelen, chief medical officer at St. Luke's. "These are products that are protective that we do intend to use."
For Frost River Trading Co. owner Chris Benson, the effort to make PPE is personal. His wife is an anesthesiologist at St. Luke's Hospital in Duluth. She was involved in the early stages of planning for a surge of expected COVID-19 cases. And she saw the shortage coming.
"And she said, the first thing they teach you in medical school is about PPE. Protect yourself, so that when you move on to the next patient, you are not sharing things between patients," Benson recalled her saying.
But Benson said they also recognized that the equipment would protect her from bringing the virus home to her husband and three teenage daughters, too.
Frost River began by partnering with Cirrus Aircraft in Duluth to make 45,000 plastic face shields to sell to St. Luke's and Essentia Health, the two large hospital systems in Duluth.
Face shields are extremely useful for health care providers — because they protect their mouths and eyes from respiratory droplets, through which scientists believe the highly contagious coronavirus is spread — and they're relatively easy for manufacturers, quickly shifting their operations, to make.
"It's a piece of plastic, a piece of foam and some kind of elastic band to hold it all together," said Brian Zuck, vice president of supply chain at Essentia Health in Duluth. He said he's been in touch with at least 25 companies around the state that are making face shields.
Refitting the showroom
Frost River is also sewing thousands of surgical-style masks, made out of pleated layers of paper-like fabric.
The company has removed all the displays from its ground-floor retail showroom, and filled it with new sewing machines. Benson has hired 33 temporary part-time sewers — mostly high school and college students. He said they're producing nearly 2,000 masks per day.
"They are absolutely going into use and making a difference," said Zuck.
The company is also working with Cirrus to make 850 powered air purifying respirators — known as PAPR hoods — which use a fan to blow purified air through a hose into an enclosed hood.
Three blocks down Superior Street, Duluth Pack has undergone a similar transformation. Instead of making the iconic canvas bags that have been handcrafted in this old brick building for more than a century, the company's team of professional sewers is now busily producing reusable hospital gowns.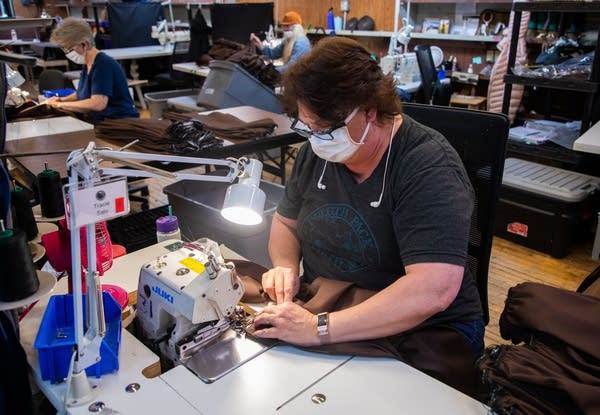 Duluth Pack has partnered with Stormy Kromer, which manufactures wool hats in the Upper Peninsula town of Ironwood, Mich., to produce 100,000 gowns for a health care provider. After they fill that contract, Duluth Pack CEO Tom Sega said he plans to make at least another 100,000 additional gowns for other providers, from dental offices to assisted living centers.
Sega said hospitals have told him that they can't get gowns from their traditional suppliers until August. "Every single day at the end of the day, we're shipping next-day air, because there's such a dire need for the gowns right now," he said.
Outdoor clothing manufacturer Wintergreen Northern Wear in Ely is also pitching in. The company first sewed nearly 2,000 masks for the Ely community. Then they made 100 gowns for the hospital in Grand Marais. Now the small business has a contract to make 4,000 more gowns for the state of Minnesota.
Owner Sue Schurke said her staff is excited to help meet the PPE shortage.
"If the need drops off, that'll be it. Then we'll be able to continue making our outdoor clothing," she said. "But if this continues, it does make everybody feel really good here."
Schurke said she's not making money on the gowns, but is able to cover costs and pay her workers.
For Frost River and Duluth Pack, shifting to manufacturing PPE was a way to help the community, and bring their employees back to work.
"I will tell you, it's the first time in my 34-year career in business that I've gotten a standing ovation from my employees the day they all came back to work," said Duluth Pack's Sega. "They all stood up and clapped. And it was pretty emotional, because we were working like crazy trying to get people back."
While these manufacturers all say they're eager to return to making their regular products, they also say that if the demand for the protective equipment continues, they won't rule out continuing to make it.
"When we have these sewers who have the skills, they want to make a difference," said Frost River's Benson. "It's not that they don't want to get back to making packs. But at this time, they know that their skills are needed in a more critical area."
---
COVID-19 in Minnesota
Health officials for weeks have been increasingly raising the alarm over the spread of the novel coronavirus in the United States. The disease is transmitted through respiratory droplets, coughs and sneezes, similar to the way the flu can spread.
Government and medical leaders are urging people to wash their hands frequently and well, refrain from touching their faces, cover their coughs, disinfect surfaces and avoid large crowds, all in an effort to curb the virus' rapid spread.
The state of Minnesota has temporarily closed schools, while administrators work to determine next steps, and is requiring a temporary closure of all in-person dining at restaurants, bars and coffee shops, as well as theaters, gyms, yoga studios and other spaces in which people congregate in close proximity.