Pork processing resumes at JBS plant shut down by pandemic
A two week shutdown might not seem like very long. But in hog terms, it is.
Under normal circumstances, when a global pandemic doesn't sicken hundreds of workers, the JBS plant in Worthington, Minn., kills and processes 20,000 hogs a day. The 15-day hiatus translates into a quarter million hogs currently clogging up farms across southern Minnesota, or getting euthanized, but definitely not turning into bacon. 
The JBS facility in Worthington reopened Wednesday, a week after an executive order from President Trump designed to get the country's meat supply chain back up and running. 
In a statement, JBS said the company is reopening the kill line and some meat processing portions of the Worthington facility.
Grow the Future of Public Media
MPR News is supported by Members. Gifts from individuals power everything you find here. Make a gift of any amount today to become a Member!
According to the release, the company "took the opportunity to enhance COVID-19 prevention protocols."
The United Food and Commercial Workers local website details a list of new procedures designed to keep workers safe — everything from staggered lunch breaks and hazmat zones for daily health screenings, to a special new machine which automatically mists the air with disinfecting chemicals, and a designated employee paid to clean toilets after every single use.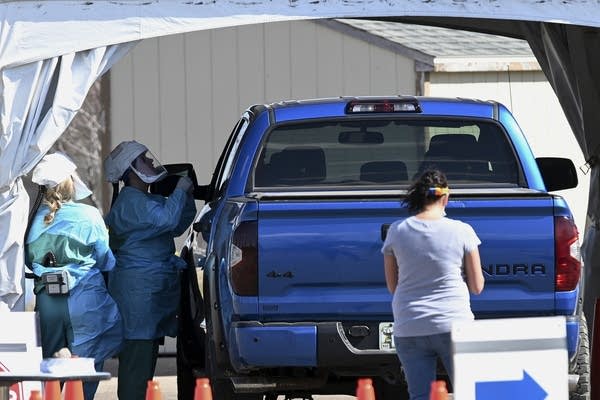 But, in Worthington, City Administrator Steve Robinson is still conflicted about reopening the plant. 
"I was surprised they reopened as quickly as they did. I thought they might wait another week or two before attempting to reopen," he said.
Robinson is keenly aware of the economic impact the closure is having. Thousands of meatpackers are out of work. Farmers don't know what to do with all the extra pigs reaching market weight with nowhere to be processed.  
And then there are the supply chain issues. Meat could become hard to find. Reopening, Robinson said, might be necessary, but he also has to think about health. 
He said the area's meat processing industry is particularly vulnerable to the virus. Early last month, the Smithfield meat processing facility in Sioux Falls, S.D., became one of the worst outbreaks of COVID-19 in the country. It's an hour west of Worthington, and it didn't take long for the coronavirus to get to JBS.
"You know, we have households that someone is working at the Smithfield plant in Sioux Falls, and somebody might be working at JBS in Worthington, and someone might work at Prime Pork in Windom," he said. "You know, it can spread so quickly."
Robinson worked with the local medical center to create a drive-through testing operation. And once testing ramped up, the Worthington area started reporting one of the highest per capita infection rates in the state. 
"We did massive testing of JBS employees," he said. "We ended up testing 1,400 JBS employees over a three day period." 
Exact numbers have been hard to nail down, Robinson said, because of medical privacy laws, but most reports suggest about a third of those workers were infected with COVID-19. 
As the plant reopens, city and county leaders have been working with local health care providers, Robinson said, to brace for a possible surge in cases.