Weary from looting and arson, south Minneapolis asks: Where are the police?
Minneapolis residents woke Friday to smoke-filled skies and the sounds of sirens. Rioting in south Minneapolis overnight delved deeper into the neighborhoods of the city's south side, with fires gutting businesses before firefighters could quench them.  
Firefighters worked through the morning to control the fires set at Ivy Building for the Arts in the city's Seward neighborhood. The historic building housed artists and craftspeople. Regina Marie Williams and her husband had space in the building. 
Williams said her heart and spirit are broken over George Floyd's death and what's happened since to the city of Minneapolis. 
"This is not the way I would choose to protest, destroy my own backyard and my front yard and the things that we use to keep us alive: our arts and our bars and our youth centers and our police stations," she said. "We need these resources."
Grow the Future of Public Media
MPR News is supported by Members. Gifts from individuals power everything you find here. Make a gift of any amount today to become a Member!
Williams' husband is a photographer, and 50 years of his work was stored in the building. She said they can remake some things, but others are gone forever. 
"And that will be OK — it's just things," Williams said. "What we need to recover is our humanity."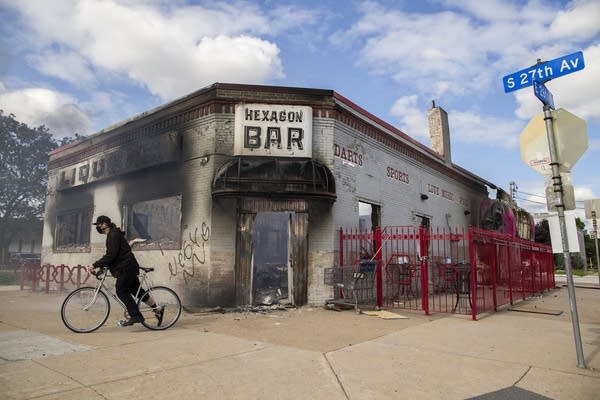 Just across the street, only the walls remained of the Hexagon Bar, a neighborhood bar that hosted bands on most weekend nights. 
Now 64, Debbie Hedemark was born right down the street. Her mother used to go to the bar, where her sister worked. 
"This is my bingo place where I play bingo. I'm not a drinker, but I come down to play bingo," Hedemark said. "I love the place."
Hedemark wonders why there are police lining up around the area where people had rioted and looted buildings Wednesday night instead of stopping people from burning down buildings. 
"They have the cops all standing there right now, not letting nobody in there, but everything is gone there. Why are they there?" She said. "Why aren't they following these people? Where are they going to attack next?"
On Thursday, Gov. Tim Walz added his voice to the criticism, describing the lack of peace and security as anarchy. He laid some of the responsibility with the city of Minneapolis, and said he had been deferring to city leaders until the situation became untenable. He vowed that the last few nights of mayhem wouldn't be repeated into the weekend.
A few blocks away, an employee was sweeping up glass at Zipps Liquor, which was started by Jennifer Schoenzeit's father in 1961. The store had been looted for the second time since protests started. Police didn't show up either night. 
"We call 911 and they don't answer or they're like, 'Oh, yeah, we have that.' Nothing," she said. "My brother and I on Wednesday night sat across the street and watched people loot our store for two hours. In and out and in and out. We weren't going near it. It's not safe."  
On Thursday night, the store's alarm was triggered at 11:30 p.m. People broke coolers, cash registers and smashed bottles, as well as loading up on alcohol and cigarettes. When Schoenzeit arrived at 7 a.m., she found four of her neighbors with bats trying to keep people out of the store. 
"Just our neighborhood taking care of us — it's a good neighborhood," Schoenzeit said. "They all want to do stuff but I don't want them getting hurt over us. It's product. It's not worth getting shot or hurt over."
She expects the looters to hit again Friday night, and thinks it's likely they could torch the building like so many others. She and her staff were cleaning up a little, boarding up the windows and closing for the weekend, not knowing if the building will be there when they return. 
There's a lot of anger building among the people who call Minneapolis home, she said. 
"We do pay taxes and we have a hierarchy. Why is nothing being done? Why are they letting us get all run over?" she said. "Why is there not a police person driving up and down our street?"